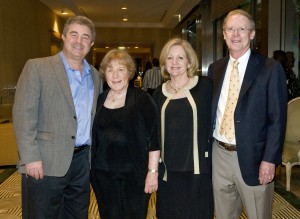 By Christopher Trela & Catherine Del Casale | NB Indy
Music and wine are a perfect pairing, as evidenced by the 8th annual Pacific Coast Wine Festival that raised $200,000 for the Pacific Symphony artistic and education programs.
Held last weekend at the Island Hotel in Fashion Island, Pacific Coast Wine Festival drew a sold out crowd of 300 wine aficionados who came to enjoy wines from dozens of wineries and bid on rare bottles and exclusive wine excursions.
As wine and food writers, and classical music fans, this is one of our favorite events of the year. It's always fun to sample wines from around the world while enjoying tray passed appetizers (truffle arancini with mushrooms, parmesan and cream sauce, and chicken roulade with oven-dried tomato aioli) and placing bids during the silent auction. We were dazzled by the wine lots in the auction, which ranged from familiar reserve wines to rare bottles unearthed from private cellars and donated for this event.
At the conclusion of the reception and silent auction, guests strolled into the ballroom for a fabulous dinner (arugula salad with Marcona almonds,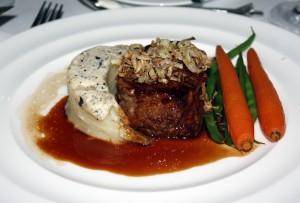 heirloom tomatoes, dried cherries and sherry-orange vinaigrette; pan-roasted filet of beef served with custard potatoes, port wine sauce, leeks and truffles; and chocolate and salted caramel bombe with berry coulis for dessert) with wine while enjoying a performance of "The Final Countdown" by members of Pacific Symphony Youth Orchestra.
A live auction featuring sensational wine lots and trips to Italy and Napa concluded the evening. Charismatic auctioneer Jim Nye did his usual stellar job of encouraging bids and selling such items as a trip for four to meet Italy's most-famous winemaking family, Antinori, who donated a private tour and wine-tasting at their vineyard in Bargino. This went to Maggie and John Hinson for $22,000.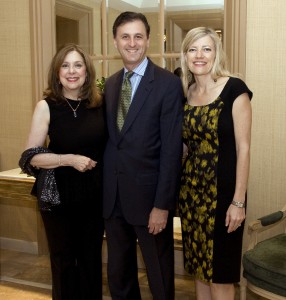 Clarence Turner won a trip for three couples to the Oregon Wine Country to tour some of the best vineyards in the northwest for $4,500. A weekend in Santa Barbara that included the use of a Land Rover to travel up the coast, as well as reservations r to visit Firestone Vineyard, Dragonette Cellars and Jonata Ranch, was won by Jess Moore for $5,500.
A private jet trip to Napa, where three couples would enjoy a two-night stay at the Meritage Hotel, along with private tours through The Pine Ridge, Alpha Omega Winery and Herb Lamb Vineyards, went to Judy and Jin Chang for $18,000.
Among the elite wines won was a 100 Point Cabernet Sauvignon from Hundred Acre, taken home by Michelle and David Horowitz for $6,200. A case of 1989 Château Pichon Longueville Comtesse de Lalande, donated by film composer James Newton Howard, went to Donald Hu for $5,500. Two bottles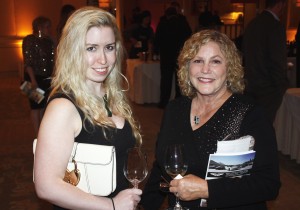 of Domaine Leroy were won by Brian Pollack for $4,500.
Christopher volunteered at the first two festivals and attended others as a guest, and has watched the event grow into one of the most respected wine auctions in California.
Co-chaired by event founders Mike Kerr, Fred Salter and Valerie Van de Zilver, the 2015 PCWF was sponsored by Land Rover-Aston Martin-Jaguar of Newport Beach, Regency Air, Commerce West Bank and BNY Mellon.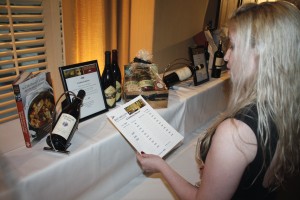 "For me the most exciting parts of the evening were welcoming our huge crowd (we were sold out again!) and tasting the amazing line-up of wines," said Kerr, who also serves as chair of the Symphony's Board of Directors. "Our number one goal is to have fun, and we totally succeeded. The wine festival is great because it's a chance to introduce a whole new group of people to Pacific Symphony. Financially, we did well, raising more than $200,000 to support the education and artistic programs of the Symphony."
For more information on Pacific Coast Wine Festival, visit PacificCoastWineFestival.com. For more information on the Symphony, visit PacificSymphony.org.