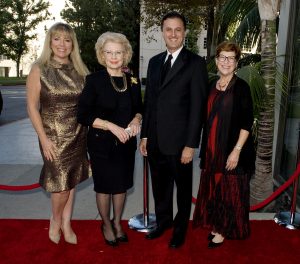 By Christopher Trela & Catherine Del Casale | NB Indy
 Has it really been 10 years since the Renee and Henry Segerstrom Concert Hall opened its doors?
Christopher remembers the opening concerts and celebrations on the arts plaza in front of Segerstrom Center, but what stood out among the champagne and music was the hall itself, a magnificent tunable concert hall with acoustics that can be adjusted depending on the music being played.   
When Pacific Symphony performed its first concert in Segerstrom Concert Hall, it was clear that the venue would allow Pacific Symphony to reach even greater musical heights.
On September 22, Pacific Symphony marked 10 years in the Renee and Henry Segerstrom Concert Hall with an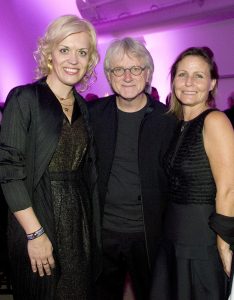 opening night, black tie gala attended by more than 200 guests, including local arts and civic leaders, donors, and others who marked the occasion with an exceptional pre-concert party at the Westin South Coast Plaza.
The centerpiece of the evening was, of course, the first concert of the 2016-2017 Hal and Jeanette Segerstrom Family Foundation Classical Series, led by Music Director Carl St.Clair and featuring Van Cliburn Gold Medalist Olga Kern performing Rachmaninoff's "Rhapsody on a Theme of Paganini."
Hosted by the Board of Directors, the party opened the Symphony's 38th season and raised more than $135,000 to support its artistic and education programs.
"This year, the 10th anniversary of the Symphony's residence in the Renée and Henry Segerstrom Concert Hall offered the perfect opportunity to celebrate all that the Symphony does for our community," said Opening Night Event Chair Jo Ellen Chatham of Newport Beach. "Acoustically, we have one of the finest concert halls in the world, so we not only get to hear great music, but we hear it in its purity and perfection. And it's not just about enjoying the music because it's so beautiful and inspirational, but for what it does for the human soul."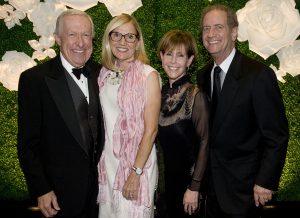 We arrived with other partygoers at 5 p.m. and walked a red carpet into the cocktail reception, where silver and black draped high-top tables were positioned throughout the large lobby. We posed for photos among giant white paper roses and sampled tray-passed appetizers including tangerine glazed ahi tuna with wonton chips; dried pear, brie and walnut quesadillas; and petite tender crostinis with blue cheese crumbles and caramelized shallot aioli.
We entered the ballroom at 6 p.m. and took our seats at black and white tables decorated with white roses and tulips with green foliage, musical scores and tall black candles in glass cylinder vases.
The first course was a caprese salad with yellow and red beets, mozzarella cheese, balsamic drizzle and Hawaiian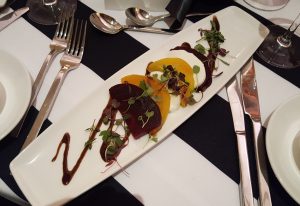 pink sea salt.
The main entrée was a Chilean sea bass with miso glaze and black truffle risotto, prepared with shiitake, portobello and cremini mushrooms, plus asparagus and carrots.
Symphony President John Forsyte welcomed guests and thanked presenting sponsor South Coast Plaza and Jaguar, Land Rover, Aston Martin Newport Beach, who sponsored the musicians.
After a word of appreciation to the musicians, he introduced Associate Concertmaster Paul Manaster who performed Mozart's Violin Concerto No. 3 with pianist Hye-Young Kim, a member of the faculty at Chapman University.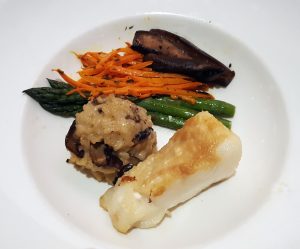 Music Director Carl St.Clair took the stage to offer an exuberant overview of the upcoming season's highlights, thanking the audience for their support.
"I'm nervous for tonight, but it's good—I am nervous for us to come closer together, to respect classical music ever more, to be a more cohesive family," said St.Clair. "What a treasure and gift you have in the musicians of the Pacific Symphony. We have renewed energy for our upcoming season. Ten years from now, I want the Pacific Symphony to be known not only as the largest orchestra to have been created in the last 50 years, but the best."
After a performance by four members of the Pacific Symphony's woodwinds section, dessert was served: a trio of chocolate blackberry mousse in a dark chocolate cup on chocolate sand, fresh berry sorbet and pistachio crème brûlée.
"The evening was elegant, inspirational and memorable," said Chatham. "The black and white décor reflecting the notes on a musical score and the keys on a piano,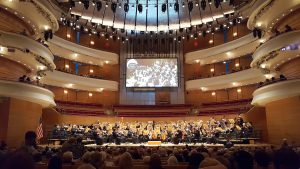 along with the red carpet, fine cuisine and exquisite musical interludes by several of our Pacific Symphony musicians, all contributed to the understated, yet elegant ambiance."
After dinner, guests strolled next door to the concert hall and a performance of Dvorák's celebratory "Carnival Overture," followed by pianist Olga Kern's tour-de-force performance of Rachmaninoff's "Rhapsody on a Theme of Paganini." Kern also delighted audiences with a short encore.
Guests spent intermission enjoying coffee and treats at a reception in the Box Circle lobby.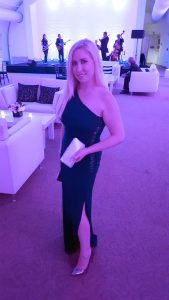 The second half opened with a world premiere by pianist/composer Conrad Tao. It's a piece inspired by the architecture of the concert hall, and proved to be a fun and energetic musical romp. Respighi's "Pines of Rome" provided the fitting finale.
After the concert, we wandered back to The Westin with other guests to enjoy champagne and a decadent display of luxurious desserts.
We chatted with some of the Symphony musicians who joined the post-concert festivities, said hello to guest star Olga Kern and Maestro St.Clair, and departed to the strains of a jazz band playing a heartfelt sendoff.
What a fantastic start to a fantastic season for Pacific Symphony.
Visit PacificSymphony.org for more information.