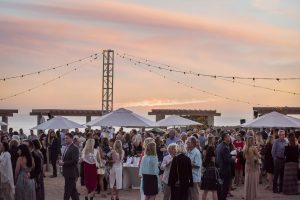 Crystal Cove Alliance hosted its 14th annual Soiree last month on a bluff overlooking Crystal Cove.
Presented by The Resort at Pelican Hill, the always sold-out fete raised a record-breaking $418,000 in support of the nonprofit's mission to preserve the cultural, natural and historic resources of Crystal Cove State Park.
"We're thrilled with the generous support from the community and the passion our advocates have for preserving the historic jewel that is Crystal Cove," said newly appointed CCA President and CEO Alix Hobbs. "Our organization is gearing up for some very exciting initiatives and these require the help of our wonderfully dedicated supporters. This dedication will enable us to ensure that this precious resource thrives far into the future, for all the generations to come."
The elegant affair kicked off with an al fresco cocktail reception including hors d'oeuvres by The Resort at Pelican Hill and a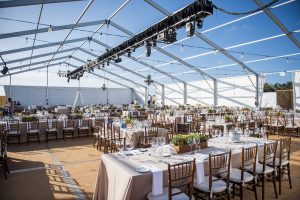 silent auction packed with highly sought-after items. One new element at this year's Soiree was the three-course farm-to-table dinner with fresh and locally sourced ingredients created by The Resort at Pelican Hill's expert culinary team.
The signature dish was a beef filet with butter poached lobster, potatoes, mushroom ragu, squash and haricot vert and confit of tomato.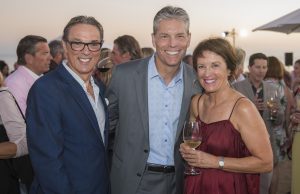 During dinner, guests participated in a lively auction filled with unique experiences and fabulous getaways. The evening closed with live entertainment by The California Honeydrops.
"As a longstanding CCA supporter and neighbor, I have witnessed firsthand the important work this organization has accomplished to ensure the preservation of this historic area," said Giuseppe Lama, managing director of Pelican Hill. "The Resort at Pelican Hill is honored to return year after year as presenting sponsor of this popular fundraiser – it truly is a cause so close to our hearts."
During the lively fund-a-need program, guests raised their paddles to collect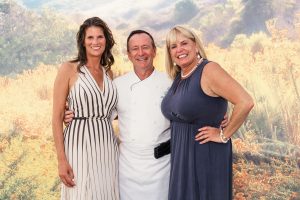 $151,000 – triple the amount raised from last year – to support scholarships for K-12 students to take part in CCA's education programs, which focus on STEM (science, technology, engineering, and math) and environmental awareness by enabling students to work hands-on with the local ecosystem. The amount raised included a $50,000 match from Massen Greene Foundation. Additional funds were raised through sponsorships, underwriters, ticket sales, general donations, and silent and live auctions.
For more information, visit crystalcovealliance.org.