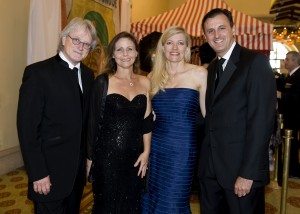 By Christopher Trela & Catherine Del Casale | NB Indy
Best gala ever!
Those were the words we uttered as we left the Pacific Symphony's 2014 Gala, held May 31 at the ocean-side Hyatt Regency Huntington Beach Resort and Spa.
The Symphony agreed—a record $1.6 million was raised at the event.
What made it so special and fun?
First, there was the colorful invitation that beckoned us to come "By the Sea" and travel back in time to the days of seaside amusement parks.
That certainly whetted our appetite for fun, but we didn't expect the symphony to carry the concept out in such a grand manner, but that's exactly what they did.
More than 400 guests dressed in black tie or glittery art deco fashions arrived at the Hyatt Regency and entered the world of an early 20th century carnival, reminiscent of the old Long Beach Pike.
We played carnival games (winners received inflatable musical instruments), rode a Ferris wheel, marveled at a sword swallower and magician, watched a strong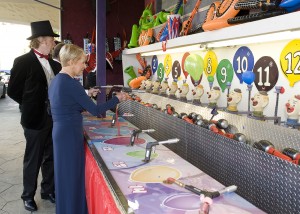 man tear phone books with his bare hands while bathing beauties looked on, laughed at our reflections in funhouse mirrors, had our photo taken sitting in a faux roller coaster, and dined on hot dogs—and that was before the ballroom doors even opened!
Once everyone reluctantly made their way inside the ballroom, we enjoyed a multi-course dinner (including a Waldorf salad, grilled filet mignon and roasted sea bass, a sweet pea and gruyere cheese soufflé, and a Neapolitan panna cotta with grilled pineapple and warm bananas foster), while the OC Times barbershop quartet, ballroom dancers Danny Gardner and Alexandra Emerson, and a special flute duet by Pacific Symphony's Benjamin Smolen and Pacific Symphony Youth Orchestra's Ramakrishnan Kumaran entertained the rapt audience.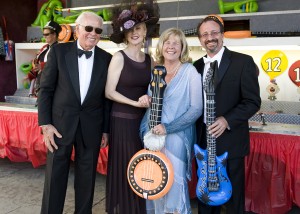 The ballroom ambiance featured pale, sea green linens and elaborate white centerpieces of floating candles with orchid flower arrangements studded with shells and sea stars.
After dinner came a live auction with bids that exceeded their quoted value, and announcements of special donation pledges that brought the total amount raised to record levels.
Chaired by Orange County philanthropists Joann Leatherby and Greg Bates, the Gala served as a celebration of the orchestra's 35 years in Orange County.
"It's quite a mark of distinction to reach 35 years," Mike Kerr, chair of the board of directors for Pacific Symphony, told us. "I'm proud of our accomplishments, proud of how good of an orchestra we have become."
"This is one of the most complex events we've ever put together," noted Pacific Symphony President John Forsyte. "And the philanthropy that was expressed this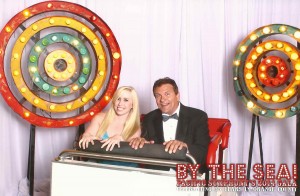 evening means so much to the orchestra—it's an opportunity to fund so many worthwhile programs and help the next generation learn about classical music."
"This is an emotional high," stated Pacific Symphony Music Director Carl St.Clair after the auction. "This is so indicative of the emotional, passionate commitment that this community has to make sure the Pacific Symphony remains an integral, alive, nurtured, treasure, cherished part of Orange County, and of our lives."