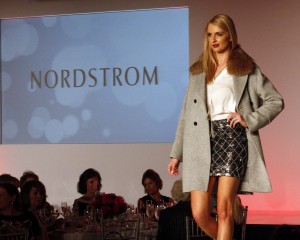 By Christopher Trela & Sonali Lodhia | NB Indy
Tea and Fashion were in the spotlight last month when more than 400 people attended the 25th annual High Tea & Fashion Show on Oct. 24, produced by Orange County Ronald McDonald House at the Balboa Bay Resort.
Orange County Ronald McDonald House began the High Tea & Fashion Show in 1989, and has since raised more than $1.7 million to directly benefit families with seriously ill children. The High Tea & Fashion Show brings together tradition and trend with a formal high tea service followed by a runway show.
This year, Cristophe Salon in Fashion Island was the exclusive hair and makeup provider, while Fashion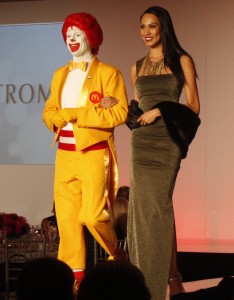 Island boutiques provided the fashions for the runway models.
Cristophe Salon styled over a dozen models for the show, and donated a $500 gift certificate to the event's silent auction.
"We were honored to be named the exclusive hair and makeup provider of the Orange County Ronald McDonald House's 25th Annual High Tea & Fashion Show," said Scott Fontana, owner of Cristophe Salon Newport Beach. "The Orange County Ronald McDonald House provides families of seriously ill children with the necessary support to ensure they are together while the children undergo treatment. As a business that is passionate about giving back to the community, we're privileged to team up with an organization that we believe in wholeheartedly."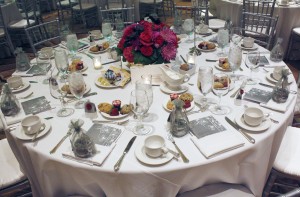 "The fashion show component showcased this season's most exquisite trends," noted Sonali, who follows fashion and has her own fashion-inspired blog. "Fashion Island graciously donated over 50 looks that represent this season's most popular styles from various designers and retailers such as Vince Camuto, Halston Heritage, Trina Turk, Nordstrom, and Gary's, and featured many of this fall's latest wardrobe must-haves including sixties trends, wraps and coats, bold colors, metallic's, sequins, and sheer fabrics."
"Cristophe Salon provided the tasteful hair and makeup looks for each of the models. The hair and makeup revealed fall trends such as pronounced berry colored lips, smoky brown eyes, jewel tone red lips, prominent lashes, and metallic touches," she added.
We asked Fontana about the challenges of creating hair and makeup for a show like this.
"Having enough hair stylists and makeup artists on hand is always a challenge we face," he said. "Another challenge can be working with the designer and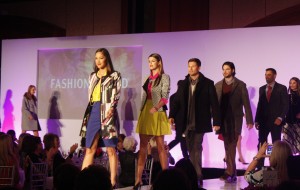 figuring out what vision they may have for the hair and makeup. Some prep-work is making sure we bring everything and anything we'll need with us to the event. You never know what you may be doing, so we have to be prepared for anything. Also, if we receive an image of the looks prior to the show from the designer, we can practice that look so the day of the show we are not wasting time trying to figure out the looks."
The High Tea menu included fresh scones, Devonshire cream, strawberries, butter and preserves, smoked salmon and watercress, apple and brie cheese, cucumber and herbed chives cream, chocolate dipped strawberries, fruit tarts, and miniature torts.
Committee co-chairs were Isabelle Villasenor, Jenny Briones, and Lisa DeBono.
For more information on Ronald McDonald House, visit RonaldHouseOC.org.
For more information on Cristophe Salon, visit CristopheNB.com.