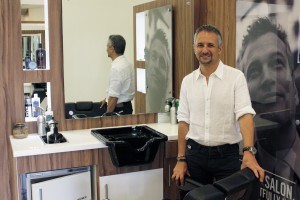 18|8 Fine Men's Salon is more than just a place of convenience for men—it's an entire pampered grooming experience.
This "men only" salon that opened this summer in Newport Beach provides haircuts, color, MANicures, and waxing, all in the comfort of a semi-private station.
Most recently, they started providing facials with a licensed esthetician in one of their private rooms.
Owner Aly Marei says, "Men don't have to feel the awkwardness of sitting next to a woman at a salon. We are all about taking car of men with an array of grooming needs in a very private environment."
By the way, the name 18|8 dates back to 1913, when English metallurgist Harry Brearley discovered that adding 18 percent chromium and 8 percent nickel to steel eliminated the tendency for it to oxidize and rust. The formula, known as 18|8, transformed steel into better looking and better performing stainless steel. And just as 18|8 makes steel look and perform better, 18|8 Fine Men's Salon helps clientele transform themselves to look and perform their best.
As a woman who loves pampering, I'm jealous of the men who can get the 18|8 experience. When you walk through the doors you are greeted by a friendly receptionist and offered a glass of wine, beer, tea, coffee or a cold drink. There is a waiting area with a flat screen TV and multitude of men's magazine.
When it is time for your appointment, your stylist discusses what you would like to do and then proceeds to swivel the chair around and wash your hair at the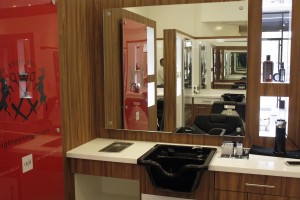 station (you don't even have to get up!).
Each service is finished with a relaxing hot towel. Depending on your level of pampering you can even get a de-stressing neck and shoulder massage. You can also choose your stylist based on their level of experience, starting with three or more years of experience to a master stylist, all based on your price point.
Something that I found unique to this salon is their membership program. It includes seven executive haircuts, seven cleanups (15 minute cleanup of ears and back of the neck), 50 percent off one grooming service of your choice and 15 percent off all retail products. Members also receive emails notifying them of specials throughout the year.
It can be a daunting task to sit down next to a woman who you might want to impress while having your hair colored to cover or tone down the grey or to have your nails cleaned up. 18|8 gives men a way to take care of their appearance without the embarrassment that can come along with it.
Men are also able to purchase hair care products as well as skin products, and know that they are geared towards men's needs.
The days of awkwardly standing in Nordstrom's trying to figure out which products aren't for women or picking up something cheap at the grocery store are gone.18|8 has created a safe haven for men's pampering and product purchasing.
The salon is currently running 2 for 1 special through the holidays: buy an executive haircut and the next one is on them. All facials are also up to 25 percent off.
18|8 Fine Men's Salon is located at the Bluffs Shopping Center in Newport Beach. To book an appointment call (949) 438-2558 or visit eighteeneight.com/locations/newport-beach.