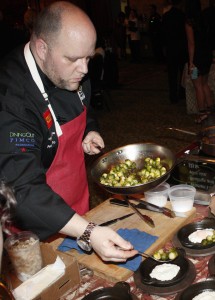 By Christopher Trela & Catherine Del Casale | NB Indy
One of the most anticipated charity events of the year is the annual "Table for 10" culinary extravaganza that benefits Illumination Foundation, whose mission is to provide targeted, interdisciplinary services for the most vulnerable homeless clients to break or prevent the cycle of homelessness.
At "Table for 10," more than 30 chefs from restaurants throughout Orange County each prepare a gourmet meal for a table of 10 guests, who are paying upwards of $500 each for this rare experience. The catch: the chefs prepare the entire feast tableside.
This year, nearly a third of the chefs were from Newport Beach restaurants.
As in past years, this year's affair – held at Disney's Grand Californian Hotel at the Disneyland Resort – was sold out, with 300 guests packed into a ballroom that featured unique decorations at each table.
The evening began with a festive cocktail reception, where guests enjoyed Chefs Adam Navidi's and Steve Buckhorn's vertical salads from Oceans & Earth restaurant in Yorba Linda. A big draw for guests was bidding blind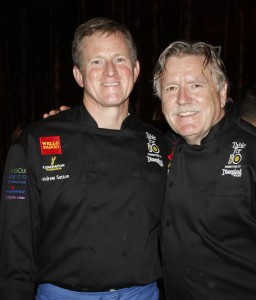 on top wines at the Wine Cork Pull Game, with most of the wines valued at more than $100.
Four Lanterns Winery poured three different wines throughout the reception, and guests bid on silent auction items. And of course, Mickey and Minnie Mouse were on hand, dressed in their finest formal wear, to pose with guests.
Once the ballroom doors opened, guests made their way to their assigned tables. Between courses, a live auction (which featured a "Best of Our Chefs" dining experience plus luxury goods and vacation packages) helped raise additional funds for Illumination Foundation.
We were fortunate to sit at the Bosscat Kitchen table. Bosscat is in Newport Beach near the John Wayne Airport, and having never been there, this gave us an opportunity to try their cuisine.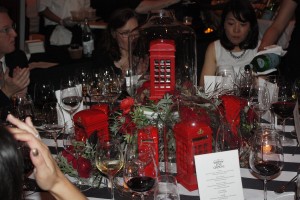 "We started with a unique mimosa-esque drink which had bird dog peach, orange juice and Champagne," said Catherine. "After a salad of blck eyed peas, Carolina gold rice and organic lettuce came a sweet corn soup, which was amazing. It had large gulf rock shrimp and brown buttered mushrooms, with miniature croutons and goat cheese. The combination of sweet and savory flavors and the added crunchy texture from the croutons was perfect."
"I thought the entrée of pork cheeks with smoked gouda grits and a poached egg was tasty and creative," said Christopher. "I also liked the pairing of each course with a different whisky or whisky-based cocktail."
We both gobbled up the dessert, which included whiskey within the dish: Large pieces of white chocolate almond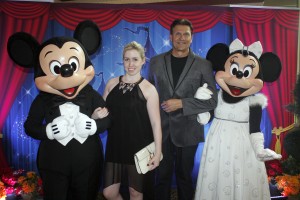 brioche were served with cookie butter, a banana caramel sauce drizzled over top warm slices of bananas, and topped with bourbon vanilla whipped cream, made tableside by Bosscat Chef Peter Petro.
We had time between courses to walk around the packed ballroom to observe some of the other Newport chefs in action.
Chef Pascal of Café Jardin in Corona del Mar, who participates in the "Table for 10" event every year, was carefully orchestrating a multi-course feast complete with a violinist. The Five Crowns table featured miniature red English phone booths as centerpieces, similar to the life size phone booth next to the front door of the CdM restaurant.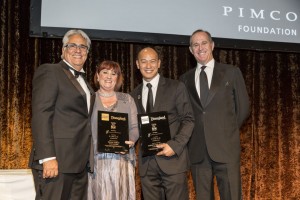 "One of my favorite parts about the event is the individual styles of each table décor, ranging from country chic picnic bench style tables to circular tables with massive floral centerpieces," noted Catherine. "And hearing the testimonials of people who have been helped by the Illumination Foundation and how it helped them change their lives inspired the room to take action during the live auction so that more people can be helped by this great foundation."
Dinner costs were absorbed by the chefs and the restaurants, and all the other expenses were underwritten by Title Sponsors Disneyland Resort and Wells Fargo, and Presenting Sponsor PIMCO, allowing the $580,000 raised to benefit families served by Illumination Foundation. An anonymous donor generously matched the $185,000 raised for the Fund-A-Need portion of the auction.
This year's proceeds are benefiting the Illumination Foundation's Oak Street Emergency House, which provides emergency shelter for families with young children, while they are being assessed and either moved into permanent housing or transitioned into Illumination Foundation's comprehensive housing program.
For more information, visit IFHomeless.org.
SIDEBAR: Newport Girls Donate Dresses for 'Table for 10' Event
Two young Newport Beach girls helped raise money at the Illumination Foundation's 'Table for 10' gala to help the homeless in Orange County.
Brooke Besikof and Alyssa Antoci, both 11, are the founders of Just a Little Cloth, a Newport-based nonprofit that provides young girls in need with dresses to help boost their confidence and self-esteem.
Besikof and Antoci provided provide dresses for young underprivileged girls in the Illumination Foundation's children's choir, which performed at the 'Table for 10' culinary event.
"These girls are currently homeless and their hearts and voices were filled with so much love it brought us to tears," both Besikof and Antoci agreed.
Just A Little Cloth was honored to be a part of the Illumination Foundation event at Disneyland, they added.
"Our vision is to provide young girls in need with the joy of owning a beautiful new dress," the duo explain on their website. "It may not seem like much, but to a young girl who has never had much, seeing herself in a beautiful new dress can change the way she sees herself. We hope to help provide these girls the confidence and self esteem to believe anything is possible and their dreams can come true."
For more information, visit justalittlecloth.com.