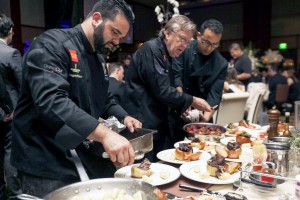 More than 30 of Orange County's top chefs – including a handful from Newport Beach restaurants – came together for a one-of-a-kind culinary event whose goal is to help
Illumination foundation end the cycle of homelessness in the county.
Wells Fargo and the Disneyland Resort were the presenting sponsors of the event, which drew more than 300 people to Disney's Grand Californian Resort's ballroom for an extravagant cocktail reception that included an array of silent auction items, followed by a lavish multi-course meal cooked tableside by each chef plus a live auction.
Chefs transformed their assigned tables of ten into unique dining experiences with their own chosen designs and dishes. Signature masterpieces were prepared tableside and paired with fine, rare wines and five-star, white glove service.
Guests were serenaded by singer/songwriter Maddy Vance, Santa Margarita High School students' musical trio "R & D," and the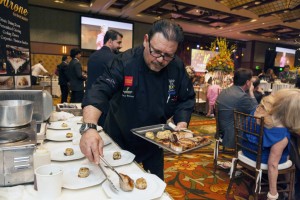 Illumination Foundation's children's choir.
Mickey and Minnie Mouse joined the event in their best eveningwear and posed for photos with guests.
"We're really excited to bring this event to the Disneyland Resort," said Mary Niven, Vice President of the California Adventure Park. "I am on the board of directors of Illumination Foundation, and the more I got involved with them I realized how innovative they are. It hits the core of one of our key values, which is strengthening family bonds, so bringing them here was a natural for me."
One of the evening's highlights was Anaheim Mayor Tom Tait's inspirational presentation of keys to the Rodriguez-Rocha family for their new residence. The family was the first to receive permanent housing through the HAPP (Homeless Assistance Pilot Program), which was established by the city of Anaheim in partnership with the Illumination Foundation.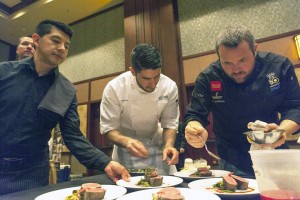 The 2014 Table for Ten event raised $360,000, exceeding the Illumination Foundation's fundraising goal.
"This was a monumental success for our organization," said Paul Leon, Illumination Foundation founder and executive director. "We truly appreciate the support of the community as we all come together to help end the cycle of homelessness in Orange County."
Participating chefs from Newport Beach included Vincent Lesage & Rachel Haggstrom  of Waterline at The Balboa Bay Resort, Brian Doherty of Bambu at The Fairmont Newport Beach, Franco Barone of Il Barone Ristorante, John Ledbetter of Lark Creek Newport Beach, David Martin of The Pacific Club, Edgar Agbayani of Roy's Hawaiian Fusion Cuisine Newport Beach, Imran Ali of Tamarind of London, Pascal Olhats & Gregory Moro of The Pascal Experience, and Marcus Lage of Tommy Bahama Bar & Grill Newport Beach.
The Illumination Foundation is an Orange County-based nonprofit dedicated to providing targeted, interdisciplinary services for the most vulnerable homeless clients to break or prevent the cycle of homelessness. The Illumination Foundation pioneered an innovative and cost-effective solution to advance health and housing stability for the chronically homeless community. Illumination Foundation provides free mental health, medical and outreach services to homeless families and individuals at clinics throughout the country. To date, Illumination Foundation's housing programs have served 1,183 families and placed 520 families into permanent housing. Illumination Foundation's medical programs have provided medical and social services to 8,718 patients. For more information, visit ifhomeless.org.