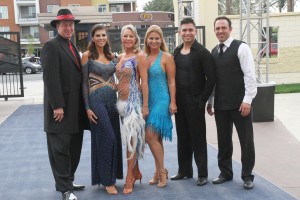 Given the popularity of the hit TV show "Dancing with the Stars," it's no surprise that the Assistance League of Newport-Mesa has scored big ratings – and big donations – with its own version, dubbed "Dancing for Tomorrow's Stars."
Now in its seventh year, the "Dancing for Tomorrow's Stars" fundraiser was held last month at the City National Grove of Anaheim.
Six noted Orange County personalities (Lisa Heil, Brad Davidson, Ben Anderson, Marco McAleer, Lauren Kear, and Marisa Wayne) were paired with professional dancers. Each couple presented two dance routines and were judged by Michelle Pulfrey from Fox Good Day LA, Paul Hodgins (dance critic for the OC Register), and Alfredo Molino from event sponsor Black, Starr, & Frost of Newport Beach.
Voting by audience members came in the form of cash donations. More than 300 people attended, generating over $150,000.
The winning dancers were Lisa Heil (Best Female Dancer and Fan Favorite), Brad Davidson (Best Male Dancer), Ben Anderson (Most Wow), Marco McAleer (Most Debonair), Lauren Kear (Most Charming), and Newport's own Marisa Wayne (yes, The Duke's daughter)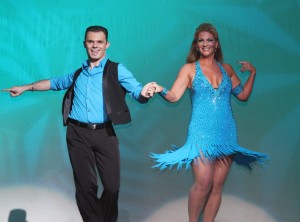 winning the title Most Elegant.
The guest list included past dancers and community leaders including Sara Guggenheim Jarrett and Chris Gialanella, Heather and Terry Dubrow, David Heil, Bruce and Jill Ayres, Terry and George Schreyer, Kathy Youngman (ALNM President) and Janet Curci.
Kalina Kovtun from Designs by Kalina helped design some of the exotic and stylish costumes, Black Starr and Frost underwrote the Cast Party, and Bello Family Vineyards donated the wine for the event.