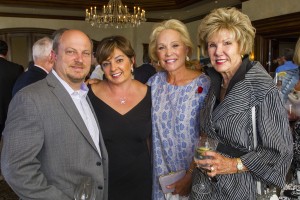 More than 130 supporters filled the Big Canyon Country Club in Newport Beach last month to attend the third annual Wine & Dine benefit hosted by Laura's House, a leading nonprofit dedicated to providing domestic violence education, prevention, shelter and counseling services.
Supporters in attendance included Newport Beach residents Margaret R. and Richard Bayston, Donna and Dick Pickup, Jim and Janet Gianulias, and Helen and Conrad Timpe.
Guests enjoyed more than 60 wines to taste, plus a selection of gourmet menu items. The annual event also featured live entertainment, a blind tasting contest hosted by Dr. Frank Murray, a silent auction featuring wine tastings, wine tours and experiences, and a unique wine wall with more than 100 bottles of premium wine.
Wine pouring stations included: Cowboy Canyon Winery, Levendi Winery, Giracci Vineyards & Farms, Vino Paraiso, Southern Wine & Spirits and Frank Murray's California Selections.
Event sponsors included: Patrick Bucklen, The Clemo Family, The Busch Foundation, Donna and Dick Pickup, Richard Rodrigues, Nancy Hauschild, Linda and Tim Zeller.
Wine & Dine presented guests with an opportunity to learn more about Laura's House and to hear from a Laura's House shelter graduate who gave a moving firsthand account of her experience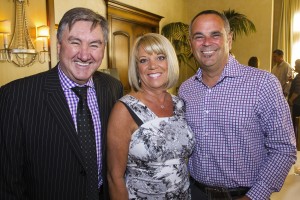 enduring years of violence and her reliance on Laura's House in escaping the cycle of abuse.
"All our events encourage donors, advocates and community members to come together in support of our vital work, which is far from done," said Margaret Bayston, CEO and Executive Director, Laura's House. "As Laura's House celebrates two decades in the crusade against domestic violence, the organization remains focused on its next 20 years and our ongoing mission to touch the lives of those tragically impacted by the domestic violence cycle."
More than $20,000 was raised at the event, which will support programs and services Laura's House provides to families affected by domestic violence throughout Orange County and beyond.
The organization's primary annual fundraising effort will take place later this year when it hosts an anniversary gala on Oct. 4 at Balboa Bay Resort in Newport Beach.
"The many events Laura's House sponsors throughout the year are certainly powerful, and we couldn't be more grateful for the generous support we continue to receive," said Wayne Pinnell, board chair for Laura's House. "Beyond these meaningful occasions, the critical work conducted by this inspiring organization happens every day of the year."
In honor of its 20th anniversary, Laura's House will also host an anniversary open house on June 12 at its Ladera Ranch offices.
For more information, visit laurashouse.org or call (949) 361-3775.