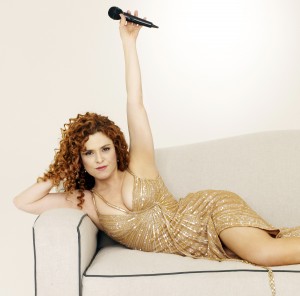 She's won three Tony Awards plus a Grammy and a Golden Globe, and now the powerhouse actress and singer Bernadette Peters brings her dynamic talents to Segerstrom Center for a pair of Valentine's weekend concerts with Pacific Symphony Pops.
I had the pleasure of seeing one of Peters' first shows—the musical "Mack and Mabel," more than 40 years ago. Her magnetic performance and stellar vocals stood out, and I still remember her renditions of "Wherever He Ain't" and "Time Heals Everything," which she still often performs during her concerts.
Pacific Symphony audiences can of course expect Peters to belt out plenty of Sondheim songs, given her affinity for the legendary composer and having starred in many of his musicals.
"I choose songs that I connect to in some way, and the audience will connect to them," explained Peters during a recent phone interview. "I want to give audiences something interesting and fun. I am there to entertain, and that can be done in a dramatic and fun way. The show has an arc to it—we go on a fun journey. I do Rodgers and Hammerstein, I sing "Fever" laying on the piano, things like that. It's something that people will enjoy coming to see and hear."
Peters said that since she was in "A Little Night Music" and "Follies," she includes songs from those shows, plus she's adding some Valentine's related songs especially for the Pacific Symphony shows.
Anyone who has heard her "Sondheim Etc.: Bernadette Peters Live at Carnegie Hall" recording from her debut solo show in 1996 knows that her performances are nuanced, delightful, exciting and often riveting.
"That was a live concert, and I had never done that before—that was pretty nervy," laughed Peters.
Something else she had never done before until recently—star in a TV show. Peters is one of the featured cast members of the Amazon series "Mozart in the Jungle," which recently won a Golden Globe for Best TV Comedy or Musical series. 
"The show is so well written, the award is well-deserved," she noted.
Also well-written are Peters' trio of children's books. Yes, she's added author to her long list of credits.  Her debut children's book, "Broadway Barks," is named after the organization she co-founded with Mary Tyler Moore that benefits animal shelters and promotes animal adoption. The book package includes a CD recording of an original song written and sung by Peters.
Her second children's book, "Stella is a Star," features another original song. All proceeds from the sale of both books go to Broadway Barks. She recently published her third children's book, "Stella and Charlie: Friends Forever," that also benefits the organization.
"Broadway Barks is my passion," said Peters, who owns two dogs she adopted. "Dogs are companions, they talk to you in their way, they make our lives better. Dogs that are in shelters are homeless dogs. Sometimes people who have lost their jobs or move can't take their dogs with them. At my concerts we sell the books and CDs, all the proceeds to go help animals in shelters."
Tickets to Bernadette Peters are $45 to $200. For more information or to purchase tickets call (714) 755-5799 or visit PacificSymphony.org.