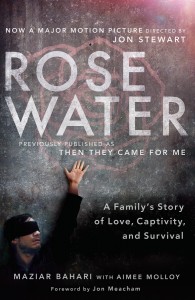 While the Newport Beach Public Library and the Witte Lecture Series have brought us countless entertaining, enlightening, and thought-provoking speakers, few will have had as powerful a message as Maziar Bahari, the next guest set to appear.
Coming to Newport later this month, Bahari will speak about his memoir, "Rosewater: A Family's Story of Love, Captivity, and Survival," and share his experiences as a political prisoner for 118 days in Iran's notorious Evin Prison.
Bahari was born in Tehran in 1967, and left Iran in 1988 to study in Canada, graduating from Concordia University, Montreal in 1992. Soon after, he began an acclaimed career as a documentary filmmaker and journalist, working most notably as a correspondent for Newsweek from 1998-2010.
During this time Bahari's roots were never far from his mind. The child of political dissidents, both he and his family knew long before Bahari's own imprisonment what it was to suffer unjustly for their beliefs. His father had been imprisoned for opposing the Shah in the 1950s, as well as his sister three decades later, under the Ayatollah's regime.
Bahari has said, "I thought I had done everything I could to avoid the suffering that (my sister) Maryam, and my father before her, went through as political prisoners, and yet the authorities came for me shortly after President Mahmoud Ahmadinejad's controversial reelection in 2009. Since I'd first begun reporting in Iran, in 1997, making independent documentaries and writing for Newsweek, I had taken every precaution to stay below the radar."
His efforts notwithstanding, his time would come when he returned home to Iran to cover the election of 2009. After kissing his pregnant fiance goodbye, and promising to return in a week at most, Bahari set off on a journey that would change the course of his life.
While in Tehran, Bahari filmed a peaceful demonstration, protesting the outcome of the election, and was subsequently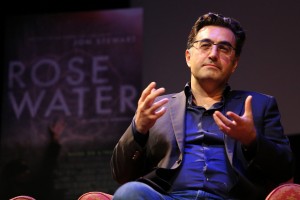 arrested at his family home. At varying times, he was accused of being a spy for the Mossad, MI-6, and the CIA, and was forced to give a filmed "confession" of both his and Western journalism's role as spies attempting to assist a revolution.
During the course of his imprisonment, he was assigned a "specialist," who was responsible for the torture he suffered throughout his stay at the prison. As he was blindfolded during their meetings, Bahari knew his tormenter only by his smell — that of the titular rosewater.
Bahari recounts how during his imprisonment, he focused on the memories of his family members to keep him strong.
He recalls: "I stared at my nails…Would I still have them at the end of the day? I felt Maryam sitting in the corner of my cell, watching me. Dropping to the floor, I started to do push-ups. What if they pull my nails and lash my feet, how many push-ups will I be able to do then?"
"The thought of Maryam getting knocked around by an animal like Rosewater brought forth the tears that I'd been holding back…As I did my push-ups, I watched the carpet under my face grow dark with my tears."
A massive international effort eventually secured his release.
Now living with his wife and daughter, born shortly after his release, Bahari's story has inspired many, including Jon Stewart, who turned the book, previously titled, "Then They Came for Me," into his directorial debut film, "Rosewater."
Stewart calls it "a personal story, but one with universal appeal about what it means to be free," and it is a story that Bahari will now share with us at the Newport Beach Library.
The event will take place on both Friday, Feb. 19, at 7 p.m. and Saturday, Feb. 20, at 2 p.m. For more information, and to purchase tickets, please visit nbplfoundation.org.
Edie Crabtree is an avid reader and the mother of three active boys. She can be reached at [email protected].