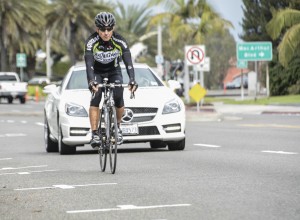 By Haylee Barber | NB Indy
On Monday, July 7, the city's Bicycle Master Plan Oversight Committee unveiled a draft of the Bicycle Master Plan, a 200 page document detailing two decades of plans for bicycle improvements in Newport Beach.
In recent years, bicycle related collisions have become increasingly common, requiring the city to take action in the name of civilian and cyclist safety.
"This plan has been in the works for nine to ten months," said City Councilman and Bicycle Master Plan Committee Chair Tony Petros, "Creating the plan included going out into the community and asking riders their opinions."
According to Newport Beach Police Department statistics provided by Lt. Tom Fischbacher, a staff member on the Bicycle Master Plan Committee, there have been 45 bicycle related collisions in 2014 to date. Of these, 18 involved a motor vehicle, which is down from 24 in 2013.
Petros explained that in order for cities to obtain funds from the state for bicycle improvements, they must have a Bicycle Master Plan. Newport's specific plan is budgeted at $20 million to make changes for the next 20 years.
"By virtue of the city having this plan, we became much more competitive to make our roads safer" for bicyclists, said Petros.
The community recently mourned the loss of John Greg Colvin, a 55-year-old cyclist killed after a vehicular collision on Pacific Coast Highway in June.
Recognizing the immediate need for improvements, the city is already underway with changes that will make roads safer for cyclists.
"Brad Summers, our Sr. Civil Engineer and staff member, outlined a number of improvements at the meeting that are already underway just as a result of the planning," said Petros. "We've already accumulated a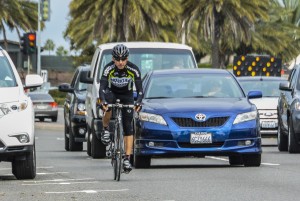 significant amount of money invested in new bike lanes and striping. We are also doing striped bike tracks on San Joaquin, Jamboree, Spyglass, and around Back Bay Drive."
At the two hour meeting last Monday, a representative from Alta Planning + Design, who created the plan in conjunction with the city, went through the plan's draft in detail to explain the ongoing changes for bicycle safety in Newport.
The plan will go to the City Council for adoption in the coming months. Petros said the council is eager to adopt the plan and make changes as quickly as possible.
According to Petros, the community has been receptive to the changes and looks forward to seeing improvements that will make the roads safe for cyclists in the coming years.
"I think there's an acknowledgement in the community that this is something that's new and that it will have a measurable improvement, and more than anything that the city is committed to making change," said Petros. "There are always those who would say we are not moving fast enough but I will tell you that this is a significant change for the City of Newport Beach to address active transportation."
Community members are invited to review the plan and make comments until July 30. Comments must be made in writing and submitted to Brad Sommers, Project Manager, at [email protected]
To read the Bicycle Master Plan, visit newportbeachca.gov/index.aspx?page=2297.