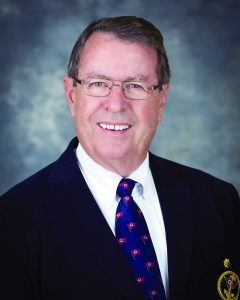 At its annual meeting on Dec. 4, Bahia Corinthian Yacht Club in Newport Beach announced that long-time member and racer Chuck Wert takes over the helm as Commodore for BCYC for 2017.
He joined BCYC in 1977 and has served on the Board of Directors and the Executive Committee as a flag officer for the past three years.
Wert has been involved in boating all of his life. When he was a child, his father had an 18-foot cabin cruiser and would regularly take the family to Catalina Island.
In 1977, Wert purchased his first boat, a 33-foot ranger that he raced locally in Newport. Later, he purchased a J/35 that he raced both locally and one design.
In 1998, Wert purchased a J/120 "Fee Event," racing in one design and local races. Some notable wins were first overall in Crew of Two around the Catalina Island Race, many Ensenada race victories and first overall in the 14-mile bank race.
Next year will mark his 40th time competing in the Newport to Ensenada race, this time on his new Hylas 46 "True."
Wert currently resides in Newport Beach with Lynn Lyon. He has two children, Christiane Rivard, 44, and Charles P. Wert, 40, both of whom sailed and crewed with Chuck Wert on many trips and races.
He has three grandchildren ages 4-10 and he hopes to make them sailors someday as well.    
Wert most recently served as vice chairman and director of Evercore Trust Company, N.A. and previously was its president & CEO. 
Bahia Corinthian Yacht Club was founded in 1958. The Club offers a family atmosphere where power or sailboat owners share a first-class facility offering comfortable amenities and a well-rounded calendar of events.  The Club was named Club of the Year by the Southern California Yachting Association in 2011, 2008, 2005, 2003, 1996, 1995 and 1994.
For more information, call (949) 644-9530 or visit bcyc.org.