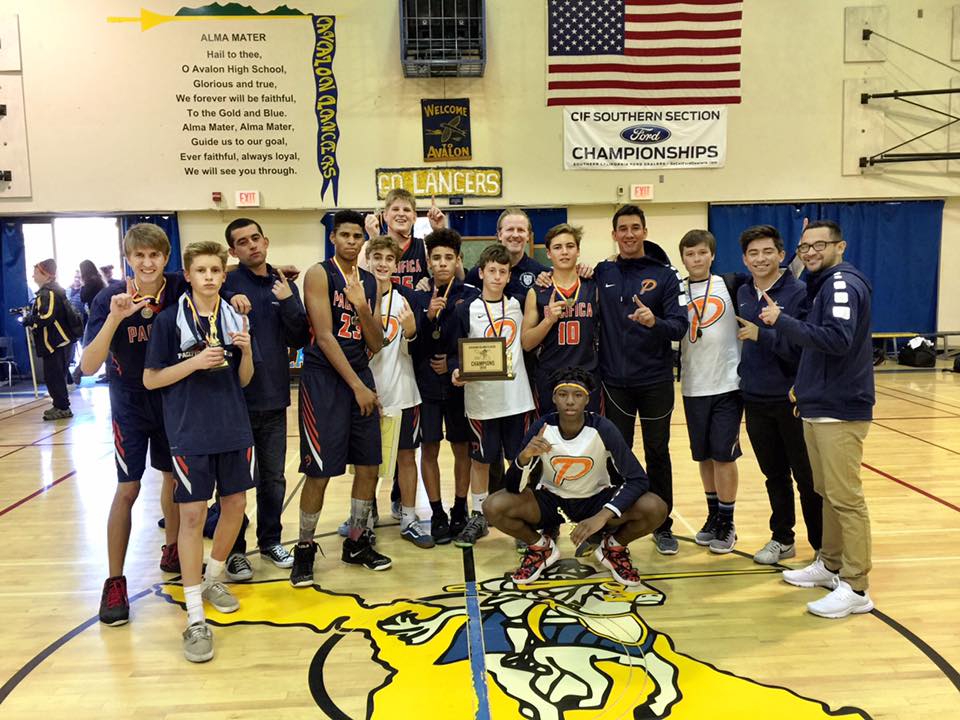 Newport Beach's Pacifica Christian High School boys basketball and girls soccer are well on their way to record-setting seasons, despite recently suffering their first losses of the season.
On Dec. 19, girls soccer traveled to the desert to face number nine ranked Palm Springs High School, where they lost 2-0, closing out 2016 with a 7-1 record.
On Dec. 23, boys basketball competed in the North vs. South Challenge, at El Toro High School in Lake Forest, where they faced Division 3AA, number two ranked Saddleback Valley Christian. Despite the 101-63 loss, boys basketball ends 2016 with a record of 9-1.
Boys basketball is averaging 72.8 points per game, while only allowing 44.7 points per game. They brought home the first ever varsity trophy in school history, defeating Avalon High School 63-47 in the Catalina Classic. They also have one of the top 5 scorers in Orange County in Freshmen Dominick Harris, who is averaging 24.1 points per game.
"I am proud of our guys for competing from beginning to end, and never getting discouraged," said head coach Jeff Berokoff.
The next boys basketball game is Monday when they host the Firewolves of Samueli Academy from Santa Ana in Pacifica's Triton Event Center at 6 p.m.  
Girls soccer is averaging 3.6 goals per game, while only giving up 0.87 goals per game. They have five shutouts on the year and have scored three or more goals in all but one of their games this season.  
"I could not have asked for more from our girls so far this season," said head coach Brandon Gonzalez.  "If you were to have told me at the beginning of the season, in our first year competing at the varsity level, we would be 7-1 at this point in the season, I would have probably laughed. I am extremely proud of these girls."
Girls Soccer returns on Tuesday, as they travel to Gardena to take on the Cavaliers of Serra High School.