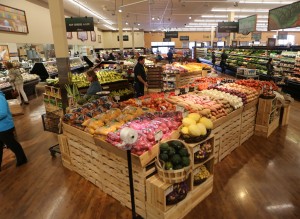 The Albertson's supermarket on Coast Highway in Corona del Mar closes its doors for good this Sunday, May 3, at 6 p.m. But don't worry—the store will reopen on Tuesday afternoon, May 5, under a new name: Haggen.
The CdM store is one of the 83 grocery stores that Haggen plans to acquire and convert during the first half of 2015.
According to Haggen, once the acquisition is completed, the chain will expand from 18 stores with 16 pharmacies to 164 stores with 106 pharmacies. They'll go from 2,000 employees to more than 10,000 employees, making them a major regional grocery chain with locations in Washington, Oregon, California, Nevada and Arizona.
"We're excited about the changes we're making to enhance these stores with more locally sourced food offerings,
genuine service and homemade quality, and we're confident customers will like the new look, convenience and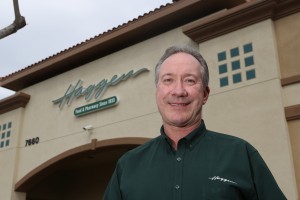 value offered at our new Haggen one-stop, full-service grocery destinations," said Bill Shaner, Haggen CEO Pacific Southwest, in a press release. "Haggen has built its 81-year-old business on providing excellent fresh produce and high quality meats and seafood. That focus will definitely be reflected in each of the 100 stores we're opening in California, Nevada and Arizona, introducing shoppers to Haggen's unique mix of healthy, hassle-free offerings."
According to Haggen, shoppers can expect enhanced, fresh offerings, homegrown quality and affordable prices, along with the familiar faces they already know in the store, because as each new store is transformed into the Haggen brand, employees are invited to become Haggen employees.
Moran Golan, director of communications for Haggen, said that each new Haggen store is converted in approximately 40 hours.
"This first phase consists of a fresh coat of paint, new signs inside the store, and of course the Haggen name, big and bold, on the outside of the building," said Golan. "One of the most important parts of the store conversions takes place behind the scenes, transitioning employees over to Haggen, and educating them about the company's commitment to buying local, supporting the community and utilizing sustainable business practices. Some of the changes will take place more gradually, as we meet new vendors and food producers in the areas around our stores and add their products to our shelves. We're also looking forward to getting suggestions for new products from our customers, so that each store has a selection that is tailored to the needs of our community."
Golan explained that you can only do so much during the 40 hours the store is converted from Albertson's to Haggen. Immediate changes include Haggen branding and décor, enhanced offerings in the produce and meat departments, and a new layout in the produce department.
"It will take time to completely infuse the store with the full Haggen experience," noted Golan. "It's a journey, as we like to say. Guests can expect to see continued improvements over the upcoming weeks, months and year."
The basics on Haggen:Founded in 1933 in Bellingham, Washington, Haggen operates stores in Washington and Oregon, and is in the process of acquiring an additional 146 stores and establishing a second headquarters in Irvine. Throughout its eight decades in business, the company has supported regional farms, ranches, fisheries and other businesses, creating a lasting and sustainable local food economy. For more information about Haggen, visit haggen.com.