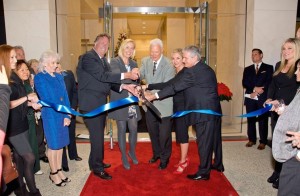 Coldwell Banker Residential Brokerage officially commemorated its Newport Beach office grand opening by cutting a giant, "Coldwell Banker Blue" ribbon at the grand opening festivities on Thursday, Dec. 4.
Approximately 200 guests were in attendance at the brokerage's newest office (840 Newport Center Drive) where Coldwell Banker Residential Brokerage President Jamie Duran, Vice President of Operations Leeann Iacino, and Coldwell Banker Newport Beach Office Managers Greg Bingham and Cas Pinowski addressed the public and officially cut the ribbon.
"In the last 12 months, more than $2.6 billion worth of real estate was sold in the Newport areas," said Duran. "And Coldwell Banker Residential Brokerage's approximately 250 independent sales associates in this area were responsible for nearly $343 million of it." She explained that the brokerage's growing team of independent sales associates needed a new office to accommodate this growth and success.
Iacino stressed that teamwork is what makes Coldwell Banker Residential Brokerage number one in Southern California, with sales associate productivity higher than ever before. "We've also recruited a record number of productive sales associates. We're on a roll and we're not going to stop," she said.
Coldwell Banker Residential Brokerage operates more than 87 offices throughout Southern California and Arizona with approximately 5,548 independent sales associates. Coldwell Banker Residential Brokerage is owned and operated by NRT LLC, the largest owner and operator of residential real estate brokerages in the United States.