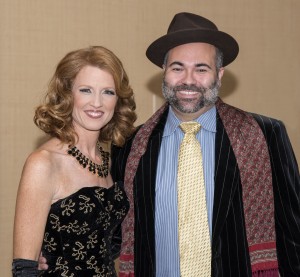 Laguna Playhouse went back in time for its annual Gala last month, which pleased supporters so much that the gala brought in a record $196,500.
Dubbed "A Night at the Cocoanut Grove," the Big Band Gala was held at the Island Hotel in Fashion Island and chaired by Michelle Bendetti and Justin Myers.
"Playhouse supporters and members of the community enjoyed a fun-filled evening reminiscent of the 1940s when you got dressed up and went out on the town," said Bendetti.
Before the festivities started, VIP-ticket holders, sponsors and underwriters of the evening enjoyed a special Speakeasy reception featuring signature cocktails and a cigar lounge.
Over 30 volunteers helped transform the ballroom of Island Hotel into the Cocoanut Grove, with 300 tall palm fronds accenting the décor. Guests experienced a supper club show featuring the music of the 1930s through the early 1950s performed by crooner Johnny Holiday and his 10 piece orchestra, and Johnny's gal pals The Satin Dollz Pin Up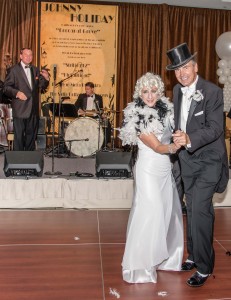 Dancers.
The evening featured a gourmet dinner accompanied by Newport Beach Vineyards & Winery wines.
The Live Auction featured Anaheim Ducks games package, Kepler Supercar tour & VIP Long Beach Grand Prix Indy package, and a $10,000 Corum Admiral's Cup Competition 48 Timepiece.
The Silent Auction featured 125 packages and baskets including a walk on role for the Laguna Playhouse's 2015 summer musical, a year of dining, wine tastings, and many other unique packages.
Winners of three raffles included a one week Hawaii condo vacation, Island Hotel weekend getaway and Wine Cellar Starter featuring 100 Bottles of premium wines.