By Christopher Trela and Catherine Del Casale | NB Indy
Fashion Island has no shortage of jewelry stores, but one new boutique that specializes in contemporary statement jewelry opened last month and is already making waves in the marketplace.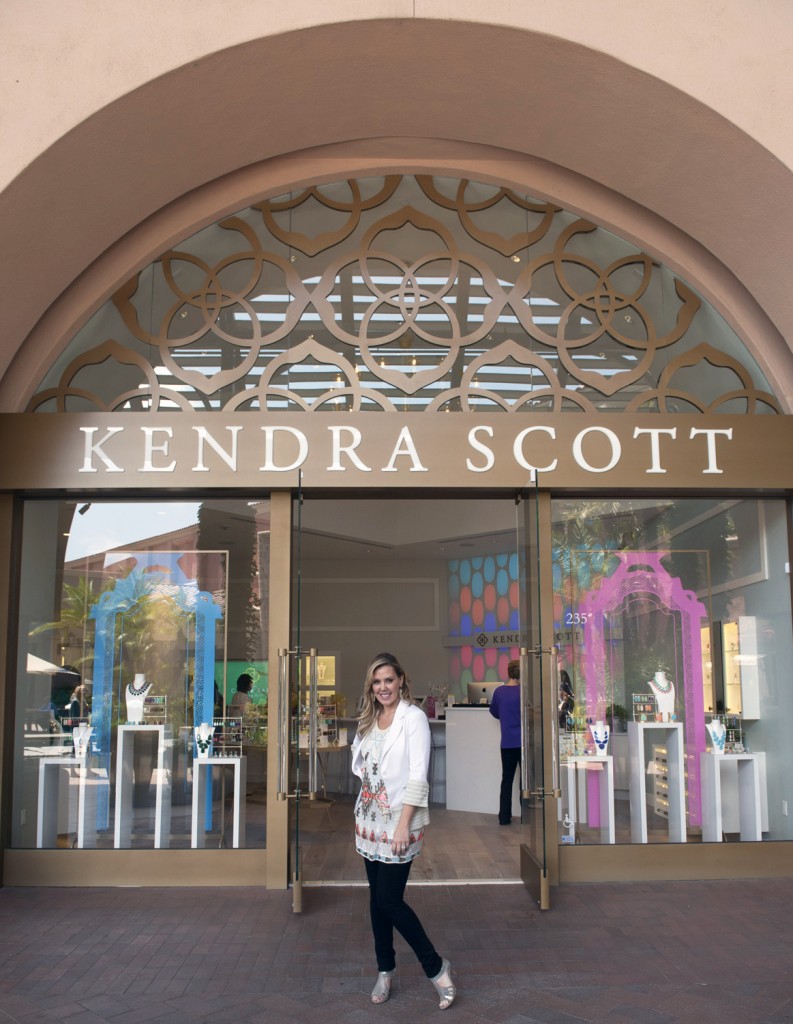 Kendra Scott (named for the woman who founded the retail chain back in 2002 in Austin, Texas) sells handcrafted jewelry in color combinations selected by each buyer using an interactive Kendra Scott Color Bar.
This Color Bar is displayed on a 55 inch, touch-screen monitor (as well as iPads). Buyers select one of 23 jewelry silhouettes, and then any variety of 26 gemstone colors. Once a buyer is satisfied with their design, one of the Kendra Scott staff then matches the design by creating a custom jewelry piece while the customer waits.
"I'm beyond excited to be opening our first store in the OC," said Scott in a press release announcing the Fashion Island store opening. "It's always been one of my favorite places to visit and a great source of inspiration for me."
Indy columnist Catherine Del Casale was also beyond excited when she learned about the store.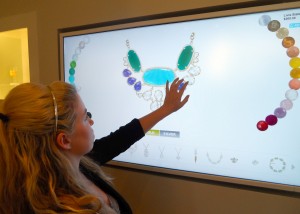 She went online to the Kendra Scott website and immediately started experimenting with the designs and colors in preparation for visiting the store once it opened.
At the store opening celebration, Catherine selected a necklace design which held more than a dozen gems. Using the Color Bar, she chose colors and placed them within the necklace design, until she was satisfied with her creation.
Within 10 minutes, she was wearing her new necklace.
Catherine's comments:
"I think I've found my new favorite jewelry spot. The color bar is one of the more interesting concepts I have discovered in a while. First you choose from multiple necklaces, bracelets, rings, or earring settings in either gold or silver. Then you choose from a variety of color stones and place them within the pattern. This gives you plenty of versatility. I always find that I have the perfect necklace for a certain outfit but it's the wrong color–if only I had it in pale pinks and oranges. Now I am able to customize my jewelry to fit my personal tastes and wardrobe, or even gift something custom to a friend. I also like the fact that celebrities such as Cameron Diaz and Hilary Duff wear Kendra Scott jewelry."
When doing her online research, Catherine learned that Kendra launched her brand with only $500. Now, Kendra Scott jewelry is sold at stores around the world and online at KendraScott.com. The pieces range in price from $50 to $275 depending on the intricacy of the design.
At the Fashion Island opening party, 20 percent of the proceeds were donated to the Orange County affiliate of CASA (Court Appointed Special Advocates for Children).
Giving back to the community is part of the company's philosophy. Kendra is co-founder and co-chair of LEAP (LifeWorks Entrepreneurs & Professionals), she's the keynote speaker for the American Heart Association's Go Red Campaign for Women, and she hosts "Kendra Gives Back" parties at her stores for local charities.