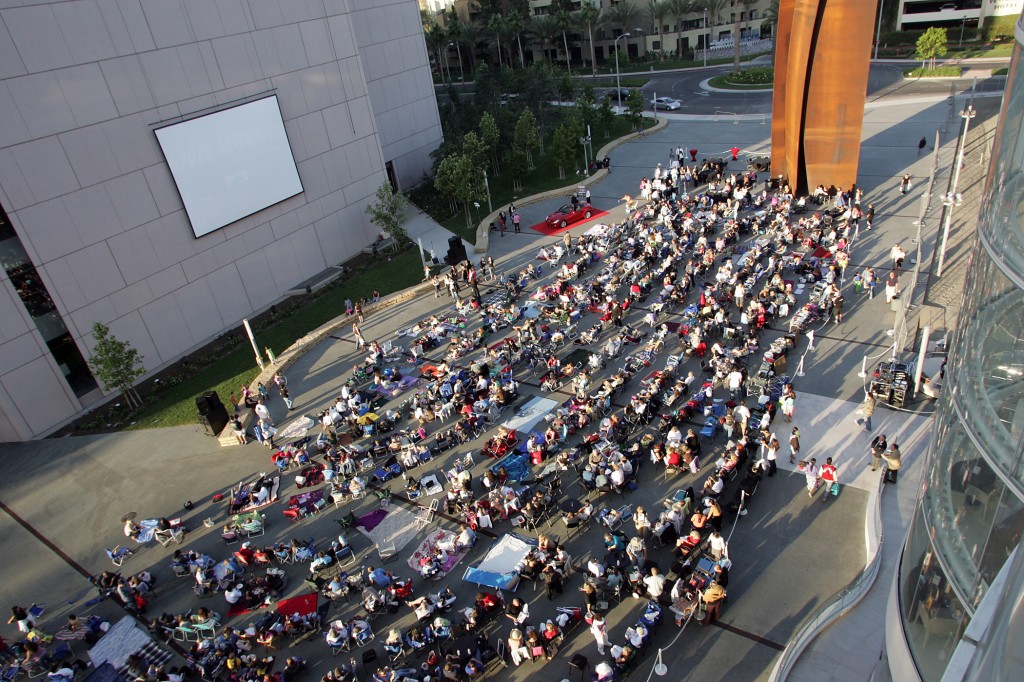 Movies, music, and mouthwatering menus meet under Costa Mesa's balmy night sky as Segerstrom Center's spacious Arts Plaza once again plays host to five enticing evenings of alfresco entertainment.
The fun begins next week, when the seventh season of free Movie Mondays – part of the Center's Free for All series – opens with a screening of the 1998 romantic comedy "The Wedding Singer," followed by two made-from-musical movies, "The Phantom of the Opera" and "Evita," one blockbuster movie turned blockbuster musical, "The Lion King," and the acclaimed documentary of Cuban jazz musicians "The Buena Vista Social Club."
Each movie is projected against the wall of Segerstrom Hall, and guests are invited to bring their own beach chairs, blankets, and food (no barbeques or hibachis allowed), and to purchase tempting tidbits from renowned Patina Catering, which will feature specially-themed menus for each movie.
July 8: "The Wedding Singer"
One of Adam Sandler's best movies, this time capsule to an era that seems so long ago (it's set in 1985) captures the mood and the music of that over-the-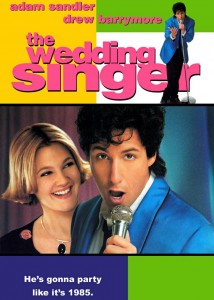 top decade with great humor, innocence, and vivacity. Sandler is "Robbie Hart," a recently left-at-the-alter wedding singer; Drew Barrymore plays "Julia Sullivan," his new friend and soon-to-be love interest. Run time: 95 minutes.
Patina's themed menu: Burger and cheeseburger sliders ($6 for 2 sliders), grilled cheese sandwiches ($4), slices of wedding cake ($3).
July 15: "Buena Vista Social Club"
Follow director Wim Wenders' friend, American jazz guitarist Ry Cooder, as he journeys to Havana to bring together a group of musical legends from the 1940s and 50s to perform once again their unique brand of Cuban jazz in this 1999 Oscar nominated documentary. With its roots in old school Latin, the music's vividness and vitality became highly influential to other Latin artists. Run time: 1 hour and 45 minutes.
Patina's themed menu: Chicken tacos ($6 for 3 tacos), cheese quesadillas ($4), churros ($3).
July 22: "The Lion King"
With catchy tunes such as "Circle of Life" and "Can You Feel the Love Tonight?" 1994's "The Lion King" claimed its rightful place in Walt Disney's pantheon of animated musicals, garnering two Academy Awards along the way. This poignant story of a young lion Prince named Simba and his quest to regain the throne his Uncle stole from him while restoring peace to the land is both touching and compelling. Such Hollywood notables as Matthew Broderick, James Earl Jones, Jeremy Irons, Whoopi Goldberg, and Nathan Lane and Cheech Marin lend their voices to the roles of Simba, Nala, Mufasa, Scar, Timon, and Pumbaa as well as the now classic songs by Elton John and Tim Rice. Run time: 89 minutes.
Patina's themed menu: Grilled beef and vegetable kabobs ($6 for 2), watermelon wedges ($2), cake pops ($2).
July 29: "The Phantom of the Opera"
Emmy Rossum as Christine Daaé and Minnie Driver as her rival Carlotta Giudicelli steal the show vocally in this 2004 British adaptation of Andrew Lloyd Webber's sumptuous smash-hit Broadway musical, which in turn was based on French writer Gaston Leroux's 1910 novel. Dark and dreamy, "The Phantom of the Opera" pits innocent young love against the twisted pathos of thwarted desire, for a truly mesmerizing experience. Gerard Butler plays the title role, with Patrick Wilson as Raoul. The movie received multiple Oscar nominations for acting, sets, and costumes, but it's the unforgettable songs that continue to haunt long after the final credits roll. Run time: 2 hours and 23 minutes.
Patina's themed menu: Croque monsieur ($6), grilled cheese sandwiches ($4), charcuterie and cheese plates ($6), crepes ($4).
August 5: "Evita" 
If you liked the stage musical, most likely you'll enjoy this 1996 movie musical by Alan Parker, filmed on location in Buenos Aires. With a fine performance by Madonna in the title role of Argentina's own Eva Duarte de Perón, arguably one of history's most influential- an infamous- women, this true-life story of rags to riches to power-and an untimely death at age 33- also stars Antonio Banderas and Jonathan Pryce. Run time: 2 hours and 15 minutes.
Patina's themed menu: Beef and vegetable skewers with chimichurri ($6 for 2), Tres leches parfait ($3).
Movie Mondays are free at Segerstrom Center for the Arts, 600 Town Center Drive, Costa Mesa. Set-up begins at 5:30 p.m. with the movie starting at dusk (approximately 8 p.m.). In partnership with the Newport Beach Film Festival, a selection of the best animated short films from this year will be shown prior to each week's main feature. Segerstrom Center will also hold themed contests before each screening; past ones have included trivia games and dance competitions, with prizes such as tickets to shows and DVDs. The contest is open to all movie goers and starts at approximately 7:30 pm. For more information go to www.scfta.org/moviemondays .
Pre-orders from Patina Catering for platters serving 2-4 people must be ordered by the previous Friday at 5 p.m. Please call the Special Events Line at (714) 556-2122 ext. 4202.
Assorted cheeses and charcuterie- double cream Brie, Chipotle Cheddar, Vella Jack, San Danielle Prosciutto, aged dry salami, grapes, olives, marinated peppers, dried fruit, crackers: $18 plus tax and service charge
Sweets Platter- 6 assorted cookies, 4 brownies, 4 chocolate covered strawberries: $12 plus tax and service charge
Chocolate Fondue Platter- strawberries, pineapple, brownie bites, pound cake bites, marshmallows, chocolate sauce: $15 plus tax and service charge