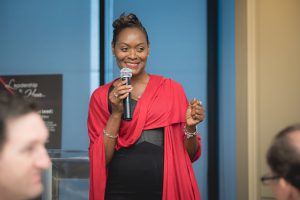 Navigating shifts throughout one's journey to the top while juggling the demands of today's fast-paced society, including at work, at home and in the community, will be the focus of speaker series Leadership in Heels' first event of the year on Thursday, March 21, from 7 to 9:30 a.m. at the Center Club in Costa Mesa.
Featuring a panel discussion of high-powered executives, "Journey to the Top: The Juggling Act" will empower attendees to gain clarity on the question "What is your top?" as well as identify barriers impacting that journey while providing tools to offer balance and fulfillment.
Panelists include: Lanän Clark, Vice President and Associate Market Manager of Merrill Lynch in Newport Beach; Lisa Haines, Vice President of Communications and Public Affairs for Disneyland Resort in Anaheim; Lori Seal, CEO of Blytheco in Laguna Hills; Dr. Tammy Wong, CEO of Fostering Executive Leadership in Irvine.
Specific topics to be discussed will include how to discover what your top actually is and how to handle the shifts getting there while striving to be the best of who you are, how to navigate the journey to the top with society's information overload and constant interruptions of social media and email, how to juggle home, work and community responsibilities whether it be top career shifts, finances, marriage, time for others or balancing personal commitment to self, and how to juggle the life you want to live and not do things out of guilt or that you may not want to do.
Leadership in Heels Founder and CEO Scharrell Jackson, a full-time Partner, COO and CFO for Squar Milner in Newport Beach, one of the top 50 accounting firms in the nation, will moderate this first Leadership in Heels event of 2019.
Jackson began the leadership series with the goal to authentically pivot lives forward personally and professionally while stimulating the mind and penetrating the heart.
"In today's society the biggest thing we struggle with is stress. Whether we place stress on ourselves or others place stress on us, it shortens our ability to live," says Jackson. "Leadership in Heels and our March 21 event aims to help men and women gain more fulfillment from life, which comes with juggling the many components of our lives successfully while striving to reach our individual tops. Often people initially think of their top as their career. This event will bring clarity to attendees to determine what their top actually is and how to best juggle getting there with the goal of good health, wellness and happiness."
Both men and women are invited to attend Leadership in Heels events. The series has hosted over 2,000 attendees including c-suite executives, middle managers, entrepreneurs, community leaders, and those who strive to enhance their leadership skills.
In addition to interactive presentations and exercises, the Leadership in Heels speaker series offers breakfast, networking and giveaways.
A portion of net proceeds from "Journey to the Top: The Juggling Act" will benefit Anaheim-based nonprofit SeniorServ which nourishes the well-being of older adults through nutrition, social connections and supportive services. They deliver programs and services that reduce hunger and improve wellness for seniors so that they may live independently.
SeniorServ was chosen as the beneficiary because on the way to becoming a senior it is important to gracefully juggle throughout the journey of aging to be able to enjoy life then as well. SeniorServ CEO Holly Hagler will speak on behalf of the nonprofit during the event.
Tickets for "Journey to the Top: The Juggling Act" are $75 and can be purchased at eventbrite.com/e/journey-to-the-top-the-juggling-act-tickets-52156147441. The Center Club is located at 650 Town Center Drive, Garden Level, in Costa Mesa.
For more information about Leadership in Heels, visit scharrelljackson.com/about-leadership-in-heels.