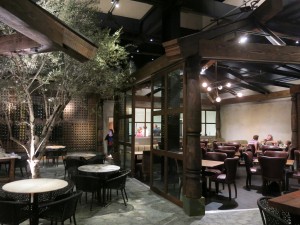 Settebello, the Napoletana style pizzeria with locations throughout Las Vegas, Nevada and Southern California, is bringing Italian tradition to Orange County as its eighth location joins the distinguished restaurants at the Crystal Cove Shopping Center. Staying true to the traditional restrictions set by the Associazione Vera Pizza Napoletana, Settebello sets the highest standard for its pizzas and ingredients with Head Pizzaiolo Carmine D'Amato overseeing the step-by-step process.
Featuring an exquisite indoor/outdoor space designed by Marshall Projects and a newly revamped menu offering classics as well as specialties specifically crafted for the Orange County location, Settebello aims to transform how Newport thinks about pizza.
"We wanted to bring a unique addition to the Newport Beach culinary scene that would match the community's desire for only the best ingredients, most unique dishes and high-end design," said co-owner Brad Otton.
Design firm Marshall Projects worked to build a space that was inviting while still emanating luxury and elegance. The restaurant embraces So Cal's beautiful weather with an open ceiling throughout and glass atriums covering both the bar and dining room.
A grand row of olive trees run down the middle of the restaurant, creating a garden feel as lounge areas with plush couches and classic Italian black-and-white films provide the ideal setting for intimate cocktails.
The focal point of the space is the authentic Napoletana pizza oven, imported directly from Italy, which sits behind a wall of windows in the back of the dining room giving each guest the opportunity to watch the pizza as it is carefully crafted and prepared.
When it comes to the menu, Settebello takes pizza to the next level with an extreme commitment to the traditions of authentic Napoletana pizza.
Settebello also offers a comprehensive craft cocktail program that delivers inventive drinks that pair nicely with the Newport location's sense of humor. Guests can sip a Newport Coast with raspberries and Flor de Caña rum; an Offshore Bank Account with Bank Note scotch; or a Marine Layer with strawberry, basil, and Aylesbury Duck vodka.
For more information, visit Settebello.net.