Light. Tunnel. End of?
The financial downturn that started in 2008 may be a distant memory if business in Newport Beach continues its current path.
It's hard to believe, but five years ago we started a downhill slide that upended many businesses both large and small. Many closed, many had to restructure, and many more were able to adapt and survive with a new business model that started after the meltdown.
To get an idea of the current business climate in Newport Beach, I went to the best source in town: Steve Rosansky, head of the Newport Beach Chamber of Commerce.
First things first–a huge congratulations to Rosansky, who took over on an interim basis last January. No question he's had an impact on the chamber this year, and as an entrepreneur himself brought about some adjustments.
Along with that, the Chamber relocated from an office they had been in for 30 plus years, and are now on Irvine Ave in a smaller one across from the Newport Beach Golf Course. It's an intimate office in a great location.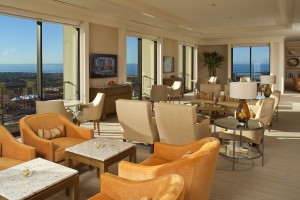 I asked Steve his opinion and observations about the general business environment.
"There has been a consistent improvement at all levels," he told me. "The city tax revenue is up as are occupancy rates, and restaurant activity. Our number one income generator is hotels and entertainment. Our vacancies are extremely low, and rates have increased along with new restaurants opening all year long."
We have noticed that as well and have seen new eateries of distinction like "Fig and Olive" and "Red O" recently open in Fashion Island, with more to come in the New Year.
Another big boost in 2013 has been the explosive return of the real estate market—and equity! Many who saw their values decrease between 2008 and 2010 are seeing a rebound, and the length of time on the market for sales has dropped.
Is activity going up or down? Are there enough homes available? Stay tuned for year-end stats along those lines.
The city of Newport Beach, one of the strongest and most stable in Orange County, is sitting on a reserve in excess of $130 million, an increase in 2013 of about $12 million. If the worst of the mini-recession is now over (which I believe it is), the city is in fine fiscal condition.
The chamber is also fairing well with about 650 members, and may be unveiling some changes in 2014 which will be shared soon as we look forward to the New Year.