NOTE: Indy reporter Sara Hall compiled this look back at what made headlines in the NB Independent during 2013.

January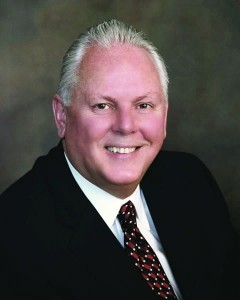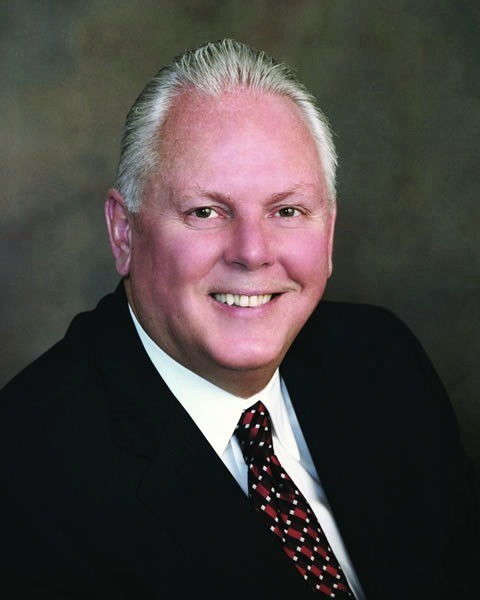 — Richard Luehrs retired from his position as Newport Beach Chamber of Commerce President and CEO, one that he held for more than 30 years. Former mayor and city council member Steve Rosansky was appointed Interim President and CEO of the Newport Beach Chamber of Commerce. Click here and here for the original, full stories.

 — Dr. Ronald Gilbert, a physician at Orange Coast Urology, was shot and killed in an office near Hoag Hospital. Police quickly located and arrested Stanwood Fred Elkus, 75, of Lake Elsinore, without incident in an office on the second floor of a building at 520 Superior Ave. Elkus later pleaded not guilty to murder, with sentencing enhancements for lying in wait and using a gun to cause death. His preliminary hearing has been continued until Feb. 13, 2014. Click here and here for the original, full stories.
 February
— Sage Hill School held a special preview event and announced a campaign to build a state-of-the-art $7.5 million science center. They had raised $3.75 million so far and with a $2.5 million gift from the Argyros Family Foundation later in the year, surpassed their goal by $530,919. Construction is underway and the school hopes the center will open in fall 2014. Click here for the original, full story.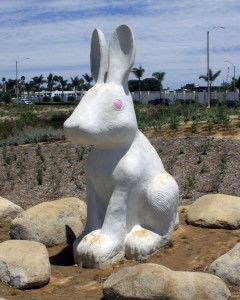 — More than a dozen rabbit figures were installed in the new Civic Center park complex. City officials said the bunnies were meant as an element for children in the park. Click here for the original, full story.

— The Newport Beach Dock Owners Association, the group behind the "Stop the Dock Tax" campaign, filed a lawsuit against the city, alleging that city council members had violated the Ralph M. Brown Act. The lawsuit claimed that council members had been meeting privately about harbor fees and posting no legal notice since 2010. The lawsuit came on the heels of a recent increase in residential dock fees, approved by the council in a 5-1 vote on Dec. 11. Click here for the original, full story.
— New security measures for Newport Mesa Unified School District were approved, the board's first decision regarding school safety since the shootings at a Connecticut elementary school and Fashion Island in December. The board approved ID badges and lanyards for all staff, costing an estimated $3,500; hand held devices with Aeries access, about $200 each, and Aeries software licensing, $1,000 per site, according to the staff report. The Aeries devices and software cost would total about $17,000. The move also included increasing lock down drills from two annually to four or six. Click here for the original, full story.

March
— Hoag Memorial Hospital Presbyterian in Newport Beach and St. Joseph Health in Orange announced the formal completion of a combined health care system. Dr. Richard Afable moved from president and chief executive officer of Hoag to the new affiliation, named the Covenant Health Network. He will also serve as executive vice president of the Southern California region of St. Joseph Health. Hoag's chief operating officer, Robert Braithwaite, was chosen by the hospital's board of doctors as the new president and CEO. Click here for the original, full story.

— The body of Tina Hoang, 20, of Bellflower, was found face down in the sand near West Ocean Front and Highland Street. The Newport Beach Police Department responded to a call around 6 a. m. on Monday about a woman, who appeared to be unconscious, lying face down in the sand near lifeguard tower 71. Both police and fire departments responded, finding the woman deceased when they arrived on scene. Click here here for the original, full story.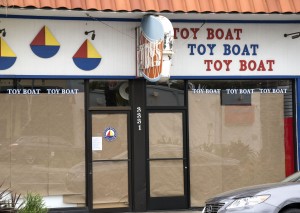 — Almost exactly six months after two fatal bicycle crashes, city council voted unanimously to establish a Bicycle Master Plan Oversight Committee. Following in the steps of the Citizen's Bicycle Safety Committee, which was dissolved in January, the aim of the new committee is to take the lead on the Bicycle Master Plan, which will promote "bicycle safety and responsible cycling within the city." Councilman Tony Petros will head up the new committee as chairperson, with support from seven appointed community members. Click here for the original, full story.

— After a difficult year, the Toy Boat store has finally sunk, as the iconic Corona del Mar toy shop shutting its doors for good. The cash mob last July, a decent holiday season and a "cash for gold" fundraiser in January all helped, but they didn't receive much cooperation from the "aggressive" creditors, said Toy Boat Toy Boat Toy Boat owner, Lori Curtin. The Curtins had to close the three other Toy Boat locations during the first half of 2012, and were considering closing the original CdM shop last July due to financial troubles. Click here for the original, full story.

 — The Chamber of Commerce cancelled this year's Taste of Newport, in what would have been the event's 25 year anniversary. The famous food festival demanded too much time and resources from staff, said Steve Rosansky, chamber president and former city councilman. The chamber has recently seen some financial hardships and the Taste event actually lost money last year. Click here for the original, full story.

 April
— With a nearly packed house in the chambers at the new city hall, Newport Beach City Council heard proposals regarding what to do with the old city hall site. The city was considering three proposals for the property at 3300 Newport Blvd., from RD Olson Development, Sonnenblick Development, The Shopoff Group. Community response at the meeting was largely in favor of a hotel, with a handful of residents speaking during public comment. Click here, here and here for the original, full stories.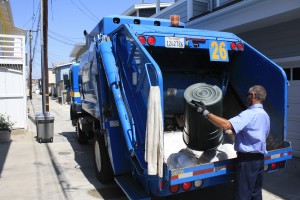 — The Newport Beach City Council was seeking bids from private companies to take over the responsibility of trash collection within the city. In response to a study suggesting the city could save $410,000 annually if it sold their trash collection fleet for $6 million, the council is considering two different forms of trash pick up from its bidders. One would be the status quo: Sorted recycling and the use of residents' own containers. The other would have residents choose between differently sized trash carts and optional recycling sorting. Any outsourced contract would require the trash pickup provider to offer employment to the city's previous trash collector workers, said Mayor Keith Curry. Click here for the original, full story.

 May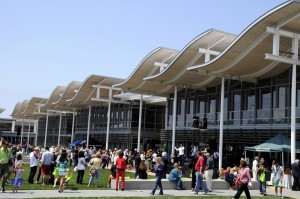 — About 12 years after the Newport Beach City Council first addressed city hall's expanding space needs and asked city staff to develop some ideas, the new civic center and park finally opened. The grand opening event included a ribbon-cutting, open house, live entertainment and refreshments. The final $139.9 million project includes a city hall building with council chambers, community room, central library expansion, 450-space parking structure, and a 14- acre park, including a dog park. City hall and the library expansion opened for business at the new location in mid-April. Click here, here and here for the original, full stories.

 — Orange County Superior Court Judge Sheila Fell issued a minute order ruling in favor of the city of Newport Beach and against Morningside Recovery, LLC, in a lawsuit centering around Morningside's compliance with the law. Morningside operates a number of facilities within Newport Beach and Costa Mesa for people with drug and alcohol dependencies, and is currently under investigation by the state. The Court found Morningside is not operating its facilities as a single housekeeping unit and is therefore in violation of the city's municipal code. Click here for the original, full story.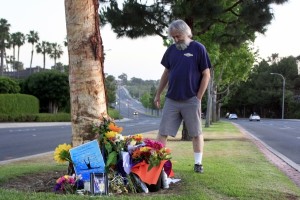 — A car crash on Jamboree Road killed five teenagers: Abdulrahman M. Alyahyan, 17; Nozad Al Hamawendi, 17; Cecilia D. Zamora, 17; Aurora C. Cabrera, 16; Robin A. Cabrera, 17. All five were Irvine residents. Around 5:20 p.m., authorities responded to a major injury, single-vehicle traffic collision on Jamboree Road, between Santa Barbara and Island Lagoon drives. A 2008 Infiniti was headed south on Jamboree at a high rate of speed and carrying five people, when it lost control and veered off the road, striking a tree in the center. The impact caused the car to split in half and the front engine compartment to catch fire. Click here for the original, full story.

 June
 — The Newport Beach Police Department teamed with the Orange County Regional Mounted Enforcement Unit in a cooperative effort between the OC Sheriff's Department and PDs in Anaheim, Buena Park, Garden Grove, and Santa Ana. Officers can assist via deployment on horseback, enabling high visibility patrols, patrols to otherwise inaccessible areas to vehicles, and in large crowds such as the OC Marathon or the Fourth of July festivities on the peninsula. Click here for the original, full story.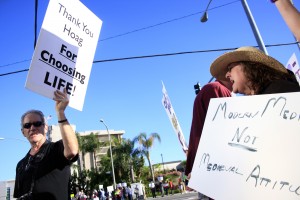 — A few hundred people showed up outside Hoag, some in support and some in protest, following the hospital's recent decision to ban elective abortions. Several pro-choice and women's groups planned the demonstration in objection to Hoag's ban on offering elective abortions, a move that comes not long after joining forces with  St. Joseph Health System. Also on hand was a large number of pro-life counter-demonstrators in support of Hoag's decision. The crowd gathered on the four corners of Hospital Road and Placentia Avenue. Hoag hospital officials were also standing near the demonstration answering questions. Click here for the original, full story.

 — City Council unanimously approved to send a letter to the California Department of Fish and Wildlife objecting to the state's plan to attempt to collect fees from joggers and hikers in the Back Bay. Signs had been posted around Upper Newport Bay Ecological Reserve announcing that declared users would need a "Lands Pass" and would have to pay $4.32 per day or $22.68 per year.  The Lands Pass system is not new, the report explained, "but the CDFW's interest in enforcing it and collecting fees at UNBER appears to be new." The letter recognizes the financial strain the CDFW is under, but points out that because of multiple access points, the number of users (including volunteers) and average length of time spent in the area, collection of the fees would be difficult. Click here for the original, full story.

July
— City council voted to work with R.D. Olson Development and their proposal for a 130-room boutique hotel to potentially be built at the old city hall site. The motion passed unanimously, 6-0, with councilman Mike Henn recusing himself. The facts and figures for the Olson proposal: Daily room rate approximately $279; estimated $402.3 million into the community and $17.25 million in city revenue over the next 10 years; and estimated cost of the project is $46.6 million. Olson beat out the competition of Sonnenblick Development, who proposed a 148-room boutique hotel, and Shopoff Group, who suggested a mixed-use idea of 99 luxury apartment homes and 15,000 square feet of upscale retail space. Click here for the original, full story.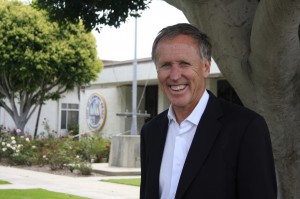 — Newport Beach resident Rebecca Lee McLaughlin, 48, was charged with attempting to run over an Orange County Sheriff's Department deputy with her SUV at John Wayne Airport. She is charged with three felony counts: attempted murder, aggravated assault on a peace officer, and aggravated assault. McLaughlin plead not guilty in August. Pre-trial is set to begin on Jan. 17. Click here for the original, full story.
— City Council voted 7-0 to authorize staff and members of the Arts Commission to move forward to implement a temporary sculpture exhibit in the Civic Center Park. The rotating exhibit would begin in May 2014 (to coincide with the one year anniversary of the civic center and park) with a maximum of 10 sculptures, with an additional 10 sculptures added in 2015. The sculptures would be in place for two years before being de-installed. Click here for the original, full story.
August
— Newport Beach City Council voted 6-0 to create a 300-foot "buffer zone" between picketers and targeted residences. The move comes after demonstrators targeted the home of a local doctor in June, yelling, writing slurs on the sidewalk in chalk, and causing a disturbance. The issue was regarding Hoag Memorial Hospital Presbyterian's recent decision to ban elective abortions. Click here for the original, full story.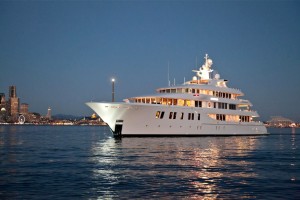 — The city approved special permits to allow two mega-yachts to temporarily moor in the harbor. The 216-foot Invictus and the 130- foot Marama will serve as a "test-run" in the harbor for two months. The move was "an effort to accommodate a growing number of owners of 100-foot-plus yachts who want to visit Newport Harbor." Click here for the original, full story.
— Jean Watt was named the 2013 Newport Beach Citizen of the Year by the Chamber of Commerce. Watt has lived in Newport Beach for six decades and is a former city council member. Her long list of accomplishments focus on environmental causes, and include founding Stop Polluting Our Newport, and volunteering with Environmental Nature Center, Orange Coast River Park, and Friends of Harbors, Beaches, and Parks. Click here for the original, full story.
— The city received the final permit that gave the go ahead to begin construction on the Marina Park project.
The city described the project as a "10-acre public park will include a 23,832-square-foot multi-purpose community and sailing program building." Construction cost estimates are subject to final design work and bidding, but may range from $21-24 million. The construction period is estimated to be about two and a half years. Click here for the original, full story.
September
— Jaime Prieto Rocha, 40, of Santa Ana, was arrested in connection with the murder of Nancy Hammour, 28, also of Santa Ana, the woman whose body was found under the Bay Bridge on Sept. 2. Rocha was charged with one felony count of murder and faces a maximum sentence of 25 years to life in state prison if convicted.
The cause of death for Hammour was confirmed as a gunshot wound. Rocha plead not guilty in November. His pre-trial is scheduled for Jan. 17. Click here for the original, full story.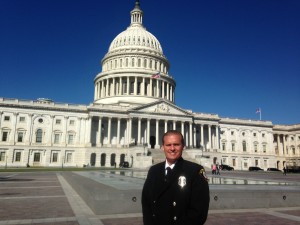 — Newport Beach Fire Department's Life Safety Specialist Matt Brisbois was honored as a Champion of Change for disaster preparedness during a special ceremony at the White House. Brisbois heads up the city's Community Emergency Response Team, comprised of more than 1,000 resident volunteers. Many of those volunteers, dressed in their green CERT vests, gathered in the friends room at the library to watch the live feed of the ceremony, along with other community members, Newport Beach Fire Department personnel and city representatives, including Mayor Keith Curry. Newport Beach CERT board member Karen Tringali also attended. FEMA paid expenses for Brisbois to attend, while donated funds paid for Tringali. Click here for the original, full story.
October
— An injured sea lion was rescued off a buoy just outside of Newport Harbor. He had two gill nets entangled around his neck and his wounds had become infected. The Pacific Marine Mammal Center in Laguna Beach and Orange County Sheriff's Department worked together to rescue the sea lion. The nets were removed and he was given treatment and hydration. He had been nicknamed in honor of Laguna Beach motorcycle police officer Jon Couchie, who was killed in a traffic collision while on duty Sept. 21. The sub-adult sea lion was released back to the buoy. Click here for the original, full story.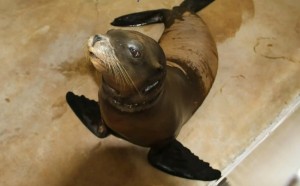 — Although some residents fought for their right to party on the peninsula, city council voted to deny the permit requesting to extend closing hours and add dancing at Woody's Wharf. After more than two hours of discussion, council voted 4-1, with councilman Ed Selich dissenting, mayor pro tem Rush Hill recusing himself for a conflict of interest, and councilwoman Leslie Daigle absent. The vote will reverse the approval given by the planning commission last year. Woody's Wharf filed court papers in November to challenging the city's decision. Click here for the original, full story.
— City council voted unanimously 5-0 in approval of a resolution restricting Aralia Street, near Corona del Mar High School, to permit-only parking. Councilwoman Leslie Daigle recused herself and Mayor Keith Curry was absent. The issue has been discussed since late 2011 when the Eastbluff Homeowners Association asked the city for permits or some kind of parking restrictions on Aralia Street. Since then the city has done a review of the area, discussed ideas, held meetings with school officials and more. Most recently city council started collaborating with the school district for a mutual agreeable solution. Click here for the original, full story.
November
— Gregory McFadden, 61, of West Covina, died at Hoag Memorial Hospital Presbyterian after jumping from a helicopter and into the water near the Balboa Pier. He was the only passenger onboard the Robinson R44 helicopter, which was northwest-bound approximately 500 feet above the shoreline when McFadden opened the door and jumped out. The pilot apparently tried to stop McFadden as he opened the door, causing a struggle and ripping McFadden's shirt before he jumped out. McFadden's brother said he had a chronic health condition and was unable to get surgery. Click here for the original, full story.
— City council took a look back at the rent implementation procedure for residential and commercial piers and moorings in Newport Harbor and found a few changes to make and plenty of people still fired up over the issue. Staff recommended charging half rate for the interior of the U-shaped float and the 10 foot buffer area and nothing if the usable water space is less than five feet. Both had previously been charged the full rate. Instead, council replied that the interior of the U-shaped float should remain at full price and that nothing should be charged for the buffer zone. There were several other staff recommendations and changes as well. Click here for the original, full story.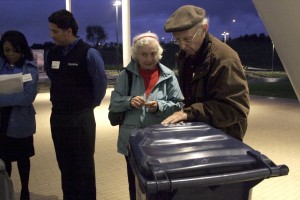 — After nearly three hours of discussion, council voted 4-3 to approve the $19.8 million contract with CR&R Inc., the lowest bidder, for residential solid waste collection. The two other companies being considered were Ware Disposal and Rainbow Environmental Services. Mayor Curry and council members Leslie Daigle, Mike Henn and Tony Petros voted in favor of the contract, while Mayor Pro Tem Rush Hill and council members Nancy Gardner and Ed Selich dissented. Outsourcing the trash collection service to CR&R is expected to save the city approximately $15.8 million over seven years. Click here for the original, full story.
— A local plastic surgeon is suspected of performing a "unnecessary and harmful medical procedure" in order to fraudulently overcharge the insurance company. Jay W. Calvert, 45, of Newport Beach, is charged with one felony count each of medical insurance fraud, manufacturing documents to support the fraudulent bill, and perjury under oath. Arraignment is scheduled for Feb. 28. Click here for the original, full story.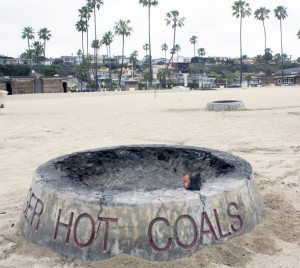 — City council members unanimously voted 6-0 to reduce the number of beach fire pits in the city from 60 down to 27, keep them separated by a minimum of 50 feet, and replace a portion of them with an alternative fuel for a demonstration project for the South Coast Air Quality Management District. The city also plans on experimenting with larger rings, meant for groups of people to gather around. Councilwoman Leslie Daigle was absent. The council's action followed the SCAQMD's  Technology Committee unanimously approved executing two contracts for creating the public beach fire pit rings with Earth's Flame, Inc. and Blazing Design, Inc. to "develop and demonstrate propane and natural gas fired fire rings." Click here and here for the original, full stories.
— City council members discussed whether to renovate, replace or remove structure at the end of the Newport Pier during a study session. Council was split on what to do with the space. All members were concerned with the California Coastal Commission's involvement. Leaning toward demolishing the building and creating a new flex space, council ultimately decided to have city staff discuss options with the CCC staff and hear concerns, possible restrictions and get feedback and guidance. Click here for the original, full story.
December
— Councilman Keith Curry announced his plans to run for the 74th Assembly District at an early morning Chamber of Commerce Wake Up! Newport meeting. If elected, Curry would take the seat vacated by Allan Mansoor, who intends to run for a spot on the Orange County Board of Supervisors. That position will be termed out by John Moorlach, who plans on vying for a seat in Congress, replacing retiring incumbent John Campbell. Click here for the original, full story.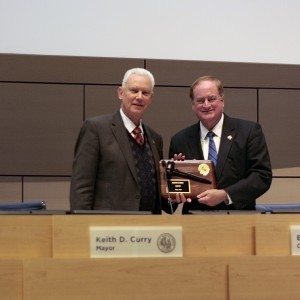 — The Newport Beach Police Department launched a new multimedia ad campaign called The Stolen Collection. A runway fashion show was held at the Marriott in Fashion Island, but instead of fine fashions, the models sported cell phones, designer handbags, and other items stolen from vehicles parked in Newport Beach. It's designed to educate the community on property theft prevention and encourage residents to lock up and secure their valuables. Click here for the original, full story.
— Seats shifted in council chambers as councilman Rush Hill was elected as mayor for the upcoming year. Ed Selich was elected mayor pro tem. Both were nominated by another council member and then unanimously approved by the rest of the council for their new positions. Click here for the original, full story.
— Timothy Lance Lai, 28, an Irvine tutor, is wanted for questioning by Newport Beach police in connection with helping a group of Corona del Mar High School students hack into their school's computer system to change grades and access tests. Lai allegedly supplied about a dozen students with a hacking device and instruction on how to use it.  Officials aren't sure when it all started, but some have stipulated that it may have been happening as far back as last year. Passwords for all staff members were reset and teachers will likely review their own security measures. School officials are in discussions regarding larger, system-wide procedures, but the district will have to look closely at any action before implementing them. No arrests have been made and no new information is available. Click here for the original, full story.
— A harbor commissioner made a recommendation to the Tidelands Management Committee about adding at least five new public piers in Newport Harbor to improve access. There is a need to build new public piers, said commissioner Paul Blank, who made the presentation. The top priority on that list is Lido Marina Village, followed by Balboa Marina (Cal Rec), lower Castaways, northwest base of the Lido Isle bridge, and West Coast Highway near Balboa Bay Resort. There are also opportunities to improve the existing piers through additional maintenance and attention. Recommended improvements include reconstructing docks to optimize space, an "Adopt-a-Dock" program and adding a park ranger-like position to enforce the rules. Click here for the original, full story.