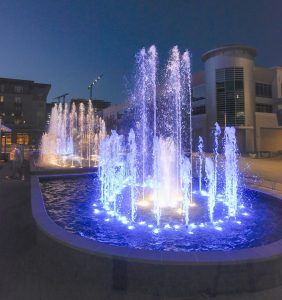 Newport Beach-based Outside the Lines, a design-build construction company that specializes in creating one-of-a-kind water features, rockwork and themed environments, has unveiled a state-of-the-art, iconic show fountain that will serve as the public centerpiece of the new mixed-use Legacy West development in Plano, Texas.
"Public spaces are the new anchor tenant in retail," says J. Wickham Zimmerman, Chief Executive Officer of Outside the Lines. "Now more than ever, retail owners recognize the importance of integrating thoughtfully designed gathering spaces, artful show fountains, and central park areas to drive foot traffic and transform their centers into world-class destinations."
OTL's entertainment show fountain, which encompasses 3,500 square feet across three separate basins, consists of 131 nozzles to create a choreographed water show that dances in synchronized movement to 14 individually programmed songs and 398 LED lights.
"This fountain will deliver a crowd-stopping water ballet, making Legacy West a must-visit destination for residents and visitors in this rapidly growing submarket," says Zimmerman.
Situated in the central plaza along a main street thoroughfare, OTL's fountain is directly adjacent to luxury apartments, restaurants, and retailers in a high traffic, open-air setting, and serves as the focal point of the retail entertainment center.
"Our design concept creates a multisensory, dynamic, fully-integrated art and entertainment experience that entices shoppers to come to the center and to stay longer," explains Zimmerman, who notes that a recent study by MIT and Path Intelligence Ltd. found that shopping centers with vibrant public spaces, programming and entertainment features saw a considerable increase in average length of stay, resulting in higher revenue streams and overall sales.
Fehmi Karahan, the developer and mastermind behind the entire Legacy West mixed-use project, adds, "Today's best mixed-use developments feature outdoor entertainment zones that integrate seamlessly into the surrounding environment while also standing as iconic destinations of their own. This fountain does just that."