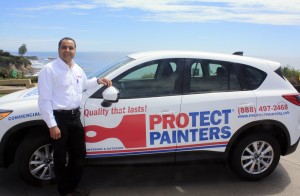 Hamid Dehyadegari and his wife Zohreh have spent most of their lives in their native Iran. Several months ago, their lives took a dramatic turn when they received green cards through a lottery program and emigrated to the U.S. along with their 16 year old daughter.
They settled in Irvine, and, according to Hamid Dehyadegari, "after three months, I bought my home. I bought my business and set it up."
His business is paint.
"I was working in the oil and gas industry for 20 years, but I have more than eight years of experience in paint and painting–painting inspection and industrial painting," said Dehyadegari. "That's why I chose the ProTect Painters franchise for my business here. I found that I can be a success in the painting industry because I love paint and painting."
According to their marketing material, ProTect Painters is a professional painting franchise that specializes in exterior and interior residential and commercial painting projects.
Dehyadegari officially launched his business last week, and chose to focus on the greater Newport Beach market because "with the local housing market improving in Newport Beach, more and more people are buying and selling homes, and fresh coats of paint can make impactful yet inexpensive improvements to their property. For everyone, their homes are the most important investment they have. So they need to keep it safe, they need to keep it updated."
Dehyadegari does more than just apply paint.
"During the painting we do carpentry or repave the siding and windows. We start with power washing, which takes two or three days to dry. Then we start painting. That's for exterior. For interior, if it is vacant or if there is no furniture, we can start promptly. If there is furniture we have to prepare the home for painting."
And when it comes to the actual paint, Dehyadegari noted that "painters should use the best quality paint. Sometimes they use cheaper paints for making more money. We are using Sherman Williams, which has a lifetime warranty against changing color. And we have a two year guarantee on all of our projects which covers paint peeling, chipping and cracking."
Dehyadegari has been doing everything he can to get the word out about his business.
"We are doing online marketing, direct mail marketing, business networkers, website referrals. I also started marketing with homeowners associations."
And what does his wife think of all this?
"She is excited too," he said. "As you know, everything is different here from my home culture and economy. But this is a good area. Good schools."
And a good place for painting houses.
For more information  on Dehyadegari's business, call (949) 610-1721 or visit ProtectPainters.com.