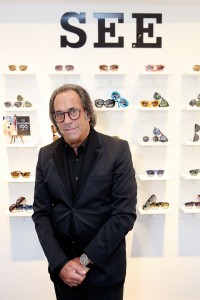 Fashion eyeglasses are nothing new–there are a handful of name brands that vie for consumer attention at various eyewear shops and department stores.
SEE Eyewear is different in that they are, in essence, their own name brand. That difference in the marketplace has led SEE to go from a single boutique store in 1998 to nearly 30 stores nationwide (including the newest location in Fashion Island that opened earlier this month), making it the nation's largest boutique eyewear retailer under one name.
The company was launched 15 years ago by Richard Golden, former president and CEO of D.O.C. Optical Centers who believed consumers needed brand name quality eyewear without the brand name price.
"I wanted to prove a point to the entire optical industry that you can buy cool glasses and not have to take a mortgage out to pay for them," said Golden during the Fashion Island SEE store opening. "To buy those luxury brands, if someone had a license for a designer, they had a license to mark up that frame and make it in the factory for nothing and put that designer name on it and now they are going to sell it to me for five times more than they paid for it because it had some big designer name on it. I said that's ridiculous. We can design frames. I know what they look like, I know where they are making them. I can go design my own frames."
So, he did. And true to his word, he has kept the price of SEE glasses lower than most designer brands.
"I'm paying factory prices because I am making them, so I can give the consumer a huge break," explains Golden. "As soon as you put that big designer name, and pay that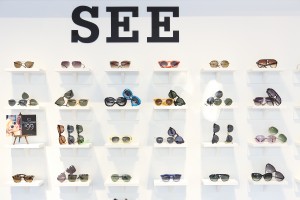 price, now it changes the economics. I want to show this country that you can have really cool glasses, buy them at a very reasonable price, and the best thing about it is, you can only buy our glasses, our frames, in our 30 stores across the country. You can go to the mall and find a Gucci or Prada frame in eight places in one mall. They all carry them. Ours is unique."
So is the reaction from consumers. SEE has been named to more than a dozen "Best" lists in magazines around the country, suggesting that Golden's concept was indeed a golden one.
Another unique aspect of SEE Eyewear, said Golden, is that in addition to prescription glasses, SEE sells sunglasses for $99.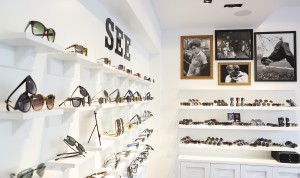 "Why do we do that? When we first started this company our sunglasses ranged from $189 to $350. Then in 2008 when the recession hit, I said no matter what they cost us, let's make all our sunglasses $99. Some of our sunglasses cost me $80 to $90, but I said let's do it anyway. All of a sudden our sunglasses sales went up three, four, five times. Even after the recession started to end I said we are going to keep this pricing. No exception. Now we sell so many sunglasses it's insane."
Golden pauses, then adds, "I'm not doing this for the money. This is my hobby. This is my passion. I want to change the rules of fashion eyewear."
SEE Eyewear is located at 213 Newport Center Drive. For more information, call (949) 629-9099 or visit SeeEyewear.com.