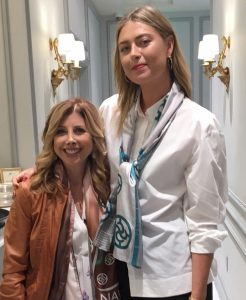 Five-time Grand Slam tennis champion Maria Sharapova, who plays every summer with the Orange County Breakers in Newport Beach, has announced that she is partnering with the National Association of Women Business Owners (NAWBO) along with her team to mentor female entrepreneurs through the Sharapova Women's Entrepreneur Program kicking off in Spring 2018 with a nationwide call for applicants from which up to six business women will be selected. 
Sharapova turned to NAWBO as a partner for finding and identifying potential participants, and as a resource to help develop a robust curriculum for the 12-month-long mentorship program.
"I recognize that supporting women-owned businesses by sharing expertise and valuable business resources can have a dramatic impact of growth of a business and can be a real catalyst for advancing the success of a business," said Sharapova.
The Sharapova Women's Entrepreneur Program will consist of six women business owners that are selected from a nationwide call for applicants by Sharapova, in partnership with NAWBO and the NAWBO Institute. The program will run for 12 months, and is a cohort-based virtual/in-person hybrid program that will include mentorship, peer-to-peer support, mastermind and educational components to be delivered on a monthly basis by NAWBO and the Sharapova Business Resource Team led by Traub Consumer.
 "The NAWBO Institute is excited about partnering with Maria Sharapova in order to propel women to the next level of their business, said Loreen Gilbert, Chair-elect of the National NAWBO Institute, Executive Board and president of WealthWise Financial Services in Newport Beach. "She is an inspiration who has graciously agreed to share her expertise, business savvy and tenacity to help other women excel."
Founded in 1975, the National Association of Women Business Owners (NAWBO) is the unified voice for more than 10 million women-owned businesses in the United States representing the fastest growing segment of the economy. NAWBO is the only dues-based organization representing the interests of all women entrepreneurs across all industries; and with chapters across the country. 
For more information, visit NAWBO.org.