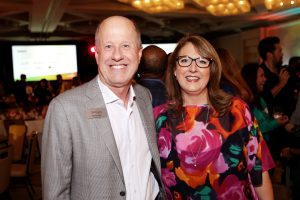 OC Community Foundation Holds Annual Meeting
 Nearly 700 philanthropists and business leaders discovered how their charitable passions can change their communities at Orange County Community Foundation's 2017 Annual Meeting.
Addressing the sold-out Nov. 8 event at Hotel Irvine, OCCF President Shelley Hoss announced that the Newport Beach-based Foundation's assets grew to $302 million during the fiscal year ending June 30, 2017 – more than doubling from $144 million in 2012.
"During the same five-year period, OCCF also granted more than a quarter of a billion dollars to philanthropic causes in Orange County, across the nation and around the world," Hoss said. "Of course, the driver of this achievement is the passionate and inspired donors whose contributions to OCCF totaled $82 million over the past year."
For the second consecutive year, OCCF grants and scholarships reached an all-time high of nearly $60 million.
"OCCF has been through a period of dramatic growth over the last five years in particular," said outgoing OCCF Board Chair Doug Holte, president of Irvine Company Office Properties. "Our financial strength puts OCCF in the top 5 percent in grantmaking among U.S. community foundations and in the top 10 percent in assets among more than 780 U.S. community foundations."
Also during the annual meeting, OCCF recognized Holte for his leadership as board chair over the past two years and welcomed Keith Swayne, founder and director of Keith and Judy Swayne Family Foundation, as the new chairman.
During intimate fireside chat-style segments, prominent Orange County community and business leaders shared their reasons for investing in philanthropy and why they work with OCCF. They included Buchanan Street Partners CEO Robert Brunswick, Ginny Ueberroth and her daughter Vicki Booth, chairman and president of the Peter and Ginny Ueberroth Family Foundation respectively, and Donnie Crevier of Crevier BMW and Crevier Classic Cars.
As part of the annual meeting, Swayne presented the Judith Swayne Leadership Fund award — named after his late wife who founded OCCF — to Rusty Kennedy, who became executive director of the Orange County Human Relations Commission in 1981 and founded the nonprofit OC Human Relations Council in 1991.
For more information, visit oc-cf.org.
 OC Museum of Art Adds Four Trustees
 President Craig W. Wells and Director & CEO Todd D. Smith of the Orange County Museum of Art announced the appointment of four new business, art, and philanthropic leaders from Orange County to the museum's Board of Trustees.
These additional trustees—above the eight supporters who joined the board in July of this year—takes the total number to 25.
The new trustees have backgrounds in various businesses and have supported the museum for years. They began their tenure on Oct 19, 2017.
The new trustees are:
James Bergener, Teri Kennady, Heidi Lynn, and Curt Lyon.
"The museum leadership is grateful to see so many individuals step forward to support the museum as we develop and implement our plans for the future," stated OCMA President Craig W. Wells. "OCMA's next chapter will include exciting new directions in how we present modern and contemporary art from California and the whole of the Pacific Rim, and determine how we engage diverse audiences in these changes."
"This is one of the most exciting times for the trustees of OCMA," continued President Craig W. Wells. "As we finalize our plans for the move to Costa Mesa, the museum has an opportunity to revisit how we serve our communities, and all of our trustees are committed to the expansion of the museum's program throughout the entire county and beyond."
For additional information, visit ocma.net