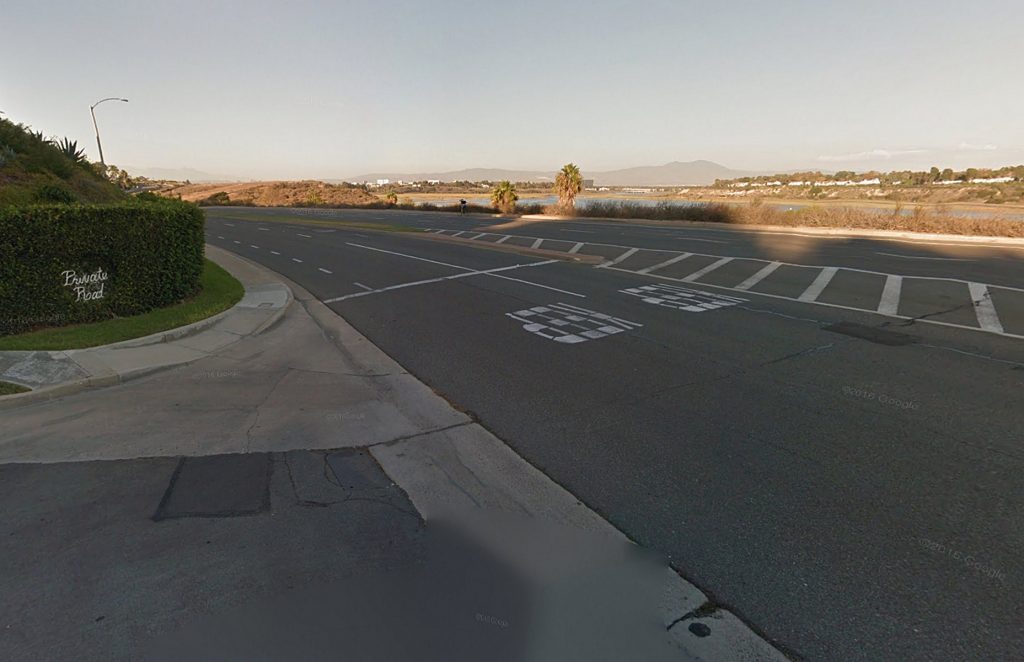 Looking both ways before turning on a street is a mandate for safe driving. However, for the Newport Beach residents of Private Road, doing so isn't an option.
The 17 families that live on Private Road turn right from their cul-de-sac onto Irvine Avenue with no vision, only the hope that they will not be hit by oncoming traffic.
The blind curve is due to a retaining wall supporting homes, which cannot be removed. For decades, residents have played a game of roulette with their lives, creeping their cars slowly forward before making a right turn and praying that no one strikes them. The two-lane south-bound s-curve road leading out to Irvine Avenue is marked with a speed limit of 35-miles-per-hour, but residents say that oftentimes cars are going much faster than that.
"You got people who are going too fast on a blind curve and that creates a situation with an accident waiting to happen," said Private Road resident John Drake.
During the afternoon and evening hours the conditions become even more perilous as the sun shines in drivers' eyes, exacerbating the problem, said Private Road resident Art Cencel.
The city has erected a yellow sign about 100 feet from the blind turn on Private Road to indicate to drivers to use caution, but residents say that it isn't enough.
"The city has lame excuses for why they haven't done more to help. They are going to be reactive rather than anticipating the result of this danger," said Drake.
Residents have a slew of suggestions to fix the issue. Cencel proposes another traffic light to be installed, while Drake believes a mirror to create more visibility and let drivers know if there is oncoming traffic would suffice.
Connie Skibba, another resident, suggests a painted strip with arrows, like a bicycle lane or right turn lane, to keep the traffic within the lanes. In addition to changing the speed limit, Skibba points out that the road is worn out and in need of resurfacing.
"The community is relying on the residents of Private Road to be overly cautious, but there may come a day where that isn't enough," said Drake.  
Two residents asked city council members to fix the Private Road blind spot at the City Council meeting on July 12.