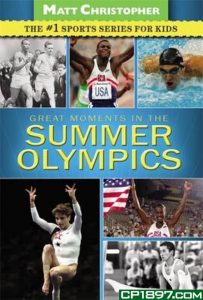 Historically, the Olympics have been a time when a truce is called, and city-states that were typically warring with one another put their differences aside for a show of sport.
As the torch is lit tonight (Aug. 5), we enter a period when (hopefully) we will follow suit.
For the next three weeks, political and national differences will be put aside, and, as a global community, we will join in the spirit of competition and brotherhood.
I think it is fun during this time to celebrate along with the competitors – participate in our own athletic activities, celebrate and learn about the countries from which our ancestors originated, and enjoy popular cuisine from the host country. I have one friend who even organizes a Family Olympics each Olympic year where her guests compete, as a family, for their country of choice in a series of different kid-friendly events.
If the thought of learning a new recipe, hosting a party, or engaging in sport makes your head spin, never fear, there is a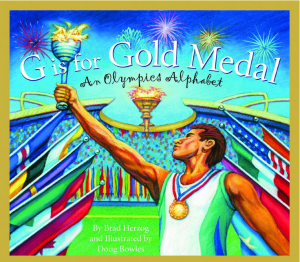 much simpler way to share the spirit of the Olympics with your family, and you likely need to look no farther than your neighborhood library.
Whether looking to explore the origin of the Olympic Games, learn about a specific athlete, or just celebrate the majesty and inspiration the games never fail to provide, you will undoubtedly be able to accomplish your goal in the pages of a children's book.
Following are a few titles I feel would be excellent to share with young Olympic fans as you enjoy the games together.
For the history of the games:
"The Games:  A Global History of the Olympics," by David Goldblatt. At just under 600 pages, this isn't really a kids book, but it is a comprehensive history of the games themselves, the origin and demise of different events over time, and the icons that have emerged as heroes. This guide would make for great family reading, enabling readers to focus on just the parts that interest them.
"Great Moments in the Summer Olympics," by Matt Christopher. Appropriate to read together, or for independent readers, this compilation will bring to life all the "wow" moments from Summer Olympics past, and share the triumphant stories of those that brought them to us.
"Ancient Greece and the Olympics," by Mary Pope Osborne and Nancy Pope Boyce. This companion book to the popular Magic Tree House series will cover everything you may want to know about the Ancient Olympics, from what the Greeks wore and did for fun, to how the modern Olympics are similar to, and different from, their ancient counterparts.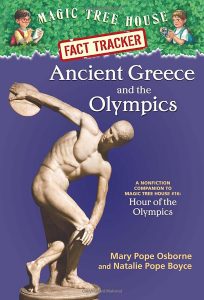 For inspirational athlete stories:
"Wilma Unlimited:  How Wilma Rudolph Became the World's Fastest Woman," by Kathleen Krull. This picture book tells the story of Wilma Rudolph, a young girl who, after having suffered from polio, was told she would never walk again. Determined to prove everyone wrong, she not only walked, but ran, becoming the first woman ever to win three gold medals at the same Olympiad.
"Nadia: The Girl Who Couldn't Sit Still," by Karlin Gray. In another picture book, Gray introduces readers to Nadia Comaneci, the young Romanian, who through hard work and determination became the darling of the 1976 games, earning an unprecedented seven perfect scores in gymnastics.
"Who Was Jesse Owens," by James Buckley, Jr. Part of the popular "Who Was" series, this book celebrates the life of Owens, who, born under Jim Crow laws in Alabama, knew what it was to suffer unfair judgement, and always have to work harder than everyone else. Despite odds that were stacked against him, he excelled and ran track in college, eventually making the Olympic team. Running in the 1936 games in Berlin, his four gold medals definitively proved that Hitler's idea of Aryan superiority was rubbish.
Other titles to check out: "G is for Gold Meal: An Olympics Alphabet" by Brad Herzog, "How to Train with a T Rex and Win 8 Gold Medals" by Michael Phelps, and "Queen of the Track: Alice Coachman, Olympic High Jump Champion" by Heather Lang.