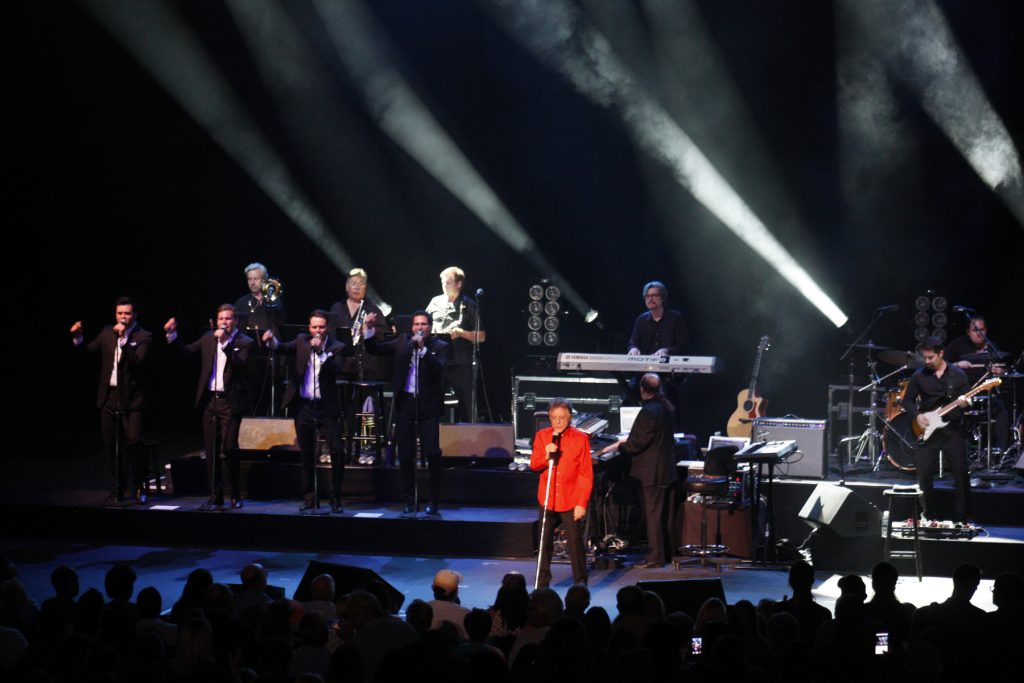 If you google Frankie Valli, a lot of informational articles will pop up, most of them beginning something like this: "Frankie Valli is an American singer and frontman of The Four Seasons. He is known for his falsetto voice."
"He is known for his falsetto voice," seems like a pretty minimizing way to categorize one of the biggest voices in music.
Frankie Valli is an institution, one of the most-beloved and recognizable voices in the world. The first few bars of any one of his numerous hits, such as "Sherry," "Big Girls Don't Cry," and "Walk Like A Man," are like a time machine-a portal back to the halcyon days of the pre-Vietnam 60s, when the world was a little more innocent, a little more technicolor, a little more sweet.
Whether you lived through Valli's prime, discovered his music through the hit musical "Jersey Boys," or, like me, heard "Sherry" on your dad's car stereo, we've all been captivated by that limitless voice, crooning through your speakers asking, "Won't you come out tonight?"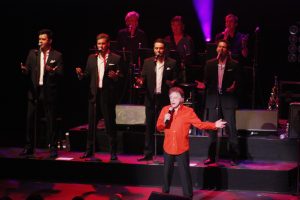 Hearing that voice live, as a sold out crowd at the Pacific Amphitheater did last Wednesday night, sounding exactly the same over five decades after that song was recorded, is truly mind-blowing.
Effortlessly opening with "Dawn," "Save It For Me," and "Beggin," the only nod to Valli's 82 years was his quip "We're gonna slow it down now…because I have to," before taking us back to 1975 with the iconic "My Eyes Adored You."
Other highlights included a mash-up of 60s hits "My Girl" and "Groovin," his rendition of Maurice Williams & The Zodiacs' "Stay," and the funky "Swearin' to God," freshened up by Valli's killer horn section.
As for the "Four Seasons" backing Valli up, they had the smooth moves of the original members down pat, and provided the perfect harmonies for Valli's voice to soar over.
Introducing themselves after crowd favorite "December 1962 (Oh, What A Night)," we learned three of the four are hometown boys from Southern California. The cheers of approval swept through the crowd, but were rightfully dwarfed by the roar Valli received after saying, "and me, I'm just a Jersey boy."
Finishing out the show with a string of whoppers ("Sherry," "Walk Like A Man," "Big Girls Don't Cry," Bye, By, Baby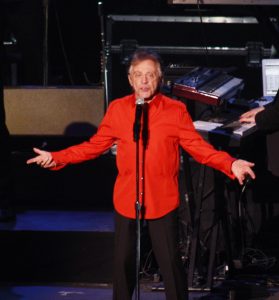 (Baby Goodbye), "Rag Doll," "Let's Hang On"), Valli left no doubt of his prominence in American music.
Valli is one of the classics. I'm talking about the old-school cats, the world class entertainers who lit up Las Vegas (before it became a Shady Acres for fading, lip-synching pop tarts).
For how small he is, his presence is astounding. That legendary status, like Sinatra or Elvis, is something he's earned with decades on the grueling road, the dozens upon dozens of top 40 hits, the smash musical inspired by his life. These all contribute to the crowd eating out of the palm of his hand. But more than that, it's an attitude; it's him knowing, even at age 82, he absolutely still has the chops to back it all up.
Go see him while you still can, he's the last of his kind.
Upcoming shows at the Pacific Amphitheatre include Hunter Hayes with Cassadee Pope on Friday, August 5; The Fab Four "Together & Alone" on Saturday, August 6; Train on Sunday, August 7; Lindsey Stirling with Carah Faye on Wednesday, Aug. 10; Chris Young and Ruthie Collins on Thursday, Aug. 11; The B-52s and The Aquabats on Friday, Aug. 12, and Ziggy Marley / Steel Pulse on Aug. 13 and 14.
Visit OCFair.com for more information.