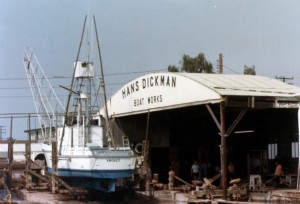 As I've stated in past columns, our area was once a hub of new boat construction. On the border of Costa Mesa and Newport Beach on 16th Street between Newport Boulevard and Superior Avenue were two international yacht builders whose vessels sailed the seven seas.
On the north side was Ditmar and Donaldson, which built beautiful wood trawlers and motor yachts to around 90 feet. On the south side, a company that built fiberglass catamaran and trimaran sailboats.
More than 100 vessels were built at each yard, and many had international voyages logged. One vessel is still berthed in Newport Harbor – the Mojo – and can be chartered through Hornblower Cruises on Mariners Mile.
When Richard Nixon was president and staying at the Western White House in San Clemente, many times he would cruise Newport Harbor aboard Mojo with its first owner, who never allowed the yacht to be chartered. The secret service would accompany them on much smaller cruisers as well as aboard Mojo.
Thousands of sailboats were produced in Costa Mesa during this time such as the Cal's by Jensen Marine, Columbia's and Lancer's by Dick Valdez, and Ericson's by Ray Handy. Other large builder helped create the notion that Orange County was the largest boat building area in the country.
In addition, this created thousands of sub-contractor jobs from mast builders to stainless steel rail makers. As I reflect on this, I realize I left out Roger MacGregor on Placentia Avenue in Costa Mesa (and probably many more). Up until recently Roger produced thousands of sailboats that evolved into a 26-foot fiberglass sloop with a 50 horsepower outboard engine to push it along. This light weight trailer boat allowed a 25-mile-an-hour speed which is unheard of for a sailboat. One of his marketing photos had a water skier being pulled from the sloop. That is the only time in my life I've seen a skier pulled from a sailboat!
Commercial fishing was still viable as a way of life during this same era. Scores of the commercial fishing boats were kept on the moorings east of Lido Peninsula. That area was a designated commercial moorage area, and these work boats unloaded their catch at the Rhine Wharf between the Cannery Restaurant and the Bluewater Grill.
We also had several more boatyards during this time that come to mind. I've included a photo of Steve Giannini and Steve Greyschock's commercial swordfish boat hauled out at Hans Dickman's Boatyard on the Rhine Channel in Lido Village.
Hans worked the yard into his 80s, and in his 90s would walk every day from his home on Santa Ana Avenue in Newport Heights to the yard to watch the hustle and bustle of boat repairs.
Sea Ya,
Skipper Steve