Last Friday we ventured out of the harbor for a sea trial following a two week period of "Sundance" visiting Balboa Boatyard. The last several years I've been very impressed with Pat Werner who now owns the shipyard and manages the yard. It's been a smooth transition from the previous owners and the high standard of quality work continues.
The sea trial included warm weather and moderate seas. We passed Abalone Point where two weeks prior on a sea trial on a 56-foot Sunseeker we saw a whale less than 100 feet from shore. No such luck this trip.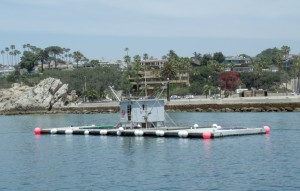 Upon our return I took a photo of the bait barge which is always a welcome sight this time of year. The re-anchoring of the barge for the fishing season not only supplies us with bait but it reminds us the fishing season is upon us.
The "Pamela Rose" bait boat built and previously fished by our Newport Harbor High classmate and friend Steve Greyschock fills the bait receivers daily. Steve's brother Tony owns and operates "Fishing Boats Unlimited" yacht outfitters and repair business. I've known Tony since he was a teenager and his superior knowledge of boat systems is an asset to our local boating community. Steve and Tony built the bait barge and if I recall correctly it is rust free aluminum. Tony helped their brother Paul build a steel commercial fishing trawler at his shop which Paul has cruised and fished all over the world.
The second photo I took was on Sunday passing by the opening day at the Newport Harbor Yacht Club. As my Dad was a member and I grew up sailing there, I've probably attended more than thirty opening days.
The weekend starts the weekend before Mother's Day on Saturday with a sailboat race from Los Angeles Harbor to Newport. Sunday features the best brunch I've ever eaten,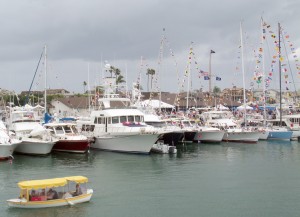 official ceremonies and inspections of scores of the member's yachts. It's quite the gala!
Between the re-anchoring of the bait receiver, the Ensenada race and the yacht club opening days, the boating season has officially commenced.
Down south, the yellowtail fishing is off to a good start and as the ocean warms I hope they'll swim our way. Locally the seasonal bass bite has started and will only improve with time. Remember to purchase your fishing license as Fish and Game officers will be looking for violators in their undercover hard bottom inflatable and covered uniforms. By the time you realize who they are, they're tying up to your boat. It's always a relief to know we have our licenses and they can keep their ticket books closed!
We hope Mother Nature makes up her mind between rain or summer weather. Hopefully she'll choose summer weather and the boating can continue in full force.
Sea Ya,
Skipper Steve