Ahoy!
Summer is closing in on the radar screen, and this Friday boaters will have a chance to pick up a used boat like a dingy, kayak, or paddleboard. The City of Newport Beach, Harbor Resources Division will have another abandoned vessel auction today, March 16.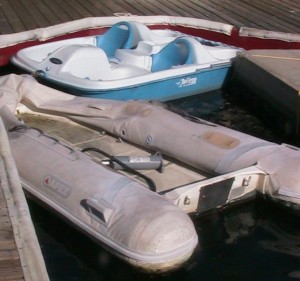 The auction will be held at the Orange County Sheriff's Harbor Department located at 1901 Bayside Drive at 9am, and the preview of the items begins at 8 a.m. However, fill your pockets, as only hard cold cash will be accepted from the winning bidder.
The vessels are sold as-is, and any boat that you purchase must be removed by 5 p.m. that day unless the boat has a California registration. CF'd boats have a 10-day redemption period, after which the vessel will be released to the new owner. You can find out more information about the auction here.
Meanwhile, I am hearing rumors around the harbor that Dan Richards, president of the California Fish and Game Commission, is under attack by environmental organizations that are trying to oust him from his position. Richards is an active angler and hunter, and he is being unfairly attacked for participating in a legal hunting trip in Idaho.
It appears that the environmental organizations are not happy with Richards' voice of reason for anglers about the implementation of the Marine Life Protection Act (MPLA). The MPLA is a controversial ban on fishing in certain zones or areas that some anglers contend is not based on scientific data and threatens sportfishing in California. Recreational anglers and commercial sportfishing operations create 20,000 jobs statewide, and Richards has been questioning the closures of these fishing areas.
The organizations initially demanded that Richards resign from his position because of his viewpoints and he refused. Now, the groups are lobbying state legislators to remove Richards from office by a vote. A simple majority vote by the legislators would remove Richards from office, and the organizations are pressuring their state representatives.
The groups are now demonizing him for the legal cougar hunt that he was part of in Idaho. Cougar hunting may not be legal in California, but it is legal and well managed in Idaho. It appears that the anti-fishing organizations want to push Richards out of office in an effort to close more fishing spots in California. More closures will hurt America's No. 1 recreational activity for families, boating, and the fishing industry businesses.
California sportsmen and women are encouraged to send letters to their state Senate and Assembly members, expressing support for Commissioner Dan Richards and urging legislators to oppose any measure that would remove Richards from the commission.
It seems some people are all for freedom of speech, unless it does not support their agenda. These organizations will not be happy until fishing is banned completely.
Lastly, for those planning to cruise to Catalina's Isthmus Cove, Two Harbors has a new harbormaster for you to meet. Santa Catalina Resort Services has hired Lane Garrett to replace Phillip Winter. Winter was promoted to vice president of operations and marketing after a year and half as harbormaster.
However, Garrett is a seasoned boater with experience as the Captain on a 130-foot private yacht, and he worked and skippered on commercial fish boats in Alaska. Recently, he was the general manager for Crowley Lake Fish Camp, off Highway 395 in the Eastern Sierra. The 12-mile–long, 5-mile-wide man-made lake is owned by the Los Angeles Department of Water and Power.
Now Garrett will be returning to the saltwater environment with his new duties that include the daily operations, assisting boaters, and customer service on the west end of the island. That section of the island is called Two Harbors because of how the island forms an hourglass like-shape with a very narrow strip of land that separates Isthmus Cove on the north side from Catalina Harbor on the south or seaward side of the island. Catalina Harbor is also referred to as Cat Harbor by boaters. On the backside of the island, boaters really have only two harbors – Cat Harbor or Little Harbor – as protected anchoring and mooring areas.
If you are cruising to Two Harbors then you can view the webcam of the Isthmus at visitcatalinaisland.com/twoHarbors/webcam.php.
And don't forget: Tune in to the No. 1 boating radio talk show in the nation, Capt. Mike Whitehead's Boathouse Radio Show, broadcasting coast-to-coast on the CRN Digital Talk Radio syndicated network every Saturday at noon, Pacific Time and replayed on Sunday at 10 am Pacific. Join Chandler Bell and me as we talk about "all things boating." You can find the station listings, cable TV channels, live streaming on the Internet, and now available are apps to listen to the show for your iPhone, Blackberry, iTouch, Android, Palm, and Windows Mobile at www.BoathouseTV.com or www.BoathouseRadio.com.
Until next week, Safe Voyages!