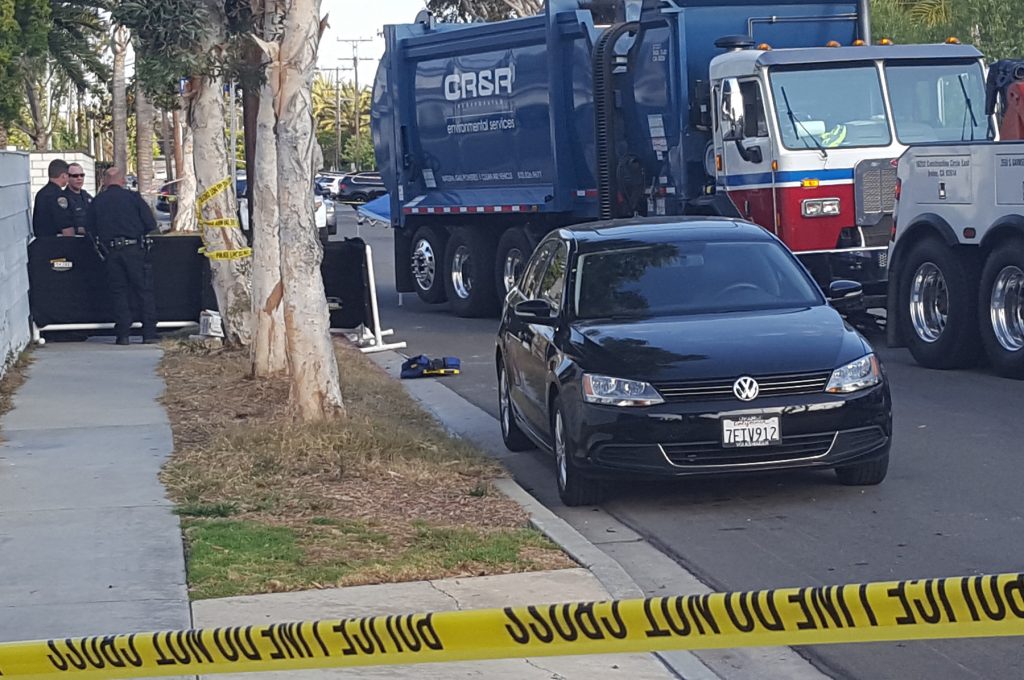 An 8-year-old boy died Wednesday after being struck by a trash truck on a Newport Beach street, authorities reported.
Newport Beach Police Department's dispatch center received a call around 1:26 p.m. about a collision near the corner of 15th Street and Michael Place, just west of Irvine Avenue, Lieutenant Jeff Brouwer explained in a statement.
"Dispatchers were told that a young child had been hit by a trash truck," Brouwer wrote.
Officers found the boy lying in the street near a CR&R trash truck. He had sustained life-threatening injuries during the collision and was pronounced deceased at the scene.
Authorities have not released the name of the boy. He reportedly attended the nearby Newport Heights Elementary School.
Newport Heights Principal Somer Harding sent a voice message to parents on Wednesday regarding the incident.  
"We are deeply saddened to learn about the death of a Newport Heights Elementary School student," Harding told parents. "Our thoughts and sympathies are with the family and everyone affected by this tragedy."
The CR&R driver was on his regular Wednesday route, said CR&R Corporate Vice President of Human Resources Carlos Lima.
"We're extremely saddened by the accident," Lima said. "It's tragic… It's devastating."
The CR&R driver was, understandably, too upset to return to work, Lima explained.
"He's distraught," Lima said.
The company has provided counseling for him. He'll likely be out for a lengthy period of time, Lima noted.
"Our heart goes out to the parents and family of this young boy," Lima said.
The school has also provided added counseling support on campus for students and staff that need or desire counseling support services. Harding encouraged parents to reach out to the school if they need any kind of help or support during such a difficult time.
The school also made the announcement to students in a carefully worded message read to them on Thursday morning.
"We are all so sad," school officials told the kids. "As you know, [name removed] was an important part of our school community and we will miss him very much."
School staff reassured the students that it was normal to feel "sad, confused, mad, worried, and much more." They cautioned the kids that they might feel their sadness in their bodies with a headache or have trouble focusing or eating, and that it's also normal.
"Know that it is also okay to do some normal things that you enjoy during your day, like playing, learning, and laughing with friends," school staff told the kids in the message. "It can helpful to talk with a parent, friend, teacher, or counselor and share your feelings and memories."
A bicycle was seen caught underneath the truck, but it is unclear whether the boy was walking or riding the bike.
The circumstances surrounding the incident are still unclear, according to authorities. California Highway Patrol is handling the investigation.
"We're cooperating fully with any information they are requesting," Lima said.
CR&R is also conducting their own internal investigation, in cooperation with NBPD and CHP, Lima noted.
The driver of the CR&R trash truck remained on scene, Brouwer reported. He cooperated fully with investigators, he added.
Anyone with information regarding this collision is asked to contact the Newport Beach Police Department at (949) 644-3717, or the California Highway Patrol at (714) 567-6000.