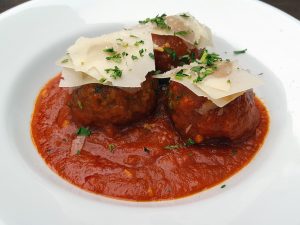 By Christopher Trela & Catherine Del Casale | NB Indy
One of the best things about enjoying a musical at Segerstrom Center or a play at South Coast Repertory is the opportunity to dine out at a nearby restaurant before the show.
We love the musical-themed menus that Chef Ross Pangilinan creates at Leatherby's Café Rouge, and we like the fact that Pizzeria Ortica is around the corner from SCR. There's also Chef Omar Santana's latest creation, Vaca, but getting a table before 10 p.m. is still impossible given Santana's celebrity status.
But when selecting a dining destination prior to watching "Amadeus" at SCR last week, we opted to revisit a restaurant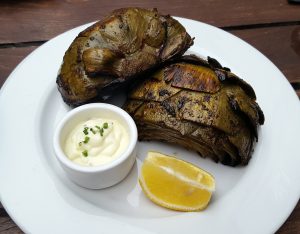 we had neglected for several years: Ecco at The Camp.
We first visited Ecco soon after it opened in 2010, and returned several times for their authentic Naples-style pizza baked in a wood-fired oven.
That's when we first met chef Kris Kirk, formerly at Sage on the Coast. He was turning out some excellent pasta dishes, and of course pizza. Ecco fell off our dining radar, but we ran into Kirk several years ago when he replaced Chef Bill Bracken at DiveBar restaurant on Coast Highway (which was converted into Pizza Nova a couple of years ago).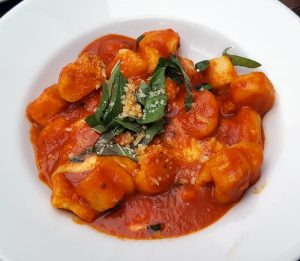 However, we heard that Kirk returned to Ecco, so we decided to finally pay another visit to the restaurant.
The description of Ecco on the restaurant's website says it all: "Ecco serves fresh yet soulful Italian cuisine using locally farmed ingredients traditional and modern cooking techniques delivered in a relaxed and fun atmosphere; the menu includes simple salads, signature wood fired pizzas, home-made pasta and risotto, and the finest fish and meat."
And for those curious about the name, it's an Italian phrase (used when serving food) meaning "here it is" "here you go" or "lo and behold."
It was a balmy night so we opted to dine on the back patio.
"I loved the relaxed atmosphere, and now that the warmer nights are upon us, this is a great time to take advantage of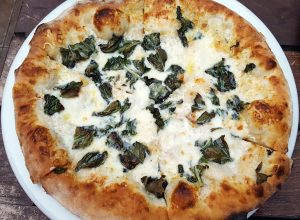 their patio," said Catherine.
We brought a bottle of Tobin James Primitivo to enjoy with our Italian repast; the wine accented our dishes perfectly.
Taking our waiter's suggestion, we started with two of the most popular appetizers: House made meatballs with marinara ($11) and wood grilled artichoke with garlic and lemon herb aioli ($16).
"Both of these dishes have a nice little kick to them," noted Catherine. "I like the zesty marinara sauce. I also like the smokiness of the grilled artichoke."
Catherine is a gnocchi fan, so of course she ordered the ricotta gnocchi with mozzarella ($18).
"This is cooked perfectly (not too tough and not too soft!) and has a great sauce with just a touch of spice on the finish."
We also shared a white pizza ($16) with crème fraiche, fresh mozzarella, fontina, grana padano, and basil.
"The cheeses blended together nicely so you don't end up getting a large bite of one cheese but instead got to test the melding of the flavors," said Catherine.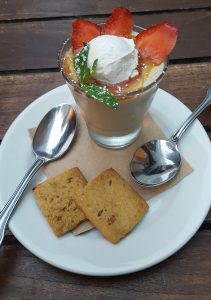 For dessert, we tried the butterscotch budino ($9) with caramel sauce, whipped cream and a touch of sea salt.
"The smooth creamy butterscotch is finished perfectly with just one or two grains of the sea salt that you taste at the end of each bite," noted Catherine. "I also recommend dunking the pine nut fennel cookies to add a texture dimension."
Full and happy, we grabbed our car from the valet (the best way to park at The Camp—it's cheap and fast) and made it to SCR in 10 minutes.
"Amadeus" is a classic play by Peter Shaffer that offers a fictionalized and highly entertaining account of the lives of composers Wolfgang Amadeus Mozart and his nemesis, Antonio Salieri.
"Amadeus" won the 1981 Tony Award for Best Play, and was turned into a 1984 Academy Award-winning film of the same name.
"I had never heard of 'Amadeus' until recently," said Catherine. "I enjoy classical music and Mozart as a composer, but never really knew the background of his life. The acting was excellent and really sucked me in to the emotions and the genius of Mozart and his pieces. It was a very engaging show that will leave you wanting to re-listen to all of his music with a more open/musical mind, listening for the picture he was trying to create with each note."
"I agree, this 'Amadeus' was superbly acted and staged," added Christopher. "Mozart was a genius, and that genius is on full display, but the play is also a fascinating look at life in Vienna in the 18th century. And as a food writer, I appreciated – make that craved – the decadent desserts that Salieri consumed."
For information on Ecco, visit EccoPizza.com.
For tickets to "Amadeus, visit SCR.org.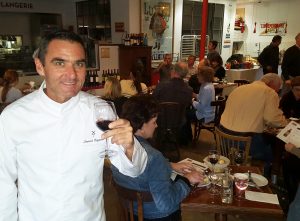 Champagne and Cars at Moulin
Who doesn't love fine champagne and fancy cars? Moulin restaurant has both in abundance this weekend.
On Saturday, May 28, Moulin offers a Champagne Tasting from 5 to 7 p.m. for only $29 per person. Guests will enjoy six to eight sparkling wines from the Champagne region of France and learn to identify unique nuances and flavor profiles. Moulin's French wine experts will go beyond tasting notes, and delve into everything from the distinct aspects of the region, terroir and fermentation practices. The tasting includes artisanal cheese & charcuterie boards. Christopher attended a tasting earlier this year and was impressed with the wines and the seminar itself.  Reservations can be made by calling (949) 474-0920.
Then on Sunday, May 29, it's time for the monthly Cars & Café event. On the last Sunday of each month from 7 to 9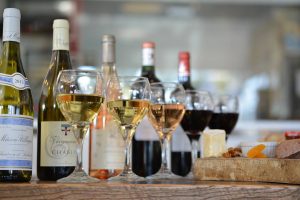 a.m., the Moulin parking lot is packed with luxury automobiles from Bugattis to Citroëns, and everything in between. Guests can sip free café while they view the cars and mingle with automobile owners, collectors, and enthusiasts. Moulin will be serving breakfast inside the restaurant and on the patio facing the parking lot. Admission and café is free to all guests.
Moulin is at 1000 Bristol St. North. Visit MoulinBistro.com for details.