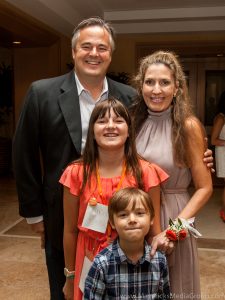 Ronda Giangreco had just returned from a cooking adventure in Italy when she received news that would change her life. She was diagnosed with MS (Multiple Sclerosis), a debilitating disease that affects the central nervous system. Her doctor said that she may not be able to walk someday.
Undeterred, she marched straight to her kitchen. She would fight MS, but not alone. She gathered friends and family every Sunday night for an entire year and cooked a big Italian meal for them. She replaced fear and dread with laughter and pasta.
That was seven years ago.
This month, she's the keynote speaker at the National Multiple Sclerosis Society Pacific South Coast Chapter's Bubble and Brunch to End MS event, chaired by Cindy Locke, at the Island Hotel Aug. 26.
Guests will enjoy a complimentary champagne reception starting at 11 a.m. and a three-course brunch at 12:30 p.m.
More than 2.3 million people are affected by MS worldwide. Because the Center for Disease Control and Prevention (CDC) does not require U.S. physicians to report new cases, and because symptoms can be completely invisible, the prevalence of MS in the U.S. can only be estimated.
The National MS Society is dedicated to ending the disease by raising funds for research and engaging with those living with MS to live their best lives.
Tickets are available for purchase until noon on Wednesday, August 23. Individual tickets are $100 each and tables start at $1,000.
For more information or to buy tickets, visit bubblesandbrunch.org or call (800) 486-6762.