Budget concerns, Restaurant Week activities, Marina Park restaurant space, and related issues were discussed at the Newport Beach Restaurant Association Business Improvement District board meeting, held this week at Muldoon's Irish Pub in Fashion Island.
The meeting began with an update on Restaurant Week provided by McFarlane Promotions, the San Diego-based company hired to help promote Newport Beach Restaurant Week, which runs through Sunday, Jan. 26.
Their report provided an overview of promotional efforts and media coverage to date, as well as statistics showing an increase in social media traffic surrounding the event.
Statistics from individual restaurants showing Restaurant Week visits this year compared to last year are forthcoming, but board members shared anecdotal information that varied from an increase in lunch business to a decrease in dinner business.
Board president Jim Walker, co-owner of The Bungalow, expressed his desire to see a complete recap of Restaurant Week once it was over.
"It's important that we analyze Restaurant Week and take a look at why we only had 60 restaurants participate this year as opposed to more in the past," he said.
A financial report was given by Bob Quaid, the BID administrator. A lengthy discussion ensued about many restaurants that had not paid their annual BID membership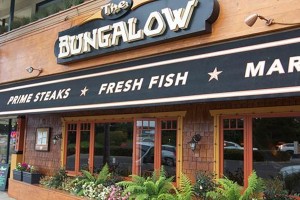 fees, and some Restaurant Week participants who also had not yet paid their fees to participant in the event.
Due to a lack of quorum at the meeting, official financial reports were not submitted and voted upon, but Walker stated he was concerned about the association's cash flow for the rest of the calendar year.
"We're in uncertain waters here. I was under the impression we had a surplus, but it's gone."
Once the missing fees are collected, said Quaid, they will make up the difference.
Anthony Nguyen of the City of Newport Beach presented a report on the city's Marina Park facility on the Balboa Peninsula, which has its official groundbreaking ceremony in February.
"We are looking for a café or restaurant operator for the food space there," he told the board. "We want to identify an operator to work with the builder as its being built. The RFP will be available next week on the city's website."
The proposed restaurant facility includes a 665 square foot kitchen and 1,157 square feet of dining area.
"We want something that's a step up from the current cafe in the library," said Nguyen. "Something that has silverware and dishes as opposed to paper plates. And we're looking at having beer and wine. We're trying to mirror other operations in the area, but we're hoping to have you help us fill in the blanks."
Another agenda item that drew several comments from the board was a discussion of the Restaurant Association's 877 phone number, which is listed in last year's printed restaurant guide and in other marketing material.
The marketing company that provided that phone number no longer offers that service, so calls to that phone number go unanswered, according to representatives of Newport Beach & Co. The 877 number has been pulled from the association's website. It is unknown who owns that phone number.
After the meeting was adjourned, Walker provided additional information on the Restaurant Association.
"The Association was a BID that not many people paid attention to," said Walker. "It was run somewhat loosely. A year ago, the city reexamined all the BIDs in the city. Two of the BIDs elected to dissolve and become marketing associations. The ones that are left are the CdM BID and the Restaurant BID. Our primary purpose is to take our bid fees—and every food service facility is part of the BID, everyone pays a BID fee—with those fees we try and maximize our marketing efforts. The BID brings to the restaurants a co-op type of marketing that the independent restaurants individually could not afford, but collectively we can market ourselves beyond the boundaries of Newport Beach and brand it as a culinary destination."
"Our purpose is to serve our members and come up with programs and marketing strategies that will create a brand," he added. "It's been my ambition to make Newport Beach the culinary center of Orange County, and we're starting to see the influence come our way."
Walker noted that will some restaurant association, such as the one in Los Angeles, have budgets of several million dollars, but the Newport Beach Restaurant Association operates on an annual budget of less than $200,000.
It's challenging for us," he said. "But that's partly why we hired Newport Beach & Co. to do our marketing. We're hoping we can combine our resources and get more bang for our buck."
Walker also admitted he was concerned that they did not have the same level of participation in Restaurant Week this year, and that the lack of participation affected the budget. The outstanding BID fees still due is also quite high (by some accounts at the meeting, it was suggested the outstanding fees could total more than $100,000).
"Some members refuse to pay their BID fee but want to ride the tide—they want the results of the marketing but don't want to pay their fees. It's become a huge problem, yet we're restricted on what actions we can take. I need to reach out to our members and show them where their money is going. We're driving people to Newport, we have measurable results, what we do has impact."