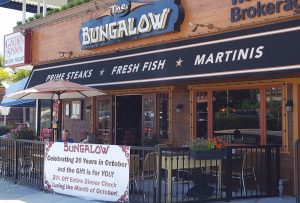 Bungalow Lunch Special
We love a good lunch deal, which is why we're excited to try the Bungalow's new $15 lunch special: two courses, plus an optional dessert for a $5 surcharge.
The lunch includes a choice of two starters, and a choice of nine entrees, ranging from a half-pound Bungalow burger to country fried chicken and waffles to grilled mahi mahi.
Christopher is looking forward to devouring Joanie's New Orleans Grilled Cheese with short rib, gruyere cheese, white and yellow cheddar, creamy horseradish, arugula, and shoestring fries, while Catherine has her eyes on the short rib & mushroom flatbread with gorgonzola cheese sauce and wild mushroom with essence of truffle ("everything is better with truffles" noted Catherine).
Last fall The Bungalow added a charming sidewalk dining area, a perfect spot to sit and watch the word pass by while you feast on the Bungalow's cuisine.
The Bungalow also has a terrific happy hour offered from 4 to 7 p.m. Monday through Friday. Specialty martinis are $6, well drinks are $5, house wines are $5, and food special include wild mushroom chicken quesadilla ($7), lobster corn fritters ($8), bungalow sliders & fries ($8), Bungalow mac & cheese ($6) and several other delicious options (we've enjoyed the Bungalow happy hour several times and indeed leave happy).
Visit thebungalowrestaurant.com for details.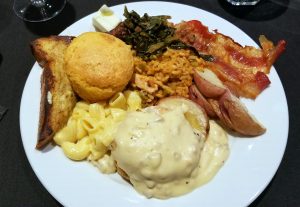 Gospel Brunch
The House of Blues Gospel Brunch is one of those legendary events that's been around for many years, yet we had never experienced it until recently, when we were invited to a Gospel Brunch performance at the new House of Blues location in the Garden Walk near Disneyland.
The Gospel Brunch description that drew us in: "This one-of-a-kind, electrifying, jump-out-of-your-seat, high-energy, decadent dining and uplifting gospel show is unlike any brunch you have been to before. Get ready to wave your napkin, tap your feet and sing along to contemporary and traditional favorites performed by the region's best Gospel talent. This live interactive show will keep you energized from start to finish with every seat a part of the scene—you might even end up on stage!"
And then there's the brunch fare: made-from-scratch comfort food at an all-you- can-eat southern-style buffet featuring an abundance of breakfast and lunch specialties.
Not a place for someone on a diet, the buffet includes mac and cheese, biscuits and gravy, eggs, bacon, waffles, cheese and bread, and just about anything you'd find as a description for comfort food. There is a seafood display and a fruit display for those who want to ease their guilt with something healthy.
"The service was absolutely amazing during the gospel brunch—I can't praise the staff enough," said Catherine. "They weren't disruptive to the performance, but they were constantly there to clear away finished plates, refill water, juice and mimosas, and to be of service for any other needs you may have."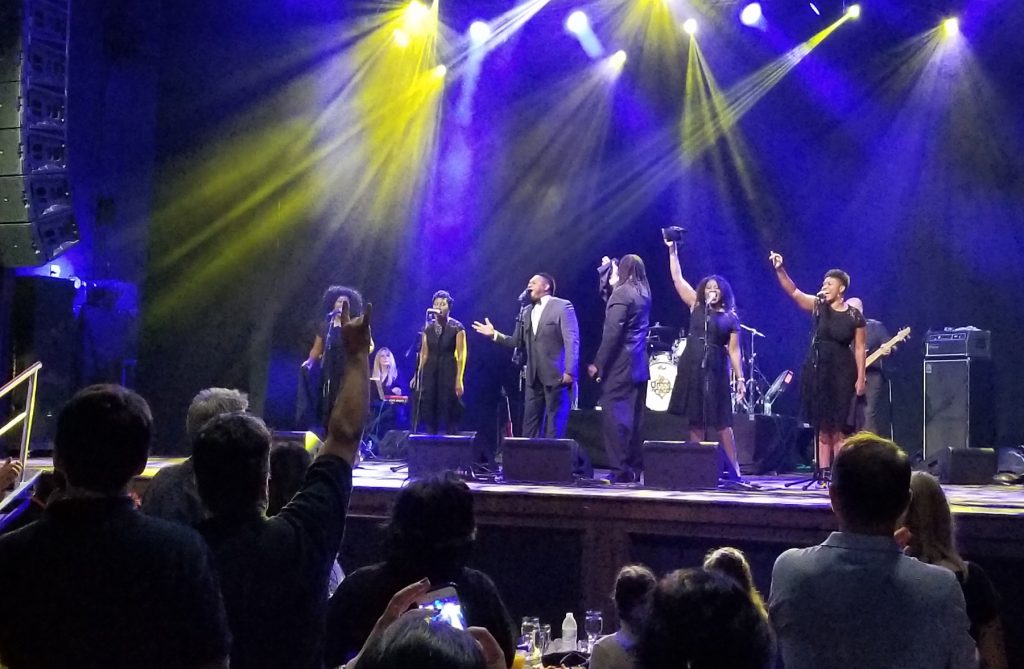 "The buffet has a lot of food I might not normally eat, but it certainly fits the Gospel Brunch theme, and it's mighty tasty," said Christopher. "Excuse me while I go back for more biscuits and gravy."
"I thought the gospel music was great and the performers kept the audience engaged with singing and dancing throughout the brunch," noted Catherine.
"This is a fun, non-denominational brunch that's musically reverent but not preachy," agreed Christopher. "The backing band is terrific—very professional, and the singers have fantastic voices."
The Gospel Brunch is held on select Sundays from 10:30 a.m. to 12:30 p.m. Cost is $45 per person, and includes the show and brunch, plus coffee or soda. Champagne, mimosas and bloody Mary's are extra.
Visit houseofblues.com/anaheim/gospelbrunch for more information.