Crown Ace Hardware Customers Help Raise over $15,000 for Ben Carlson Foundation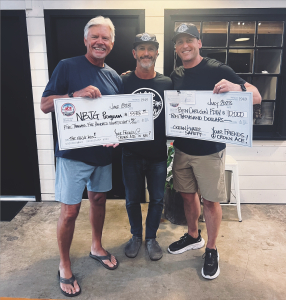 Crown Ace Hardware is thrilled to announce that with the unwavering support of their amazing customers, they've successfully raised over $15,000 in the months of June and July for the Ben Carlson Foundation, making a significant impact on the community!
Thanks to the generosity and dedication of their customers, Crown Ace raised $10,000 for the Ben Carlson Foundation and an additional $5,000+ for the Junior Guard arm of the Foundation. Together, they are fostering positive change and making a real difference in the lives of those who need it most.
At Crown Ace Hardware, their commitment to serving the community to the best of their ability is at the core of everything they do.
"Giving back and supporting causes close to our hearts has always been part of our mission, and this accomplishment wouldn't have been possible without the community's continuous support," Skip Snead, Crown Ace Multi-Store Marketing Manager said.
"The Ben Carlson Foundation holds a special place in our hearts, and we're proud to be invested in its vision for years to come. Our partnership with the Foundation enables us to provide vital assistance to those in need, promoting safety and education in our beautiful Newport Beach community," Snead said.
Crown Ace Hardware wants to thank everyone for being part of the driving force behind this incredible fundraising success! Every dollar raised is a testament to the power of coming together for a greater purpose.
Crown Ace asks everyone to continue to make a positive impact, one step at a time. Stay tuned for more community initiatives, as we're determined to keep making a difference, with your support, every step of the way. Together, we can build a brighter future for Newport Beach and beyond!
#CrownAceCares
#CommunityMatters
#BenCarlsonFoundation
#NewportBeachStrong
Crown Ace, Corona del Mar: 3107 E. Coast Hwy., (949) 673-2800
Crown Ace, Newport Hills: 2644 San Miguel Dr., (949) 644-8570
Crown Ace, Westcliff Plaza: 1024 Irvine Ave., (949) 642-1133
Follow Crown Ace on social media @crownacehardware