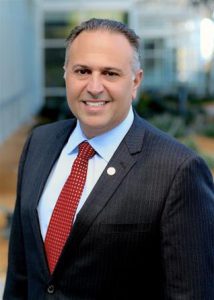 Seimone Jurjis, who has served as Community Development Director for the City of Newport Beach since 2017, was recently named Assistant City Manager. He will continue to oversee Community Development Department operations while managing special projects.
"Seimone has been a tremendous asset to the City management team for many years," said City Manager Grace Leung. "This new role will give him a higher level of management responsibility and oversight to help carry out the City Council's vision and direction for Newport Beach."
Jurjis is one of two assistant city managers who report to Leung; the other is Tara Finnigan.
Jurjis brings more than 30 years of experience in both the private and public sectors to his new role. He was selected as Community Development Director in August 2017, after having served as the City's chief building official since 2011.
As director of the Community Development Department, Jurjis oversees a staff of 60 who administer the City's General Plan as well as the City's zoning, building, subdivision, real property, and environmental regulations, to ensure orderly and safe growth of the community.
The department has become more efficient and streamlined in recent years under his leadership, including a shift to online permit services and a revamped Accessory Dwelling Unit (ADU) program.
Prior to joining the City of Newport Beach, Jurjis was the president and chief operating officer for a real estate company focusing on entitlements, land transactions and development. His other government experience includes director of planning and building safety, city engineer and building official for the City of El Segundo.
Jurjis holds a Bachelor of Science degree in civil engineering and is a licensed professional civil engineer, licensed real estate broker and certified building official. He is also a licensed pilot.
He was raised in the City of Orange, where he now lives with his wife and two children.