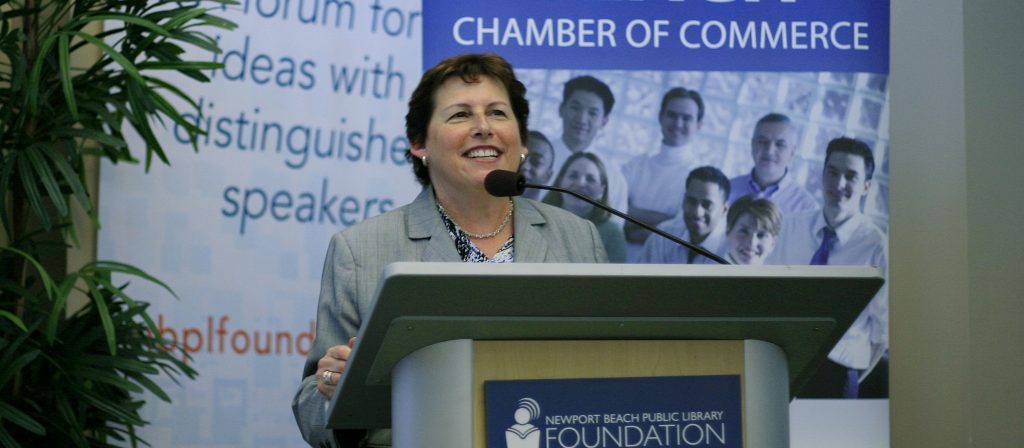 In an early morning meeting this week a California Department of Transportation officials updated a crowd of Newport Beach business owners, residents, city staff, and a group of local high school students about a number of projects.
CalTrans Director Laurie Berman was the guest speaker at Thursday morning's Chamber of Commerce Wake Up! Newport event at the main Library's Friend's Room. The crowd of about 75 people included a group of students from Newport Harbor High School's DECA Club, a career and technical nonprofit group.
Berman spoke about a number of projects CalTrans is currently or will be working on, including a local traffic signal upgrade planned for Pacific Coast Highway.
Many of the projects she mentioned were funded through Senate Bill 1, also known as the Road Repair and Accountability Act of 2017, or the "gas tax."
The upcoming $24.1 million PCH project will stretch from Crystal Heights Drive in Newport to First Street in Seal Beach.
"This is going to be right here in Newport Beach," Berman said.
They have started to study and work on the design for the synchronization and upgrade of the traffic signals, Berman said. It will also include curb ramps and upgraded drainage.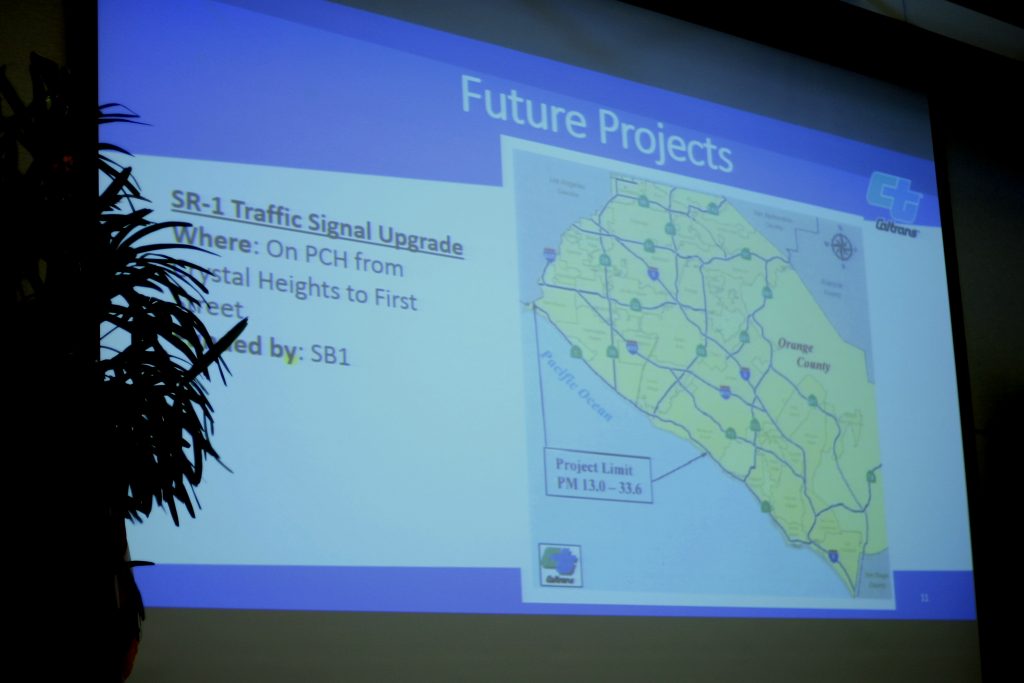 Since the design process takes time, work on the project should head through Newport in 2022.
This is one way they can address the challenges and provide some congestion relief, she noted.
Another big project that may impact Newport Beach drivers in their commute is the multi-modal I-5 North Coast Corridor Project, Berman said.
Asking how many people in the audience drive to San Diego "every now and then," about one-third of the crowd raised their hands.
"How many of you use the 5? How many of you hate it?" She asked, eliciting some laughter.
She called I-5 a "hard working corridor," as it heads through Los Angeles, Orange, and San Diego counties.
Along with the Federal Highway Administration and the San Diego Association of Governments, CalTrans proposes improvements to maintain or improve the existing and future traffic operations on the freeway from La Jolla Village Drive in San Diego to Harbor Drive in Oceanside/Camp Pendleton, extending approximately 27 miles along I-5. This stretch of the freeway is subject to extreme congestion that is projected to worsen in the next 40 years.
This section of I-5, which includes the highly congested "golden triangle" (area between I-5, the 805, and La Jolla Village Drive), connects millions of locals and visitors to lagoons, beaches, businesses, universities and other schools, Camp Pendleton, and several communities, Berman explained.
The $6 billion multi-agency project includes carpool, auxiliary, and general-purpose lanes, new and wider bridges, ramp meters, noise barriers, railroad line improvements, pedestrian and bicycle paths and crossings, and more.
The project will also help restore, preserve, or protect several hundred acres of coastal habitat. The work will also include helping some of the lagoons improve tidal flow and overall health.
The challenge of getting a coastal permit, working with the California Coastal Commission, and getting the work done in an environmentally sensitive area with the lagoons, seemed insurmountable, Berman commented.
"We couldn't just mitigate… and move on, we had to actually leave the coastline in better condition than we found it," Berman said.
Ultimately, the overall health of the lagoons will be improved, she noted.
"The project demonstrates how multiple benefits can be achieved when you take a holistic approach to managing a transportation corridor which includes all modes of travel," Berman said.
Construction started in November 2016 and is expected to finish in 2050.