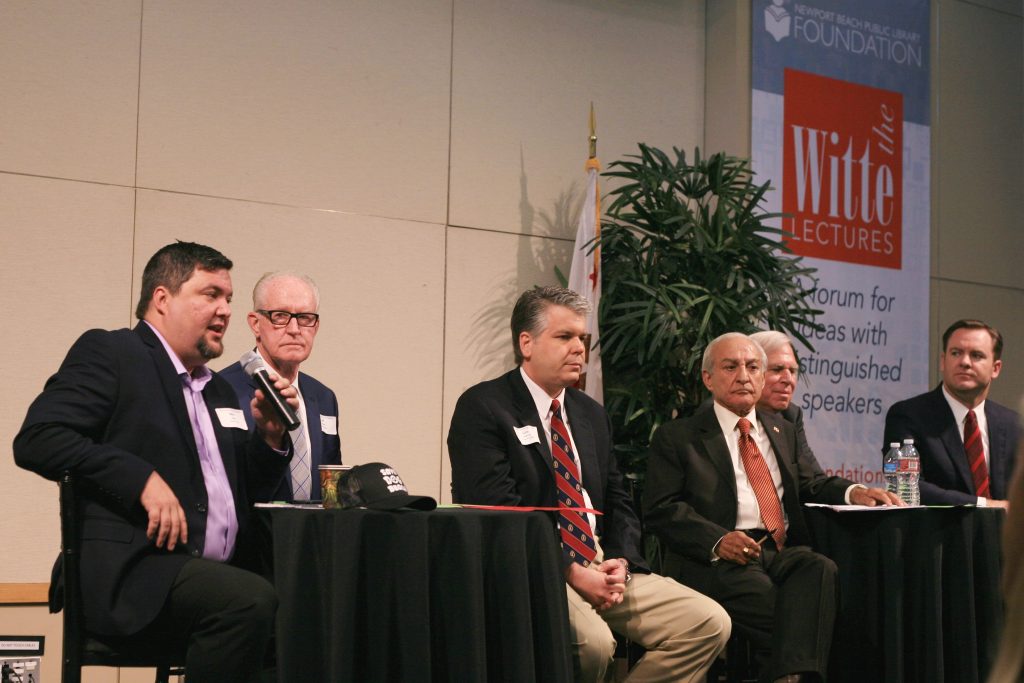 A set of candidate forums kicked off the political season in Newport Beach this week.
The Newport Beach Chamber of Commerce hosted a candidate forum Tuesday morning in the Friend's Room of the library. Lucy Dunn, president and CEO of the Orange County Business Council, moderated the event.
Former NB Independent publisher Tom Johnson and Daily Pilot columnist Barbara Venezia hosted the conversational Feet to the Fire forum in the Robert B. Moore Theater at Orange Coast College Wednesday evening.
Attending the Chamber event were: Brad Avery in District 2; Mike Glenn, Jeff Herdman, and Lee Lowrey for District 5; and Fred Ameri, Phil Greer, and Will O'Neill for District 7.
Only Glen, Herdman, Ameri, and Greer attended the F2F forum.
Not in attendance at either event were Shelley Henderson, who announced her intention to run in District 2 in March, and Max Johnson (District 2) and Jane Jones (District 5), both who filed candidate intention statements on Friday, the deadline.
At the Chamber event, questions included small business license, art in the city, short term lodging, and more. It also included a lightning round "thumbs up/thumbs down" portion, during which the candidates held up a sign indicating their position on various issues, including parking, public art, and the boardwalk.
Topics of discussion and questions at both forums included the unfunded pension liability, development, current proposed projects (Banning Ranch, Museum House, and 150 Newport Center), traffic, property rights, and more.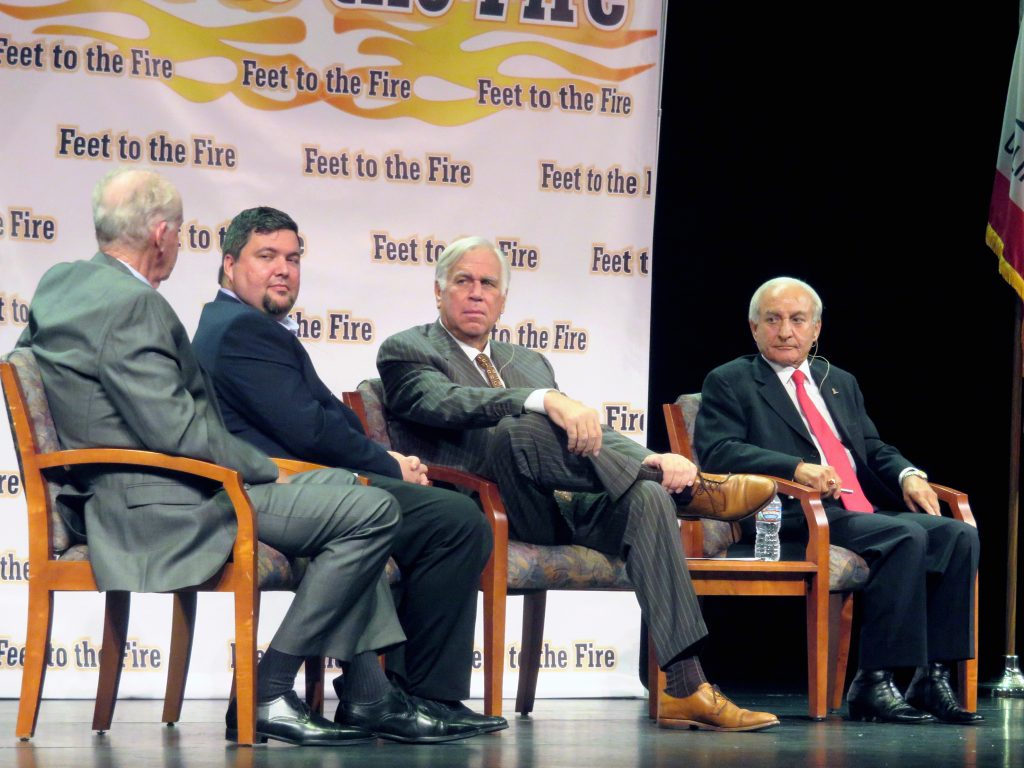 At the F2F forum, there was a bit of discussion about the candidates that weren't in attendance: Avery, Lowrey, and O'Neill. All three candidates have Dave Ellis as their campaign manager, Venezia noted.
There was also some talk about "Team Newport," the slate of candidates voted in during the last election. All four current candidates at the event expressed disappointment.
"They have literally failed on every single item," that they promised during the campaign, Glenn said. "We got duped on that election."
Although all four candidates at the F2F forum emphasized the importance of a positive and clean campaign, several noted that it's already gotten dirty.
Greer and Herdman said they've done their research. He's ready, said Greer, who Venezia called "scrappy."
While introducing themselves on Tuesday, a few of the candidates stressed the importance of having roots in the city and getting involved in the community.
A good representative needs "some sand between your toes and some seaweed in the trunk of your car," in order to understand Newport Beach, Greer said. "We're a part of this community."
Greer also emphasized his history and involvement in the community.
Herdman mentioned his more than 60 years in the area, his career in education, support of small government, and the need for campaign reform.
"I'm not an outsider, I'm not running for political gain, I just want to do the best job I possibly can," Herdman said.
O'Neill mentioned that he and his wife are raising their two kids in their Newport Beach home.
"Our roots are firmly planted in this community," O'Neill said.
He also mentioned some of his work on the Finance Committee. O'Neill said he supported back to basics budgeting focused on infrastructure improvements, liability reduction, and the harbor.
Others emphasized their experience.
Lowrey called Newport Beach the "shiny diamond" within Orange County. Lowrey grew up in the area and returned to Newport Beach after college. He also wants to focus on "back to the basics" regarding unfunded pension liability, public infrastructure, and take a serious look at heroin use and drug use in the local high schools.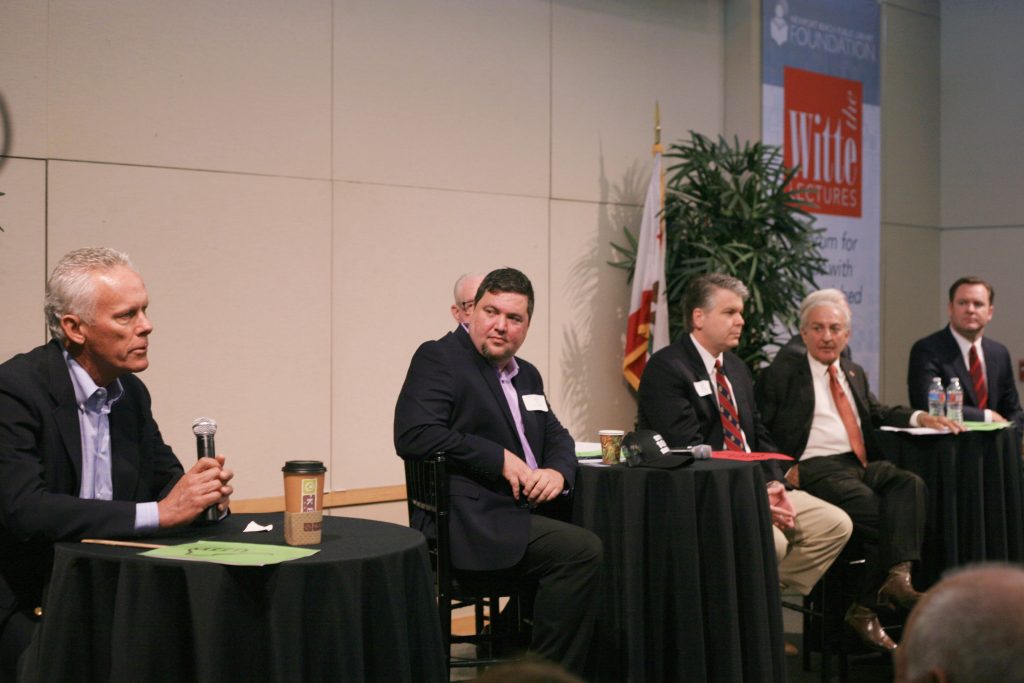 Avery, a Harbor Commissioner, was urged to run by current Councilman Marshall "Duffy" Duffield. Avery noted increasing the connectivity to the harbor
Glenn described himself as a local activist interested in small government. He has fought for various city issues, including the dog beach at the mouth of the Santa Ana River.
Ameri moved to Orange County in 1961 after a visit and falling in love with the area. He worked on Balboa Island for a while and began his career locally for RBF Consulting. His highlighted his experience in finance, planning and engineering.
A big topic at both forums is the unfunded pension liability.
"We've made some progress over the last few yeas, but we have to pay it down," Lowrey said.
The city has a long way to go, O'Neill agreed. It's going to start to crowd out quality of life services, he said. It's a problem that can be solved in a one-minute answer, O'Neill noted, and it's not going away anytime soon.
Several of the candidates agreed with the city's program of accelerated payments.
"What the city is doing is the fiscally responsible thing," Greer said. "I would continue the program that we're on because it's working."
Lowrey suggested using some of the surplus to pay it down. Glenn recommended "trimming the bloat" in the city, including reducing staff by 20 percent  in 10 years through attrition, not by firing anyone.
It takes a multi-pronged approach, he added.
Banning Ranch was another big topic of discussion, or vague discussion for a few candidates.
O'Neill worried that answering a question about a specific project would disqualify him from participating in the vote when it comes before City Council. if elected to council.
Although he did say he would encourage the California Coastal Commission to approve the Banning Ranch project as submitted.
Greer initially agreed with O'Neill that they shouldn't get into specifics, but after researching the Woody's Wharf case that O'Neill cited as a reference, he disagreed. As a private citizen, Greer would urge rejection.
Although he also did not want to directly answer the question, Avery noted that people do have the right to develop their property, but that it does need a lot more work.
"I wish it was smaller, frankly," Avery said.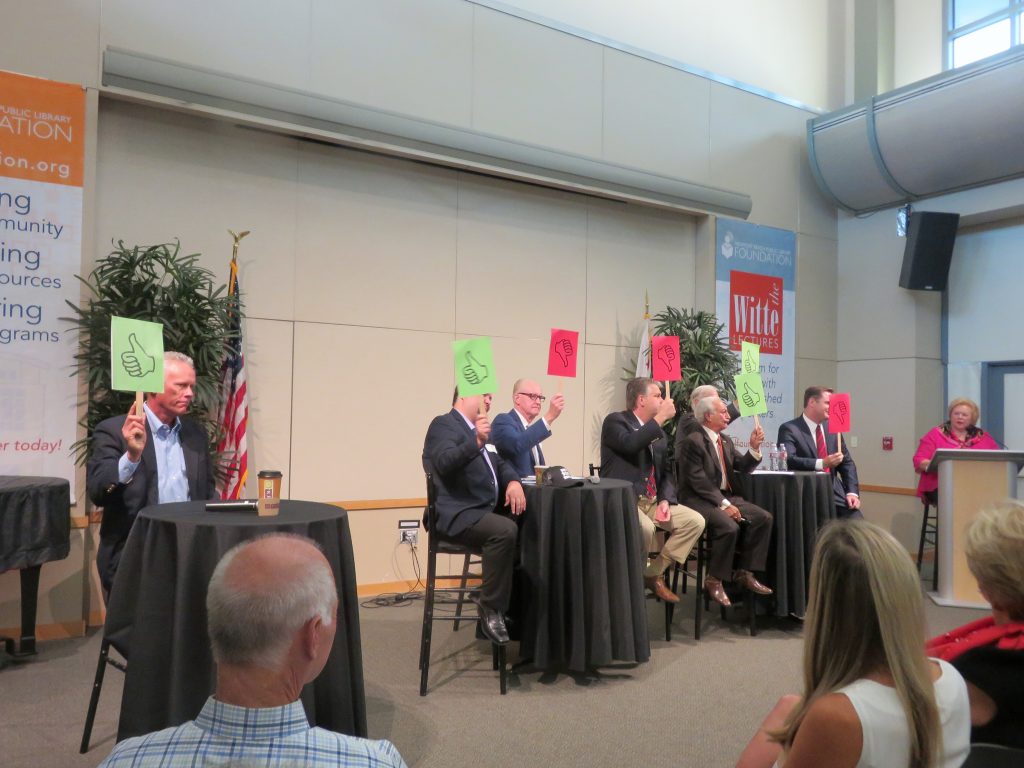 Herdman said if the project can stick to the general plan description of Banning Ranch he would be in favor of the development.
As a private citizen, Lowrey would support the project as it is now. It's a good balance of open space and development, he added.
Glenn supported the open space the developer has agreed to provide and called it "extremely generous." Voters approved a plan in 2006 that allowed for more development, Glenn cited, so that's fair of the developer. He wouldn't specifically say if it was a "good" project or not when asked by Johnson at the F2F forum, but said it's a property rights issue. Although traffic will inherently increase with any kind of development.
Several of the candidates noted that the current oil fields are unsightly.
The Museum House and 150 Newport Center questions faced some of the same careful and vague answers, but a few of the candidates openly opposed the projects. O'Neill said he wouldn't comment specifically about the two projects, but generally speaking, he would support additional residential.
Museum House doesn't fit in, Herdman said. The area is already cluttered enough with other high-rises, Ameri added. Glenn said it should go to a vote.
A few candidates opposed both, raising concerns about traffic, water usage, spot zoning, and the neighborhood.
"They are not compatible with the community," Greer said.
Public art was also discussed at the F2F forum on Wednesday. Greer, whose wife Arlene sits on the Arts Commission, said art is critical for a city like Newport Beach.
It gives the city "heart," he said.
Greer supported the idea of private funding, but added that the city has an obligation to pay and provide some public art. Ameri and Glenn both thought art should be privately funded. Herdman noted that the arts often keep kids in school, as he has seen firsthand through his career in education, so he supports art. Art and culture have a unique spot in a city like Newport Beach, he said.
There are several more forums in the upcoming months and all the candidates encouraged residents to attend.
"A well educated electorate will be particularly important in this election," O'Neill said.
For more information and a list of upcoming forums, visit newportbeachca.gov/government/departments/city-clerk/general-municipal-election-november-8-2016
For more information, visit newportbeach.com and speakupnewport.com.