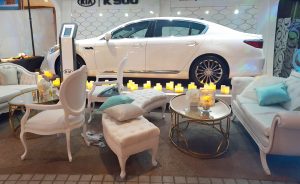 Always a highlight of the season, the Segerstrom Center's spectacular annual Candlelight Concert on Friday, Dec. 2 celebrated the Center's 30th anniversary, and the 10th anniversary of Segerstrom Concert Hall, with festive reception, an intimate concert by music legend Carole King, a sumptuous dinner on the stage of Segerstrom Center, and dancing.
This year's Candlelight Concert, attended by 460 fervent supporters, exceeded previous Candlelight Concert records by raising $2.6 million for Segerstrom Center's education and artistic programs.
The evening began with guests entered through the Kia Motors America Valet Lounge at the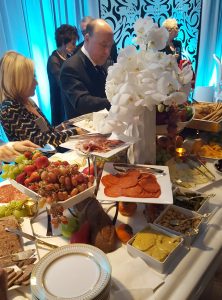 Segerstrom Hall Plaza level entrance. There, they were greeted by the Sonora Elementary Bell Choir, a towering Christmas tree, and a pianist performing holiday favorites on a white grand piano.
Upstairs on the Orchestra Terrace lobby, guests enjoyed a champagne reception and a beautiful (and tasty) cheese and charcuterie display, created by Patina Group (who also catered the splendid dinner via Leatherby's Café Rouge).
Guest proceeded from the reception to a section of Segerstrom Hall's orchestra seating, where a special stage was built for an intimate concert featuring a very special guest star: four-time Grammy Award-winning singer/songwriter Carole King (the musical "Beautiful" based on her life story played Segerstrom Center earlier this year).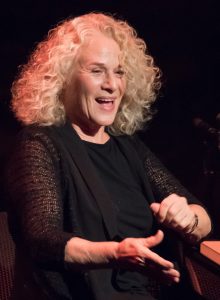 As expected, King (and her backing band of three guitarists and singers) dazzled the audience with selections from her renowned album "Tapestry" as well as a variety of hits she penned for other singers. She also told stories about her music, and even got the audience to sing along to several songs.
Following a well-deserved standing ovation for King, Center Board Chairman John Ginger welcomed guests to the Candlelight Concert.
"I have goosebumps!" exclaimed Ginger. "Every one of those songs brings back so many memories. I know there are a number of you here who have been to many Candlelight Concerts, but there are also some of you who are attending your first candlelight concert, and let me tell you., this is something special."
"Candlelight Concert is always a momentous occasion, and tonight is even more special as we celebrate the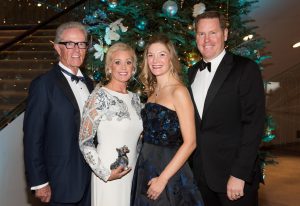 30th anniversary of the Segerstrom Center and the 10th anniversary of the Renee and Henry Segerstrom Concert Hall. When you think of what our community has created with this world class performing arts center right here in orange county, it makes you very proud."
Ginger thanked the Candlelight Concert co-chairs, Tracy and Roger Kirwan of Newport Beach, and Jaynine and David Warner of Laguna Beach, noting that they helped make this Candlelight Concert the most successful one they've ever had.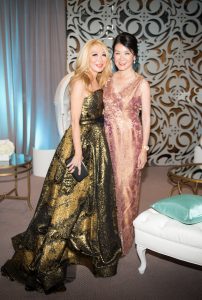 Segerstrom Center President Terry Dwyer reminded guests that Candlelight Concert proceeds "provide essential support for artistic and education programs. We can reflect with great pride on three decades of accomplishments. I look forward to the next 30 years with a sense of ambition and excitement, supported by an enthusiastic community as this wonderful institution evolves into a true arts center of the future, a place where great performances are complimented by a significantly expanded commitment to community engagement."
After watching a brief video that reflected on the Center's past, present and plans for the future, guests enjoyed the "reveal" as the curtain to the Segerstrom Center stage was raised and the gorgeous décor came into view.
Elegant white drapery and towering panels massed with giant handmade white paper flowers surrounded the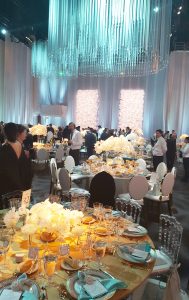 room, while contemporary chandeliers with thousands of glittering crystals were lowered into place as guests approached the stage "dining room" and creating an appropriately dramatic theatrical entrance.
Centerpieces were massed with white moth orchids.
Dinner consisted of chilled main lobster salad with Bulgarian caviar, an entrée featuring both loupe de mer and roasted tenderloin, and a dessert of coconut mousse with chocolate cremeux and coconut merange.
After dinner, entertainment and dance music were provided by Los Angeles' Jump Start Band.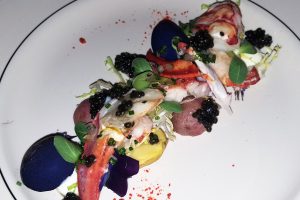 Upon leaving Segerstrom Center, guests had the opportunity to enjoy late night refreshments at the Kia Valet Lounge: grilled cheese sandwiches and tater tots by The Grilled Cheese Truck, bottles of Coca Cola, and artisan ice cream from Creamistry.
And for those wondering why this gala event is called Candlelight Concert, the inaugural Candlelight Concert more than 40 years ago raised money to build a major performing arts center in Orange County, ands was held in a vacant Kresge five-and-dime store. The store was transformed into an elegant ballroom with the use of candles. Since then, the annual gala has been called Candlelight Concert, with entertainment by celebrated artists.
Visit SCFTA.org for more information.