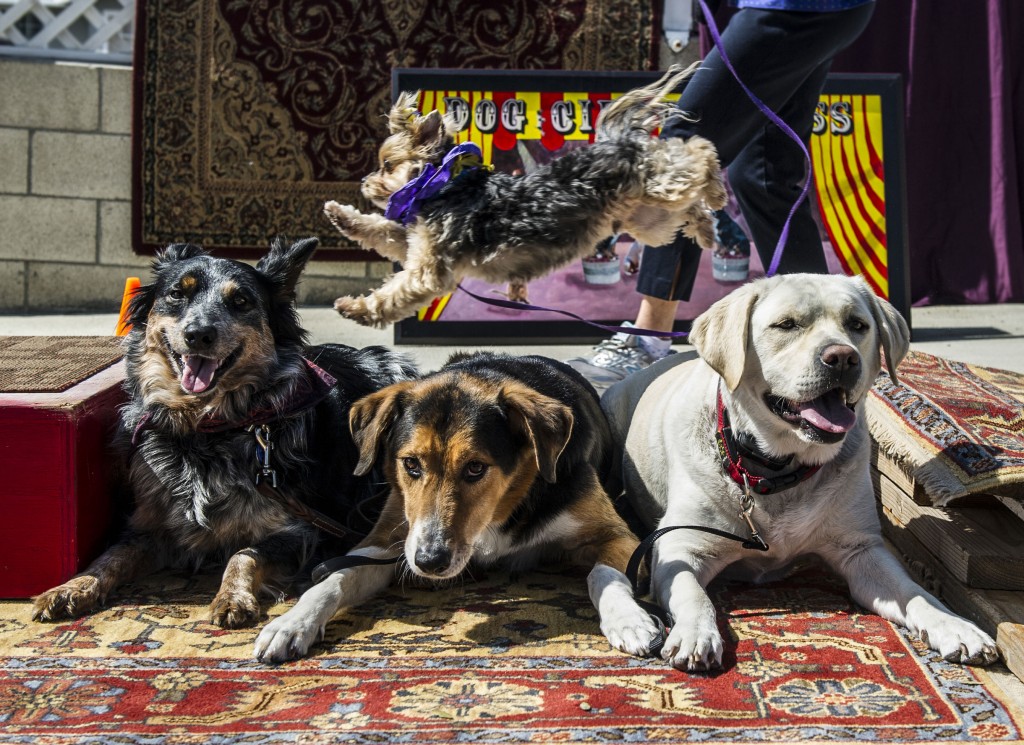 Sit. Stay. Strike a pose with a ball on your nose?
That's just what For a Civilized Dog trainer, Cary Petersen, is teaching. Among his regular obedience courses is an interesting lesson: Circus class.
The clowning around courses take place at his home in the dog-centric Riverside Drive neighborhood.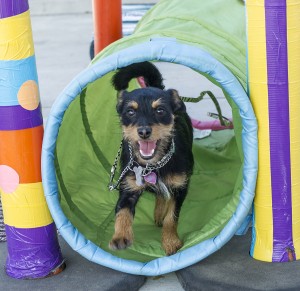 "We try to have a really good time," while still working hard, Petersen said.
During class, the dogs push and walk  on large wooden spools, stand up on chairs, balance balls and other items on their heads and noses, leap over bars and other obstacles, including other dogs and sometimes Petersen himself.
"There is so much confidence building that happens," he said. "Aside from that, handlers are so much more committed to training because it's more fun than a standard obedience class."
Petersen's teaches dogs individual tricks as well as group synchronized moves and patterns.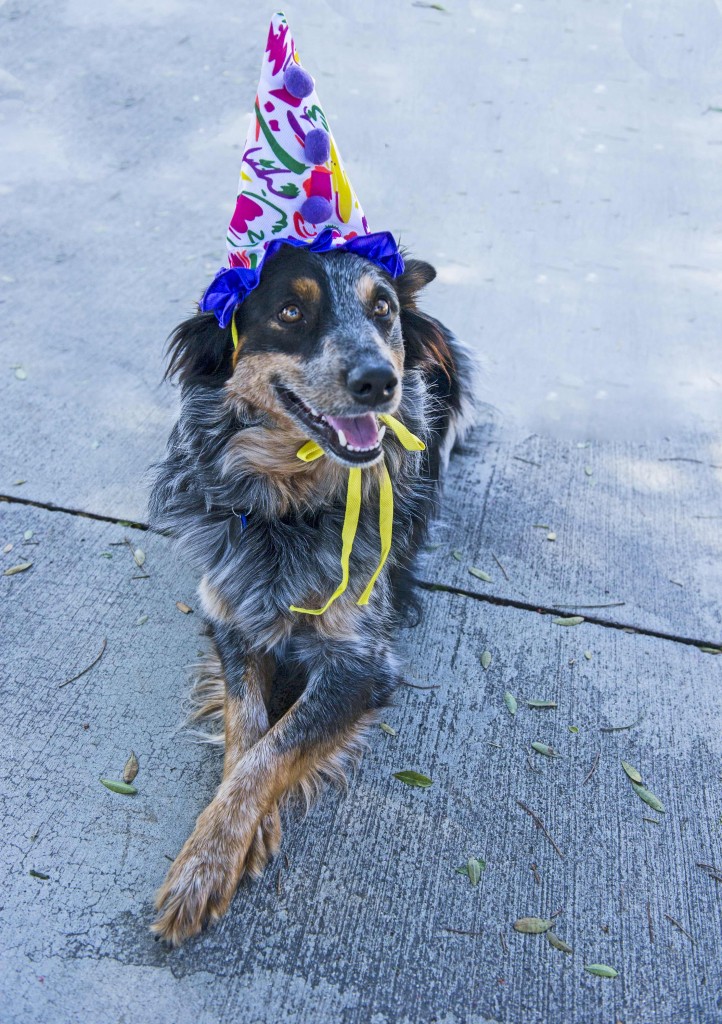 Current members of the class include: Thanh Nguyen and Tracy Hughes with Flor, a 1-year-old miniature pinscher-terrier mix, and rescue terrier mix Paisley, 2, of Costa Mesa; Jaclyn Petersen with Baxter, 9, a mixed breed rescue, from Newport Beach; Kay Kendzora with Maltese-Yorkshire terrier mix, Carlino, 5, of Irvine; Jeff Sheets with golden lab Cooper, 3, of Costa Mesa; and Amanda Knost with Australian cattle dog mix, Dusty Girl, 2, of Costa Mesa.
The class started after Petersen admired another dog trainers work. Francis Metcalf, of Friends of the Family Dog Training in Berkeley, has been teaching circus training for years and Petersen was curious about the circus class videos he saw on Metcalf's yoututbe channel.
"I was really taken with what he was doing with dog training," Petersen said. "A lot of modern dog trainers are making it very mechanical, where there's no room for creativity or imagination, which works for some people… But (for others), after doing this for a really long time, (we need to) get outside of sit, down, stay, heel, and come and fixing common household behaviors."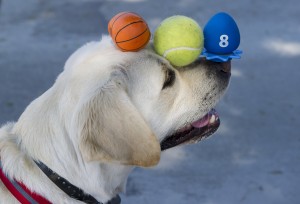 Petersen expressed his interest to Metcalf, who then recommended that he start his own circus class.
"I was stoked," said Petersen, who has been teaching the circus class for about a year now.
Several of the dogs also work as therapy dogs, and Cooper is even aiming to train for search and rescue work.
"Cary (Petersen) does a great job," said Sheets, who has been bringing Cooper since she was a puppy.
Cooper, who can leave a treat sitting on her nose until she is told she can have it or keep an expensive cell phone safe on top of her head, has won obedience competitions in the past, Sheets said.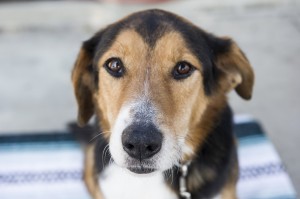 "Obedience is just commands," he continued. "This is more for fun, for tricks… And it really engages their mind."
It engages their body as well, and can be great exercise for dogs like Baxter, who was never the quickest puppy on the block, Jaclyn Petersen said. He's just not the type to jump up and do tricks.
"He's never been very active," Jaclyn Petersen said about Baxter.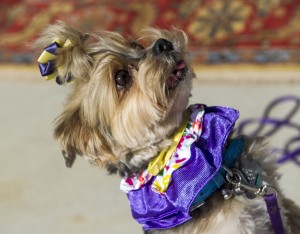 But a class like this is great, easy exercise for him.
The class is actually a good workout for both humans and dogs,  Kendzora said, and people of all ages.
The class has been a perfect fit for many of the handler and dog duos.
Kendzora always joked that Carlino wanted a part-time job at a circus because he loves to do tricks, including riding a skateboard, she said. So his groomer recommended Petersen's circus class. The two have been in the class about four months now.
"He is so excited," to come to circus class, she said. "He lives for this. He thinks this is the most interesting thing that happens all week."
For details, visit foracivilizeddog.com.
Flor is up for adoption through Southern California Animal Rescue, for information email [email protected].