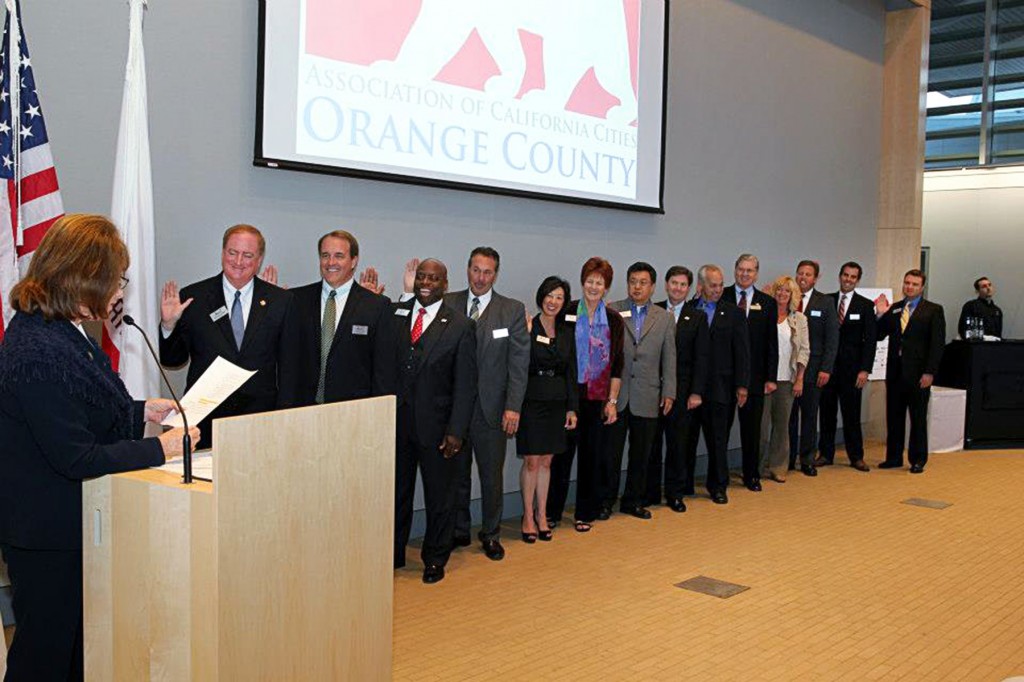 Newport Beach Mayor Keith Curry was elected last week as president of the Association of California Cities, Orange County.
"I am honored to be selected for this position by my colleagues in the other cities, and I look forward to working to promoting effective public policy options for our members in the year ahead," Curry said in a statement on Friday.
"I'm very excited," Curry added later in a phone call.
"I'm looking forward to the year," he continued, "to help Orange County cities better respond to the needs of their residents."
Curry, and the rest of the city leaders on the new board of directors for 2013-14, were honored April 11 at the new Newport Beach City Hall. About 200 people attended the event, according to a press release from the association, including local government, business, non-profit and legislative leaders.
"The ACC-OC is about good public policy," Curry said. "It's invigorating to work with such dedicated individuals to solve the pressing challenges that confront our cities."
The association represents Orange County cities and promotes "innovation, information sharing and fiscal stability among cities,"
Their mission "is to protect and restore local control to the governments taxpayers trust most – cities," the group's website noted.
One of the great aspects of the ACC-OC, Curry said, is the ability to bring successful ideas back to Newport Beach.
Ideas like the mobile app, Curry explained, which was used in other Orange County cities, including Mission Viejo and Huntington Beach, before launching on Newport Beach residents' phones and mobile devices last month.
Also on the association's agenda: Pension reform.
"In recent years,  the association developed pension reform guidelines that were part of the basis for Governor Brown's pension reform proposals and has assisted cities in addressing issues of cyber security, legislative monitoring and infrastructure development," the statement read.
During his time as president, Curry plans to act on reforming pensions and work on economic development.
"It also gives me the opportunity to get out and see more of my colleagues," from around Orange County, he added.
The association also allows him to keep current on what's happening in other Orange County cities, he said.
The relationship between the city and the association is good, Curry said. Newport Beach was one of the original members, and last year received a Golden Hub of Innovation award,for the city's efforts of making Fourth of July more family friendly.
For more information, visit accoc.org.