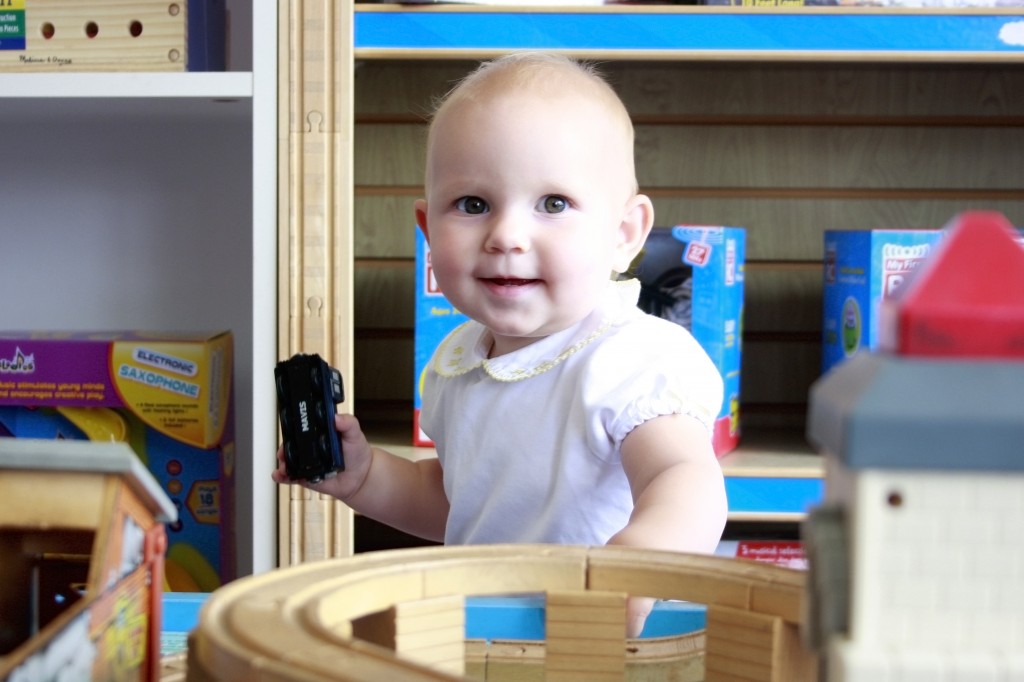 A cash mob of customers flooded Toy Boat Toy Boat Toy Boat Tuesday, helping the iconic Corona del Mar toy store stay afloat after an announcement last week that it was in danger of sinking for good.
The cash mob was hosted by Southern California radio station KFI AM 640 and talk show host Bill Handel. About 300 people shopped at the store throughout the day. They also had an increase in local customers over the weekend.
The store netted more than $9,000, Toy Boat owner Lori Curtin said
"This is good, really good," she said on Tuesday. "It certainly will take care of one major factor: The immediate need."
The Curtins met with their landlord on Wednesday.
"He made a few concessions… Gave us some extra time," Lori Curtin said, they will have to finish the payment fairly soon, but this gives them a chance to use the money to restock and work at rebuilding the store.
"We need to keep moving forward," she said. "We're not out of the woods yet."
Toy Boat will keep the CHOC donation boxes out through the weekend for anybody who was unable to make it out on Tuesday.
The couple is extremely appreciative of the support they have received, they said.
"We love the community and we love KFI," Mike Curtin said.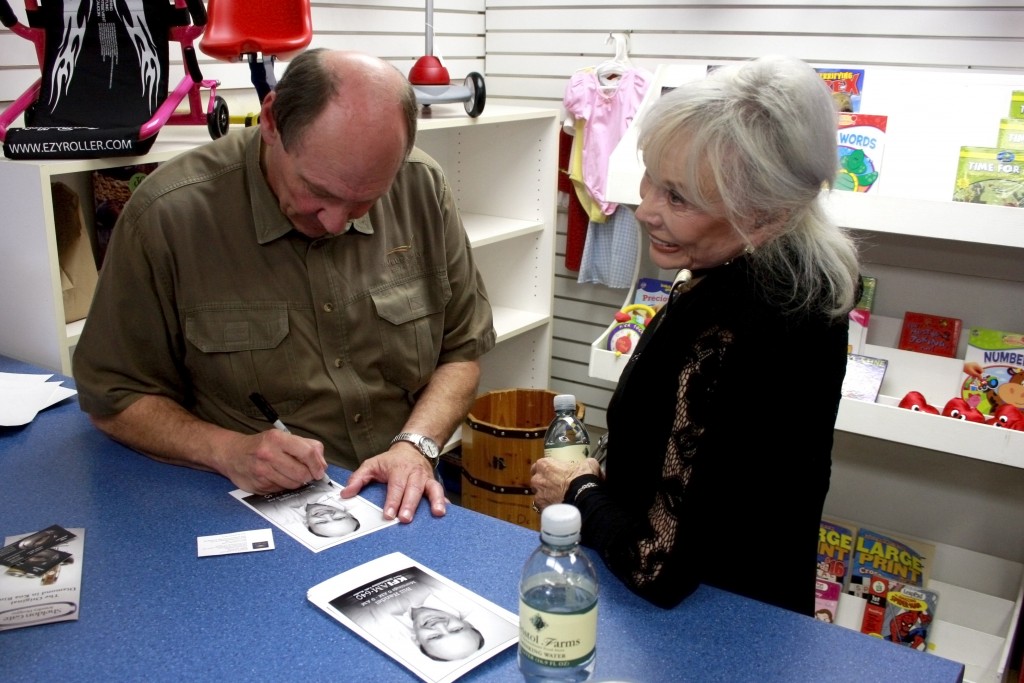 "The reason KFI is involved is because corporately KFI has a huge heart and wants to keep their license to broadcast because the FCC really likes community service," Handel joked.
The radio host spent time at the store signing autographs, chatting, swapping stories and cracking jokes with customers. He also broadcast live from the store, asking listeners to stop by.
KFI program director, Robin Bertolucci, chose Toy Boat as the location for their first ever cash mob after hearing the reports last week of its uncertain future, Handel said.
"We're trying it and it looks like it's working," the radio host said. "The response has been 20 deep for the last two hours, since I've been here, and it hasn't stopped."
Handel promoted the cash mob during his show on Monday. He also broadcast live from Toy Boat a few times on Tuesday, urging people to come in and support the toy store.
Handel was also a customer on Tuesday. He bought toys for the kids of Bill Carroll, another KFI talk show host.
"Because he's so cheap," he joked.
Handel bought Carroll's son a remote control toy and a princess item for his daughter.
Handel also bought a few toys to donate to the Children's Hospital of Orange County. Many customers who didn't have a special little boy or girl to buy for donated their purchased toys to CHOC.
Handel joked he might also buy a princess dress for Todd Wilson, another KFI crew member, Handel joked, but was unsure if they carried his size.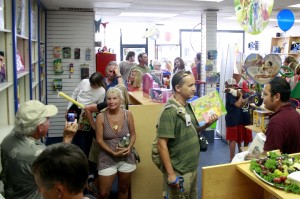 On a more serious note, Handel thanked the community for it's support and emphasized the importance of supporting the community by shopping locally.
"Getting involved in local businesses," is important, Handel said, "because, really, local business are what America's about."
"Unfortunately, the [we're seeing the] demise of this kind of business, it's hard to compete with big box stores," he continued.
Another cash mob customer, Noelle Nielsen of Tustin, agreed about the importance of shopping locally.
"It's nice to support local stores," she said. "It's investing in the community and I also just like smaller stores, you get to know the people [the owners and other customers]."
Nielsen brought her 14-month-old daughter, Eloise, to the store after her husband heard about the cash mob on KFI and suggested she go and participate.
"I didn't know this store existed," she said. "Hopefully now that (more) people know about it they will come here more often."
She will definitely come back, she added.
The Nielsen mom and daughter duo went home with a pull-along, shape sorter Simon the Snail, classic and colorful Rock-a-Stack and a bag of wooden alphabet blocks.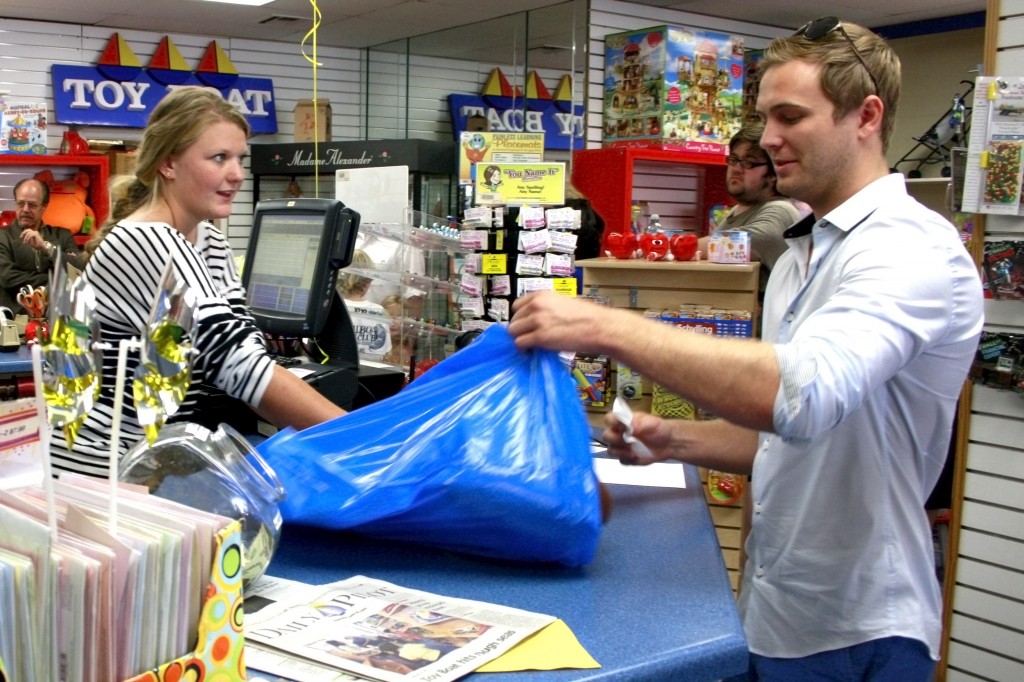 The store received two shipments of toys that morning, Mike Curtin said.
"We're trying to keep the shelves full," to keep up with the steady flow of customers, he said.
Many of the KFI listeners from all over Orange and Los Angeles counties.
One woman said she was driving on Coast Highway in Long Beach when she heard his live shout-out and decided to come down to Corona del Mar to buy a toy or game.
Others simply made monetary donations.
They decided not to do a tally until the end of the day, Mike Curtin said, but all the customers are a really good sign.
Other local businesses also got involved.
CdM Yogurt donated 30 percent of their sales to Toy Boat.
Bristol Farms donated plates of cheese and crackers, as well as several cases of water.
"They just showed up and said, 'We have some stuff for you,'" Mike Curtin said about Bristol Farms. It was great, Lori Curtin added.
The next step would be to get their website up and running, Lori Curtin said, that will hopefully bring in a whole new line of customers.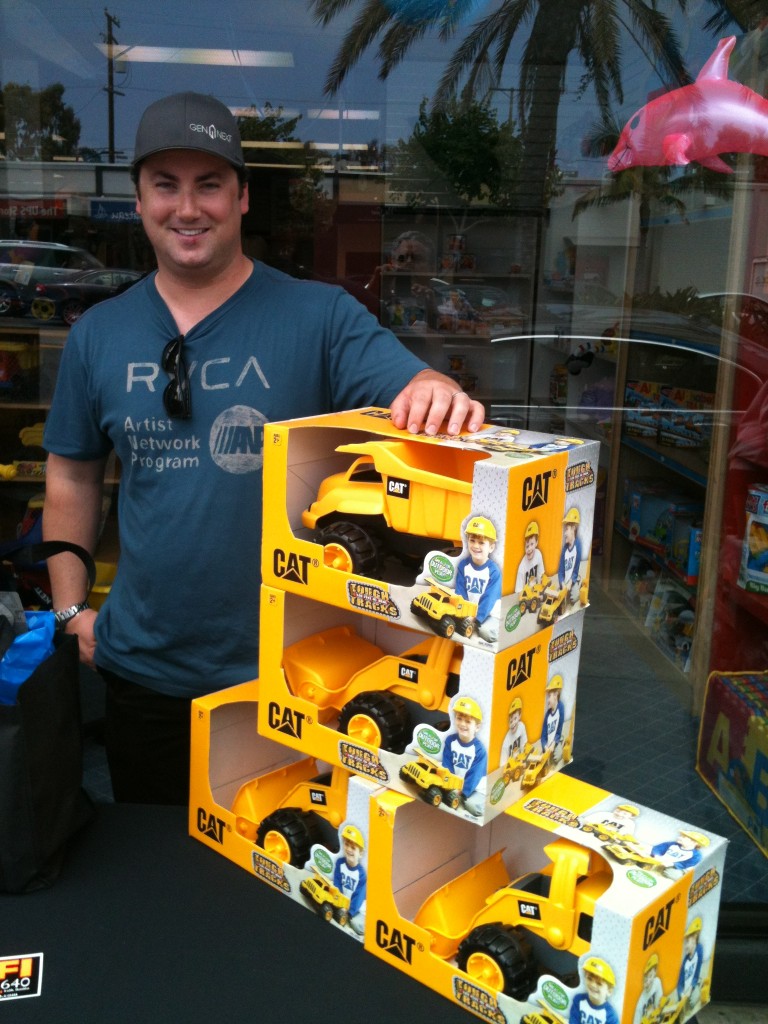 "That's a store in itself," she said. They hope to have the site online by the end of August.
Several people have approached the couple with fundraising ideas, Lori Curtin said.
"We're just trying to get through the day," and get through the current situation, she said, but she is keeping all those ideas close at hand.
This experience has made them aware of how important it is to keep in contact with customers, Lori Curtin said, and of the importance of Toy Boat in Corona del Mar.
"I feel I have a duty," to keep the store alive, she said. Toy Boat means so much to so many people, she added, it's more than just a store.
"We are so in awe of the support," she said. "It has been overwhelming to us."
Hopefully, Toy Boat will stay on people's minds, Lori Curtin said, and they continue to shop locally.
"We are just so grateful," Lori Curtin said. "This has been awesome."
The Curtins are working hard to use this boost to help build the store back up. More stock is coming in, with fresh, new toys alongside the classics. They are thinking of ways to work with more charities so customers can donate purchased toys.
"This was the huge shot in the arm that we needed," Lori Curtin said. "It gives us the opportunity to get back on our feet."
This has been a huge boost, she said, but they still need help.
"We still really need the community support," she said. "It doesn't stop here, it doesn't take care of everything. We are at a really critical time for our business. This has been a huge blessing but doesn't solve the problem."
Visit Toy Boat Toy Boat Toy Boat's facebook page here.
Read the Indy's earlier story about the Toy Boat store facing rough waters, here.