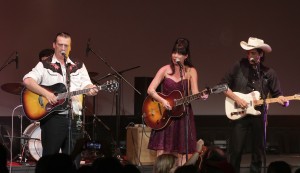 September 11th has become a day of remembrance, a time to reflect on fallen Americans and, in more recent years, a time of patriotism and celebration of the resilience of the American spirit.
It was only fitting that on such a night, the classic country music of American icon Johnny Cash filled the Lido Live Theater in Newport Beach courtesy of Cash'd Out, an award-winning tribute band.
From the moment front man Douglas Benson said hello, you knew he had that voice—the chestnut-toned, corn-fed boomer of a voice that is as recognizable to Americans as Mickey Mouse or cans of Pabst Blue Ribbon.
After playing the Cash classic "Big River," Benson poured out some of his beer on the stage for the victims of 9/11, and then said, "Now let's get happy," launching into "Get Rhythm." From there, the impressive band blew through nearly 30 songs that the man in black made an indispensable part of the Great American Songbook.
"Rock Island Line" was a highlight, especially when the group worked their way up to warp speed, Stephen Rey's hands flying around his stand-up bass so fast, he was practically a blur. There's something about watching someone play a stand-up bass that makes you wish everyone did. It also makes you want to dance—and dance people did. The pit area in front of the stage was filled to capacity, from the start of the show right through to the end.
The upfront crowd also gave Benson a chance to take requests. When asked for a prison song, the group rattled off "Green, Green Grass of Home, "I Got Stripes", "San Quentin," and "Folsom Prison Blues," all done to perfection, with Cash's signature speak-sung delivery.
No Johnny Cash-themed show would be complete without an appearance from June. Represented wonderfully by Nena Anderson, whose twang and spunk did the late June Carter Cash proud. She joined the band for an excellent "Long-Legged Guitar Pickin' Man," the Bob Dylan-Penned "It Ain't Me Babe," "Jackson," "Daddy Sang Bass," and "Ring of Fire."
"Ring of Fire" was performed sans mariachi horns, but with plenty of heat, considering the Lido felt like a ring of fire itself on a scorcher of a night. That didn't discourage people from dancing and bopping around in their seats.
Classics like "Sunday Mornin' Coming Down," "A Boy Named Sue," "Understand Your Man" and "(Ghost Riders) In The Sky" were performed with ease, and Cash'd Out even went back to the Sun Records days with "I Walk The Line" and "So Doggone Lonesome," a true treat for die-hard and casual Cash fans alike.
The opening band was Scotty Mars and the Hellcats, a tribute to the Stray Cats.
Upcoming shows include Big Bad VooDoo Daddy (Sept. 18), The Untouchables (Sept. 19), Family Style (Sept. 25) and Queen Nation (a Queen tribute band) Sept. 26.
Visit LidoLive.com for details.