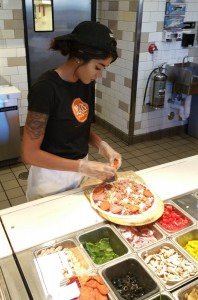 By Christopher Trela & Catherine Del Casale | NB Indy
Fashion Island has plenty of restaurant options, but if you're going to catch a movie at the Island Cinemas and you only have 15 minutes to spare, where do you dine?
It's a common dilemma, with an easy solution that does not involve the movie theater concession stand.
Next door to Island Cinema are Blaze Fast Fire'd Pizza and Lemonade, two fast casual restaurants with similar assembly line approaches to dining that make for a speedy yet delicious meal.
We decided to test our 15 minute theory on both restaurants recently. We started with Blaze, and timed the process from walking in the door to getting our finished pizza, then went to Lemonade and did the same thing.
Because Catherine is a pizzaholic, she did the ordering at Blaze, and built her own pizza with red sauce, mozzarella, salami, peperoni, sausage, bacon, chopped garlic, pesto drizzle, and barbecue drizzle.
We watched them place the pizza in the authentic pizza oven, then took a seat and waited to be called. A few minutes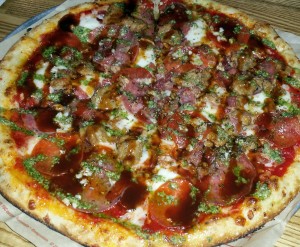 later, the pizza was ready and we dug in.
Total time: just over eight minutes.
"You know I'm not a big fan of lots of meats on my pizza, but this combination of toppings is terrific," said Christopher as he bit into a slice.
After sharing the pizza, we walked next door to Lemonade. The biggest challenge with Lemonade is deciding which of the 20 salads you want, and then choosing an entrée. After a few minutes musing over the choices, we settled on two salads, a roll, a mini cupcake, and a glass of cucumber lemonade.
Total time: just over eight minutes.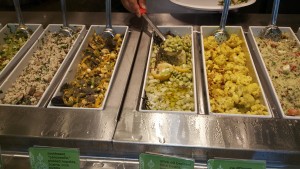 "The combination of mint, cucumber and nectarines in this salad are perfect for this weather when you want something cool and refreshing," noted Catherine. "And it goes perfect with the cucumber lemonade. The lima bean salad is also good, but nothing compared to the other one."
We also liked the cupcake, but found the roll somewhat dry and uninteresting.
"Both restaurants have an almost endless combination of toppings or servings to please almost anyone," said Christopher. "And both restaurants have uniformed staff scurrying around while customers go down the line from one person to the next as they build their meal."
Blaze pizzas run $6 to $10 depending on the toppings. Website: BlazePizza.com.
Lemonade selections vary, from $2.75 per portion of salad to $5.50 to $7.50 for entrees. Website: LemonadeLA.com.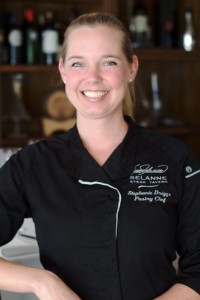 New Chefs
Two of the more notable restaurants in Laguna Beach recently added new chefs to their roster.
Selanne Steak Tavern has brought on Stephanie Driggs as the restaurant's new pastry chef. She'll oversee all aspects of baking and desserts at the restaurant owned by hockey legend Teemu Selanne.
For the last nine years, Driggs served as pastry sous chef at the St. Regis Resort Monarch Beach, where she designed wedding cakes, chocolate showpieces and delicate pastries. Her personal specialties include creating cakes, chocolate showpieces, petits fours and other French-inspired pastries.
Selanne Steak Tavern on South Coast Highway opened in November 2013, taking over the space formerly occupied by French 75. For reservations and more information, visit selannesteaktavern.com.
Surf & Sand Resort has welcomed new executive chef Ron Fougeray, who will oversee the resort's signature restaurant, Splashes.
Chef Ron has already added new items to the Splashes menu, including tartare of albacore with pickled strawberries, jicama, cucumber ribbon, horseradish, and strawberry vinegar coulis, a wild king salmon poached in olive oil with black barley risotto, and grilled lamb loin with celery root purée, cipollini and apple tatin, and brussels sprouts julienne.
For more information, visit surfandsandresort.com.
Pirate Talk at Bluewater Grill
Sept. 18 is National Cheeseburger Day, and customers at Bluewater Grill in Newport Beach can take advantage of a special deal: Bluewater's Angus Cheeseburger and a draft beer, glass of wine or non-alcoholic beverage for just $10.
The following day, Sept. 19, celebrate national Talk Like a Pirate Day at Bluewater Grill. Employees will greet customers in pirate-speak, with some servers dressing the part. Guests who order in pirate-speak ("Avast ye, matey, and bring us some grog!") receive a free cup of Bluewater's homemade New England or Manhattan clam chowder with the purchase of any entrée.
For more information, visit bluewatergrill.com.